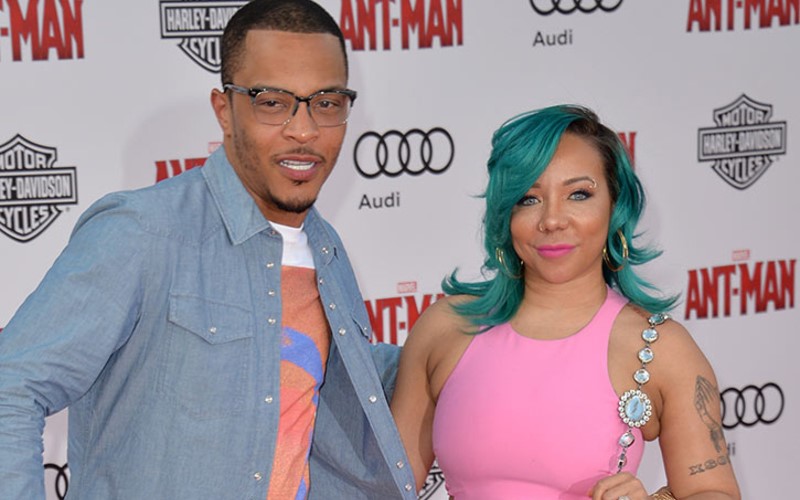 Are T.I. and Tiny getting a divorce? Rumors have swirled for weeks that there's trouble within the couple's marriage. However, Tiny is now setting the record straight.
Tiny has released a statement through her rep insisting everything is "good" and family always comes first. The full statement reads:
"Certain blogs have 'reported' that she's going to be a single mom, she's getting a divorce, she has a new residence and everything in between. On behalf of Mrs. Harris, this is the truth – Tameka and TI are good. They love each other and they have a beautiful family with seven amazing children. For them, it will always be family over everything."
Though Tiny gave birth to the couple's seventh child in March, Tiny and baby Heiress have reportedly been living in a separate house from TIP. In fact, it's a $1.4 million home she bought in 2014 when she suspected T.I. was cheating on her.
The couple has been together since 2001 and married in 2010. However, the family has encountered rough times in recent months. Tiny's oldest daughter, Zonnique, was arrested for carrying a weapon through an airport and a man was shot and killed during one of Tip's concerts.
Tiny also recently engaged in a social media battle with Zonnique's step-mom, Cheryl. During the heated war of words, Cheryl also brought up the cheating rumors, including an alleged encounter T.I. had with a prostitute. "Yeah he was with a prostitute so they say. He gotta deal with that with God," Tiny replied.
T.I. has remained mostly silent on all the drama. However, he did post a message on Instagram. "Lies will be told … but Truth will be seen!!! I feel no need to address gossip or respond to peons," he wrote.
I clearly don't have the tea, but it does seem T.I. and Tiny are going through a rough patch. Tiny's statement from her rep addresses "family over everything" but does not directly address the state of her marriage. I suspect rumors will continue to swirl until we get definitive proof whether the two have separated or still together.
Be the first to receive breaking news alerts and more stories like this by subscribing to our mailing list.