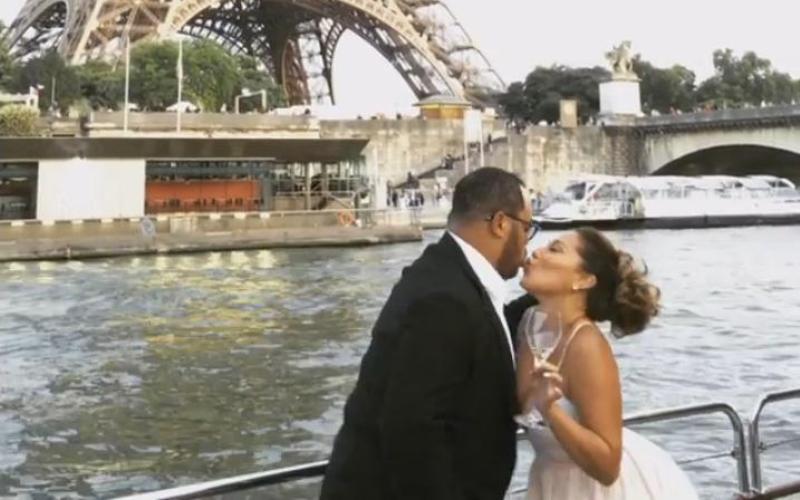 With drama surrounding her talk show, The Real, it's been a tough summer for Adrienne Bailon. However, the talk host is ending the summer with a giant rock on her finger. That's right, she's engaged to Christian music artist Israel Houghton!
The two are currently vacationing in Paris and Bailon posted a video of her diamond engagement ring next to the sparkling Eiffel Tower.
Houghton posted a still image of the moment, captioned with a heartfelt message to his now-fiancé.
The Gospel singer writes in part:
"I have seen and felt the essence of Gods grace through the life, the kindness and the courage of this woman. I've seen her attacked. Lied about, Wrongfully accused, Mocked. Laughed at, and misunderstood. But I've also seen the shining example of the eagle she is that rises above the cacophony of the noise of ignorants- I'm learning from her example. She loves Jesus. She loves her family. She loves people. Even the ones that don't love her back."
The couple met in 2010 while shooting the film I'm in Love with a Church Girl. Bailon was the female lead, while Houghton served as co-executive producer.
They began dating in February 2016, but went public in April after intimate photos of the two were published, though the relationship was not well-received. Just one month prior, the Christian musician had divorced his wife of 20 years. It was speculated he was still married while beginning a relationship with Bailon.
Bailon set the record straight during an April episode of her talk show.
"The show is called The Real it is a place where we can speak about the truth. With that being said, the man pictured here is not married. Praise God… He had put out a statement that he had failed in his marriage and it was five years back and I didn't know him at the time. So to put that on me was obviously hurtful."
This will be Houghton's second marriage and Bailon's second engagement. She broke-off an engagement to longtime boyfriend, Lenny Santiago, in September 2015.
I, personally don't see it for Bailon due to the rumors of how she treated Raven-Symone during the filming of The Cheetah Girls and her mean-girl characterization on a 2001 episode of Nickelodeon's Taina (I know, these are my issues). However, I wish her and Houghton well.
Be the first to receive breaking news alerts and more stories like this by subscribing to our mailing list.