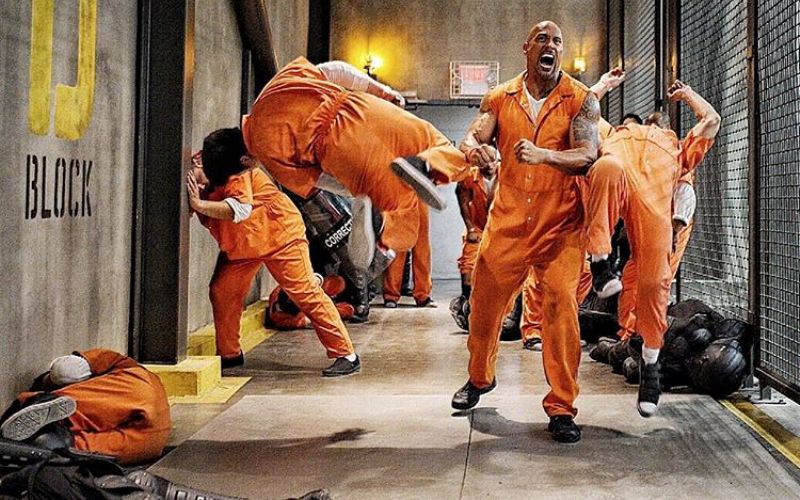 Admittedly, I don't know much about Dwayne "The Rock" Johnson. I did not follow his wrestling career and have not seen many of his films since he became a popular actor. However, one thing I do assume is that it's never a good idea to get on his bad side.
Unfortunately, a few of his Fast 8 castmates did not get that memo. The actor is wrapping up his portion of the film and took to Instagram to thank the cast and crew. While he had great things to say about his female co-stars, he takes a few shots at the nameless male co-stars that get his blood "legit boiling."
Here's what he wrote in part:
"My female co-stars are always amazing and I love 'em. My male co-stars however are a different story. Some conduct themselves as stand up men and true professionals, while others don't. The ones that don't are too chicken shit to do anything about it anyway. Candy asses. When you watch this movie next April and it seems like I'm not acting in some of these scenes and my blood is legit boiling – you're right."
https://www.instagram.com/p/BI25NjMDPWv/
Ludacris, Tyrese Gibson, Vin Diesel, Jason Statham, and newcomer Scott Eastwood are a few among Johnson's male co-stars. Some have suggested Johnson's jabs were aimed toward Tyrese or maybe even Eastwood, whose legendary father, Clint Eastwood, basically supported racism in a recent interview the father-son duo did together. In the same interview, Scott also uses the term "candy-asses." So yeah, that's an interesting coincidence.
However, none of the co-stars have responded to Johnson's IG post. But I would definitely have loved to be a PA on that set. Could you image The Rock and Vin Diesel going at it? It's clearly going down behind-the-scenes!
Fast 8 is expected to hit theaters in April 2017.
Be the first to receive breaking news alerts and more stories like this by subscribing to our mailing list.