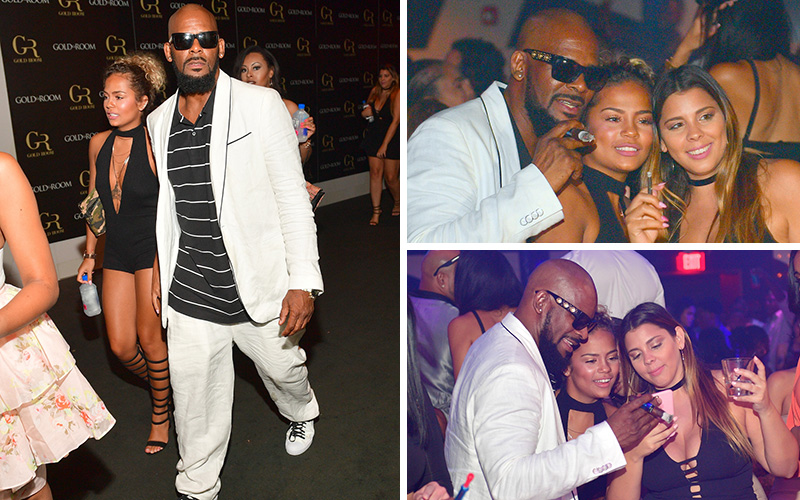 Last week, we told you about the R. Kelly's rumored 20-year-old girlfriend Halle Calhoun. And over the weekend, the pair fueled rumors when they were spotted holding hands as they hit the Atlanta club scene together Friday night (Aug. 5).
ATL photographer Prince Williams caught the 49-year-old R&B singer and his barely legal love interest as they made their way into Atlanta's Gold Room nightclub. Once inside, the alleged couple stayed with each other the whole night and posed for a few pics with fans.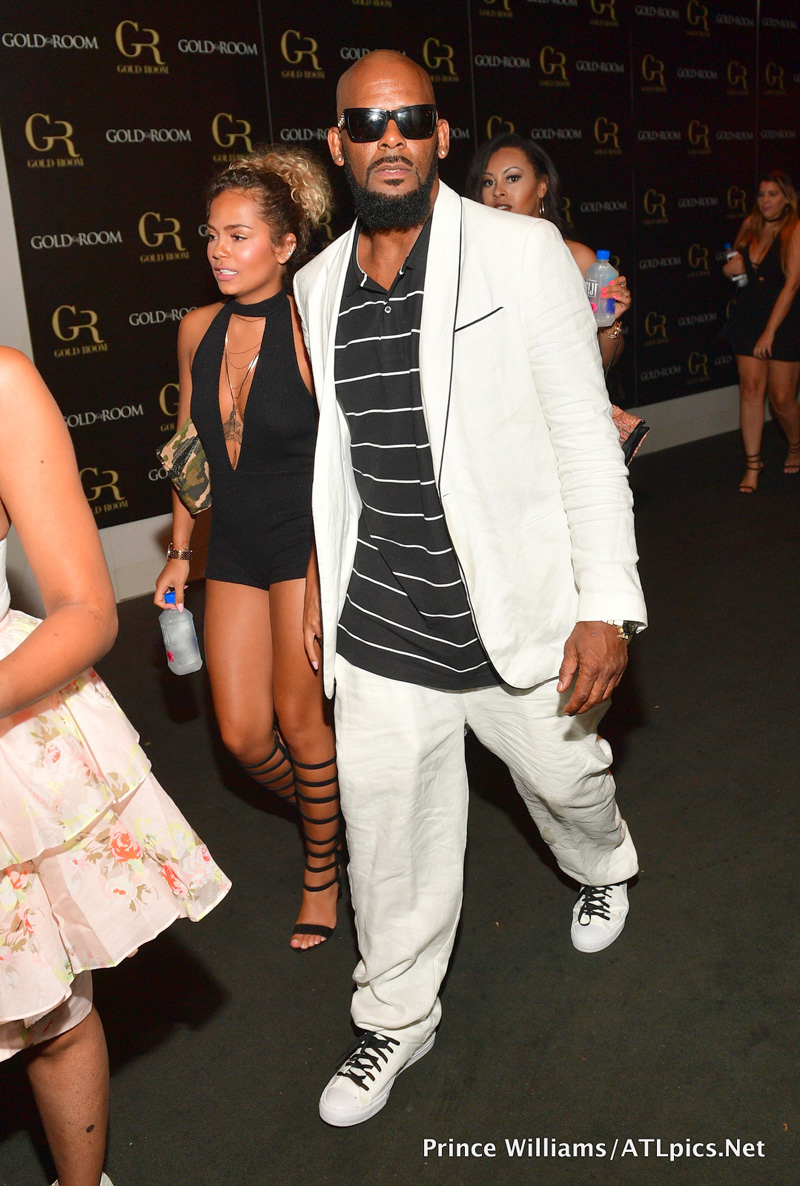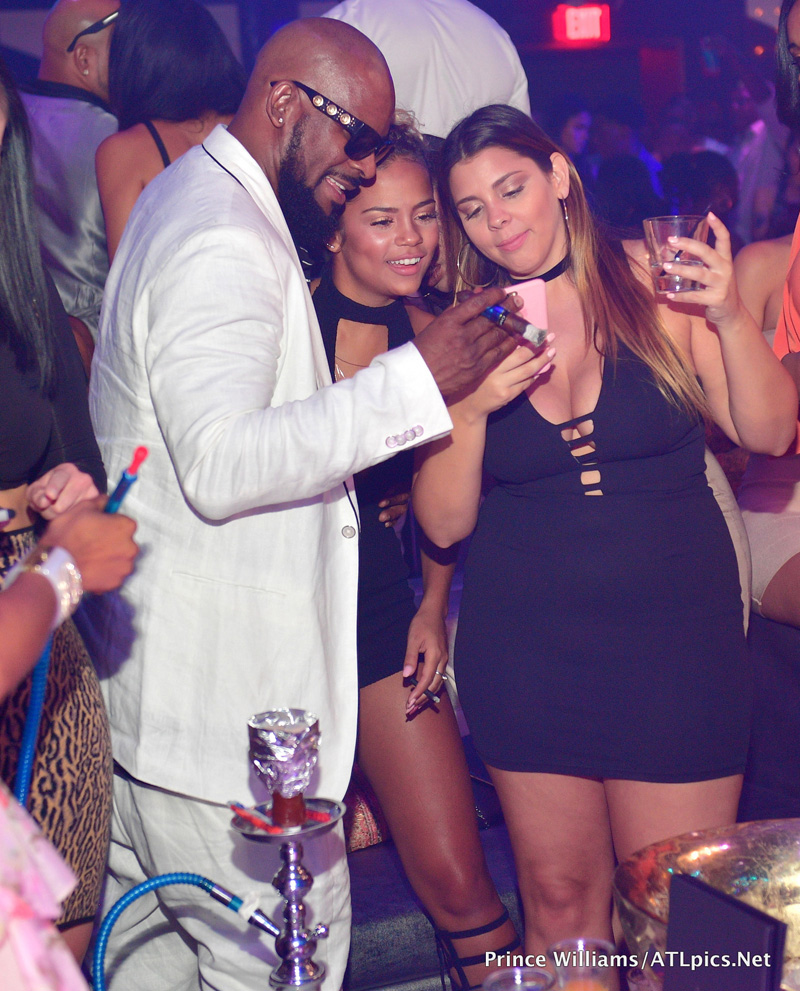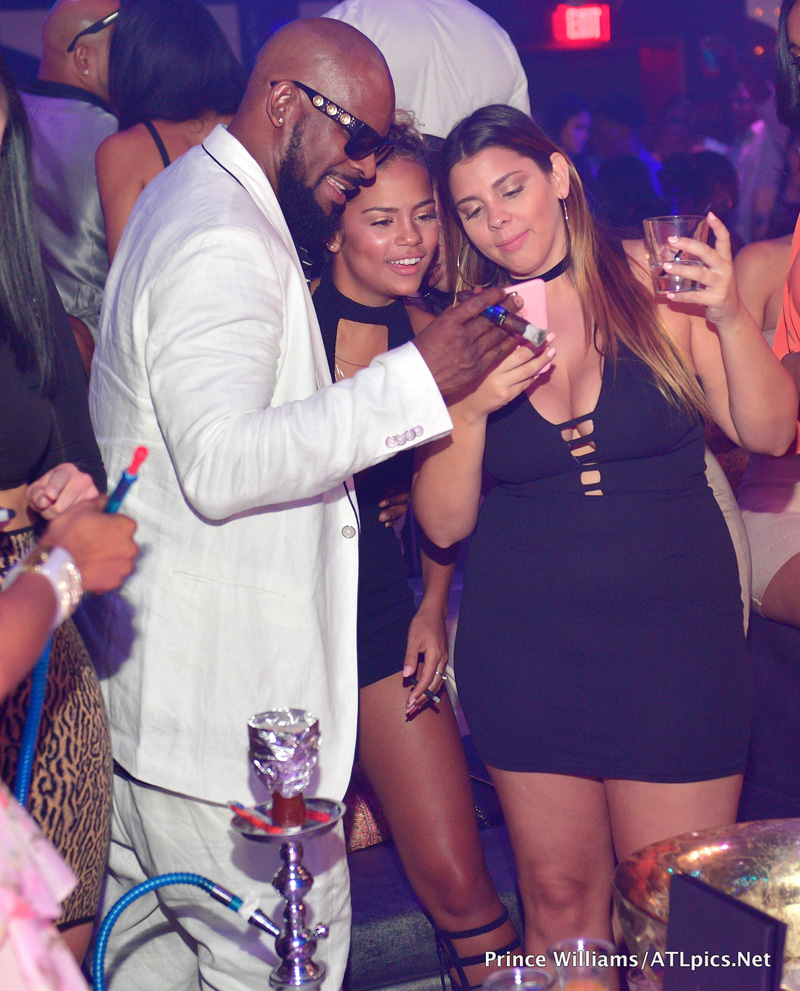 Kellz and his much younger bae (who is from South Carolina) first met back in February at a concert in Columbia, S.C. and they've been hanging out whenever he's close to her home state.
RELATED: R. Kelly Rumored to Be Dating 19-Year-Old Model From South Carolina
Halle and her mom attended one of his shows in Charlotte, North Carolina back in June, and the 20-year-old was reportedly spotted in the R&B singer's VIP after his show in Atlanta. According to one report, Kellz is "head over heels" in love with her and they're reportedly thinking about marriage.
The good news is, despite the nearly 30-year age gap, Ms. Halle Calhoun is technically legal. (We all know about Kellz and his "history" with underage women.) The bad news, though, is that her mom may be unknowingly pimping her out.
According to an email tip received by Fameolous, Halle is not R. Kelly's "girlfriend or fiance." Apparently, she's being groomed to be a part of his "harem" of women. (Bish, WHET?!)
The anonymous tipster also says that despite previous reports from other sources, Halle is "21, NOT 19" (FYI: She's actually 20, her 21st birthday is next month) and she's just "one of his girlfriends who he uses for sex … his new f**k." As for Halle's mom, the source says that she's a "dumb, oldhead groupie who really thinks that R. Kelly is just introducing her daughter to producers, writers, etc. despite the fact that she doesn't even do music."
You can read the entire e-mail (via Fameolous) below:
So I've been pondering whether to blow R.'s spot but I figured since this whole Halle debacle is gaining friction that I'd drop some tea. So here it goes…

#1 Halle is 21, NOT 19. #2 She's not his girlfriend or fiance but R. is def. trying to warm her up to be a part of his harem. Halle met R. twice at his shows. He invited Halle to spend time at his home in Atlanta once the first leg of his tour wrapped up. Halle's mom is a dumb, oldhead groupie who really thinks that R. Kelly is just introducing her daughter to producers, writers, etc. despite the fact that she doesn't even do music, lol. Let me tell you this, one of R.'s girlfriend's family thinks she's creating music with R. but she's really just one of his girlfriends who he uses for sex but I digress. Anyway, Halle is just his new fuck. A lot of people warned her about how R. gets down and how he has many girlfriends but she deleted all the comments. So it's safe to say she's being 'trained' to be a part of his harem and she accepted so I can't feel too bad.

Anyway, R. Kelly has about 5 live-in girlfriends. [I don't want to provide names cause these women may move on with lives in the future. They will most likely want to do more with their life instead of being R. Kelly's sex toy.] They're a harem. Some of them have been around for almost a decade and others 3+ years. They travel on the road with him, they do whatever he says, when he says it. They all have sex with each other and with R. Their ages are between early 30's to 19, so they're all legal. They can be seen at his shows. Front row and they never make eye contact. All of them walk with their heads down and wearing baggy clothes. They can also be seen in a group wherever he's playing basketball.

Sara is just his girlfriend that he flies out to Chicago or whatever city he's in. She's not really mingling with his harem or sitting up at his studio like his other women do. Many didn't know about her until she decided to post a picture of them and tell Halle that R. is her man.

Truth is, R. is community d*ck. He has many women (outside of his harem) that he rotates. I feel bad for Sara cause she most likely was fooled into thinking she was his only girl… But the gag is Sara has fucked with his harem, as well. So I don't know why she's acting shocked about the new edition to the harem. I do know that he treated Sara different than the rest of them so perhaps there is love there. He didn't dictate how she dresses or what she does with her life while with him. In comparison to his harem, he treats her like royalty. He lets her be so I do think he may see her as more than pussy.

So yea, all of his women have to be down with lesbian sex and to get "turned out" by his bottom b!tch, Juicy. This is the first thing he tells them. Juicy will eat any pussy right on the spot. [Oh and be sure to mention Juicy aka Andrea Payton and from Chicago] So he can eventually drop this toxic bitch.
Other women have since come forward confirming the allegations that R. Kelly has a group of girlfriends and is basically a budding polygamist.
https://www.instagram.com/p/BIrfscJhOwe/
https://www.instagram.com/p/BI21fwvBplE/
Be the first to receive breaking news alerts and more stories like this by subscribing to our mailing list.