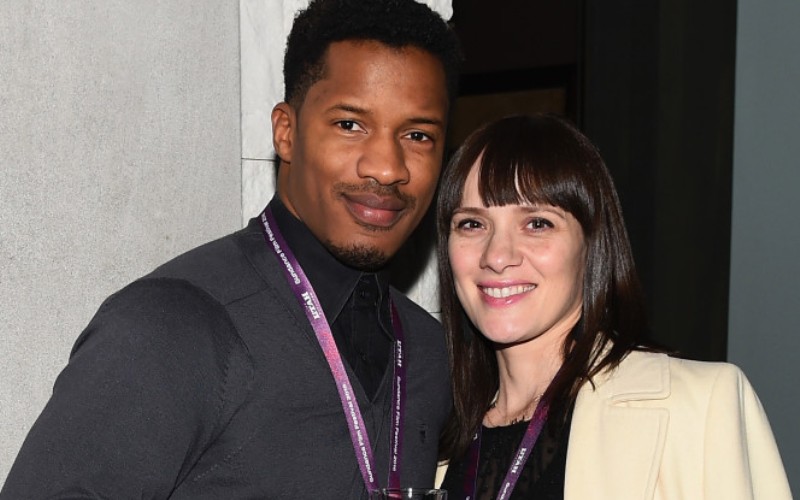 Actor/director Nate Parker is currently privately celebrating the birth of his first child. Meanwhile, online, Black Twitter is publicly calling out one of Black Hollywood's "it" men for having a white wife.
With the announcement of them recently welcoming a daughter into the world, also came photos of the couple. Many were surprised to learn that Parker's wife, Sarah, was an average looking white lady.
Twitter did not hold back from sharing its opinions and even exposed Parker's past rape allegations and perceived homophobia after he turned down a gay role.
Nate Parker has a clear wife? pic.twitter.com/6a8mDbmYr9

— Morenikeji ? (@DiasporaXOlori) August 5, 2016
https://twitter.com/conorb1990/status/761646696396824577
IDC about the color of Nate Parker 's wife. I just want to know how I missed the married w/children memo. I'm hurt. pic.twitter.com/NUkDHSuS3r

— ShakariSBriggs (@ShakariSBriggs) August 5, 2016
I never liked Nate Parker & I don't want to see his movie. I know the story of the massacre & its doesn't end well pic.twitter.com/JhwcUsX7GZ

— Mansa Mona? (@w8whosaidthat) August 5, 2016
"Nate Parker isn't pro black bc he has a white wife!" no it's bc he's a homophobic rapist please stop

— kenobea // let's gts (get that sufganiyot) (@beatriceca) August 5, 2016
https://twitter.com/SageSation/status/761672574753439748
And here I was thinking y'all were mad at Nate Parker for saying "all lives matter".

— Jackie Big Tits (@intrepid_heroin) August 5, 2016
Dang I didn't know Nate Parker was like that. I can't watch Beyond The Lights anymore. pic.twitter.com/U0M16ZAayB

— New or Lean (@mjgchick) August 5, 2016
So now I know why Nate Parker is trending (dumb reason.) But at least I learned something about him, his past (not dumb, disturbing.)

— felicia the critic (@felicianista) August 5, 2016
https://twitter.com/TaliAuzenne/status/761662331264733184
While Parker's past actions are questionable and disturbing, it's strange to insinuate he can't be an advocate for the black community simply because he has a white wife. Jesse Williams endured similar criticism due to having a white mother.
Nate has received much praise in recent months for his upcoming critically acclaimed film The Birth of a Nation. The film, which he wrote, directed, produced, and stars in, recounts the greatest slave rebellion led by Nat Turner. The film won the Grand Jury Prize at the 2016 Sundance Film Festival and was acquired by Fox Searchlight for a record $17.5 million.
Given the film's subject matter and Parker's foundation, which aims to "confront systemic crises and disparities within the African and African American communities in the areas of education, cultural enrichment, and social and economic justice," many felt Parker having a white wife was hypocritical.
Meanwhile, Parker doesn't seem too pressed about being a trending topic. Here's what he posted on social media amidst the Twitter drama.
Be the first to receive breaking news alerts and more stories like this by subscribing to our mailing list.