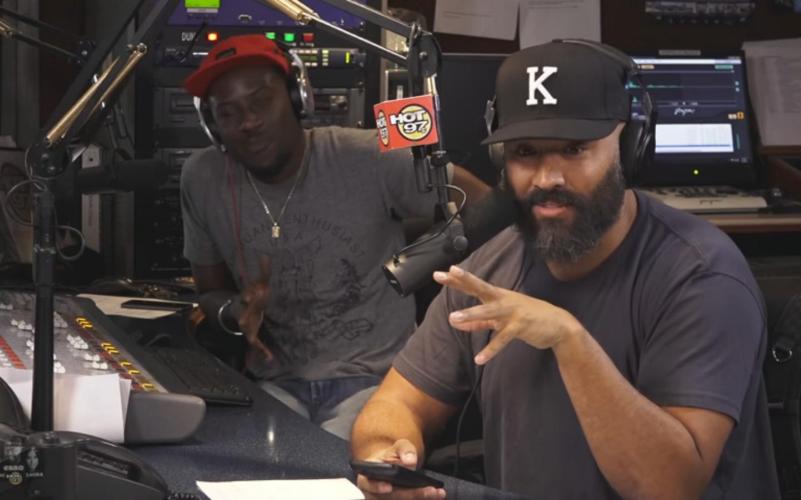 Radio personality Ebro unleashed s sh*tstorm with his offhanded Eminem Drake diss track comment. Now the host is responding to all the controversy.
Here's the backstory:
Ebro recently went on his Hot 97 show Ebro in the Morning and recalled a conversation with Drake, where he alleged Eminem was preparing a diss track aimed at the Canadian rapper. "I got something for him, too," Drake said in response to the claim.
The story was picked up by basically every major entertainment news outlet, adding fuel to the beef that seemingly came out of nowhere. Drake then reportedly said "F**k Hot 97" during his concert at Madison Square Garden Thursday night (Aug 4). He also suggested Hot 97 host Funkmaster Flex should be fired from the station.
Now that you're all caught up, the gag is (as Keke Palmer would say), Ebro claims Eminem's diss track was all a joke!
It was such a joke and people ran with it… Slow news day. Drake got too much respect for all that… https://t.co/fzq1WnwRbb

— El Viejo Ebro (@oldmanebro) August 4, 2016
Facts we was joking…
Talked about in jest & fools jumped out the window. I ain't even think it was a big deal https://t.co/xBbWkzjXMN

— El Viejo Ebro (@oldmanebro) August 4, 2016
Ebro says he and Drake both knew it was said in jest and he doesn't understand why the rapper is targeting Hot 97. However, no audio or video footage has surfaced of Drake specifically saying "F**k Hot 97," but it can be confirmed that he called out Funkmaster Flex.
Yea he been mad at Flex… ???

Wait… He mad at me too?!! ??? https://t.co/qimE428w4y

— El Viejo Ebro (@oldmanebro) August 5, 2016
"I'm gonna watch this thing unfold cause for him to say Flex's name on stage –there's a lot of people's names he could say that have come at him–for him to set that up like that," Ebro said. "He's very smart. He knew his opening night at MSG needed to mean something."
It's well-known that Flex and Drake don't have the most cordial relationship, so the rapper's rant may be directed toward the individual host and not the station as a whole. Ebro is very wise to step back from the situation.
Hahahaha!!! 7pm Sat I got a story to tell! @Drake u gonna learn! #NYC @HOT97

— Funk Flex !!!!! (@funkflex) August 5, 2016
However, Ebro in the Morning co-host Peter Rosenberg may have inadvertently created more controversy while trying to defend Flex and Hot 97. Here's what he had to say:
"Listen: This is an actual business that's been around–and as much as you guys talk trash–has been, as you can tell, still quite influential for 25 years. Just because ya'll do are b***h boys who would do whatever Drake says because your girl's favorite artist is Drake and you're such a b***h that you have to go do what Drake says. I may not agree with how Flex went at Drake, but we're not gonna fire Funkmaster Flex because Drake says so. He makes good dance records and he's the most popular rapper in the game, we don't do whatever Drake says. That's what you do. Because you're a b***h and you listen to Drake. And all you do is listen to pop style and dance all day. That's what you do. I'm sitting around listening to Jadakiss. Relax. I'm not focused on you."
https://twitter.com/Rosenbergradio/status/761388967094784001
So, yeah – Drake may not have had a problem with Hot 97 before, but he might see things differently after hearing Rosenberg's comments. At the very least, Rosenberg's name has been added right below Funkmaster Flex on Drake's beef list.
Be the first to receive breaking news alerts and more stories like this by subscribing to our mailing list.