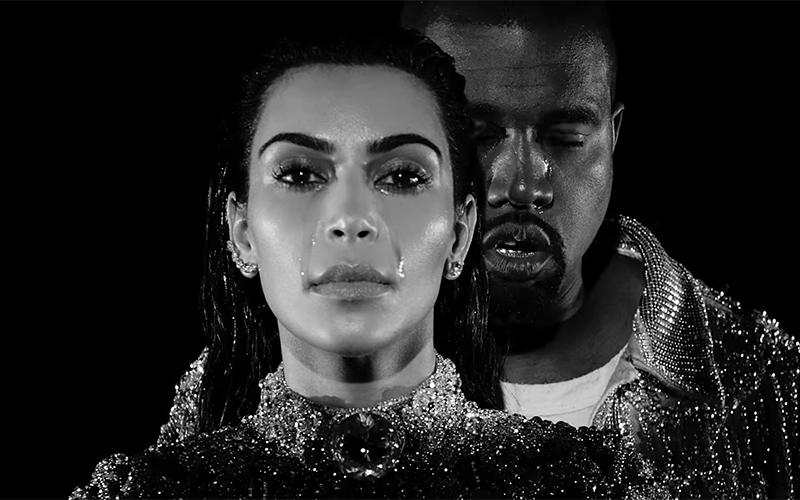 Given Kanye West's unconventional release of his last album, The Life of Pablo, it's a bit refreshing to see Kanye take a little more of a traditional approach to the music video for "Wolves," the latest release from his album.
I say "a little more" because although we do get a full music video, complete with essential co-stars Vic Mensa and Sia, it is, in actuality, a fashion ad for Balmain masquerading as a music video.Despite the clear sponsorship angle here, Kanye masterfully weaves fashion,
Despite the clear sponsorship angle here, Kanye masterfully weaves fashion, art, and music together for this stark, black & white video that smartly contrasts the stiff, rigid and alienating nature of a fashion show and contrasts it with the very real human emotion of tears.
Kanye and the models in the fashion show walk in stunning, bedazzled Balmain garb throughout the video but tears stream down their faces as they soldier on. Kim Kardashian West, Kanye's beloved trophy wife, makes an appearance as well, and her portion of the video lasers in on the idea of celebrity and the paparazzi as "wolves" as they paw and tug on Kim while she stands helpless, like a doll trapped in a box.
In reality, Kim is most certainly not the innocent bystander of fame, but rather the active pursuer of it, but this is Kanye's vision so we'll let him think what he wants, facts be damned.
Sia's verse, which is, in my opinion, the most haunting part of the song, is also worth noting. That damned two-toned Cruella DeVil wig manages to come off as mystical rather than goofy. This is in large part thanks to Sia's stunning voice which could frankly make us probably take Lil' Mama seriously too. Not that that's an invitation for a collaboration…
Watch Kanye's "pretty hurts" video for his single "Wolves" below.
Be the first to receive breaking news alerts and more stories like this by subscribing to our mailing list.