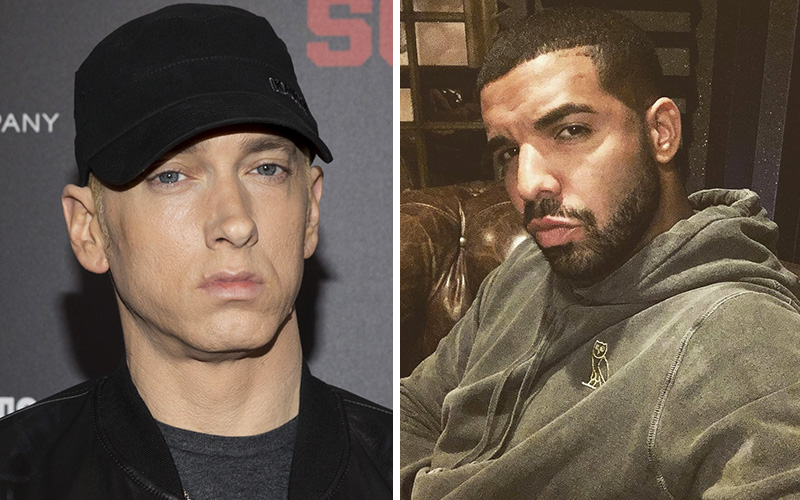 It seems rappers are determined to dethrone the current king of rap. Along with beefs with Joe Budden, Meek Mill, and several other rappers, Eminem apparently is preparing to drop a diss track aimed at Drake
Very respected and credible radio host Ebro discussed a private conversation had with the Canadian superstar. The conversation was initially about Budden's feud with Drake, the host told his Ebro in the Morning audience. However, Ebro then dropped the Eminem bomb.
https://twitter.com/itsbizkit/status/760899114926239744
"I told Drake I heard the rumor was that Eminem was gonna gear up to come after him. And [Drake] laughed, and he said, 'That's not gonna happen. He'll never do that. And if he did I got something for him, too.'"
Ebro clearly has some inside information. But where did this beef come from? Drake and Eminem have seemed to be on good terms for years. The two collaborated on the single "Forever" in 2009 and Drake even labeled Eminem the "greatest rapper of all time" when he introduced the Detroit rapper at OVO Fest in 2010.
Some have suggested Eminem is backing up Budden as he shouted Eminem out in one his Drake diss records. But I doubt Eminiem would even entertain Budden's in child play.
Though this alleged beef came out of nowhere, let's be honest, Eminem and Drake would produce some great tracks. I lowkey wanna hear what they come up with. I'm all for this beef!
Be the first to receive breaking news alerts and more stories like this by subscribing to our mailing list.