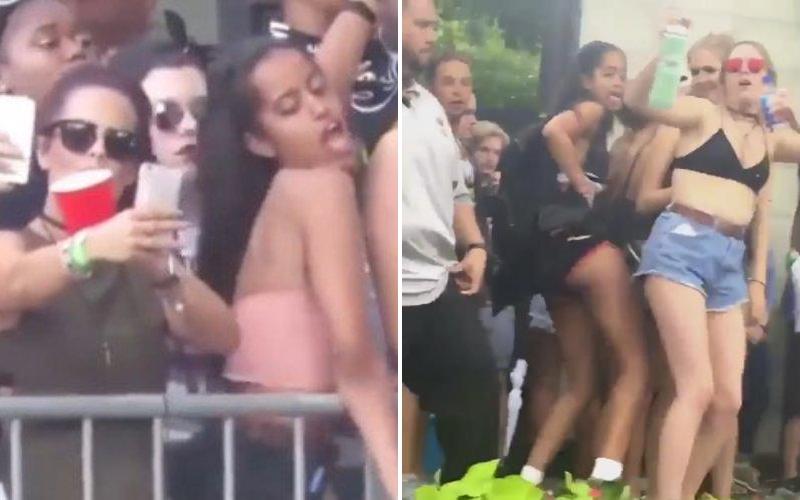 While Barack and Michelle Obama were gracing the Democratic National Convention stage last week, their oldest daughter was out living her best teenage life on the Lollapalooza stage.
First Daughter Malia Obama attended the four-day music festival in Chicago. This shouldn't be a surprise given that she's attended the festival before. However, video footage of her 2016 outing has gone viral and it definitely proves she's not a kid anymore.
https://twitter.com/balleralert/status/760058661242822656
https://twitter.com/RicheyCollazo/status/759484238173392897
Several videos show Malia and her friends dancing and "twerking" on the side of the stage during performances. In one clip, Malia is seen raising her skirt to display athletic shorts underneath and does a little jig for the people. It's great seeing the 18-year-old have a brief opportunity to be a somewhat normal teenager.
The Obamas have been relatively scandal-free since moving into the White House January 2009. There are probably some who may be offended that a current First Daughter of the United States danced and literally showed her ass on stage, but they can stay mad. If Malia dancing to Mac Miller, of all people, is the most scandalous thing haters can criticize, then it's been a successful 8 years for the family.
The fact the Malia skipped an historic DNC to attend Lollapalooza also shows that she's ready to leave the White House and explore new opportunities as she steps into young adulthood, and she's got some more twerking to do. Opting to take a "gap yearr," the recent high school graduate will attend Harvard University (her father's Alma mater) in the fall of 2017.
Be the first to receive breaking news alerts and more stories like this by subscribing to our mailing list.