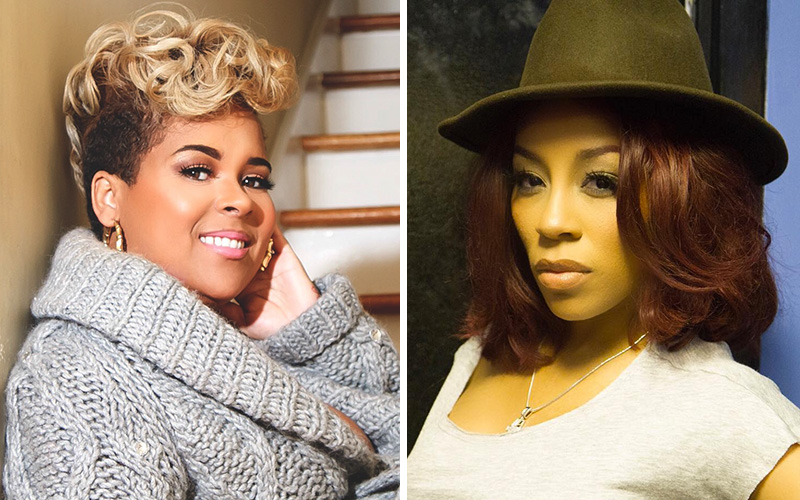 K. Michelle has come under fire for reaching out to Toya Wright on social media following the tragic shooting death of her two brothers.
On Sunday (Jul. 31), after the news broke that Toya's brothers had been shot and killed while sitting in a car in New Orleans, K. Michelle put aside her differences with Wright, and offered her condolences to the reality star on Twitter.
@ToyaWright I would DM u but we blocked each other long ago. I just received word of ur loss. Even though we've never met my heart hurts 4u

— K. Michelle (@kmichelle) July 31, 2016
@ToyaWright nobody deserves that type of pain.We may never be best friend but U are my sister in Christ. I pray for u and your whole family

— K. Michelle (@kmichelle) July 31, 2016
@ToyaWright continue 2fight for 4ur healing. I understand sleepless nights,but the best thing is the sun comes up in the morning??

— K. Michelle (@kmichelle) July 31, 2016
@ToyaWright no beef or hate in my heart 4 you. Only support and prayers up. Please know that God has a purpose on ur life. Stay strong.??

— K. Michelle (@kmichelle) July 31, 2016
She then screenshotted her tweets and re-posted them on Instagram along with this caption:
My prayers are with you @toyawright I come to u with a genuine heart. When someone suffers from a loss like this it truly makes everything else seem trivial
https://www.instagram.com/p/BIhQPBYhzJp
A number of folks have since questioned her sincerity and the motive behind K. Michelle's messages to Toya. And her biggest critic is a woman named Sabrina Peterson, a former friend, who says that K is "dead wrong" for publicizing her messages to Toya and she needs to "stop it!"
Based on K. Michelle's long and ugly history with Toya over her estranged husband Memphitz Wright, Sabrina doesn't feel like the R&B singer's sentiments are the least bit genuine, and she should just leave Toya alone.
"I know that this person is an attention seeker!" Sabrina of her ex-friend. "I heard her plans of malice! I'm saying to K. Michelle right now, stop it! This ain't no time for writing Toya ANYTHING and you feed off blogs! […] If you wanted to send Toya a message you should have sent it privately!"
Read her full message below:
Dear @kmichellemusic From: Sabrina! Make sure your response is real cute & peaceful because the last thing you want is this mouth to open! So this isn't the time! YOU DEAD WRONG! You been DEAD WRONG! LEAVE HER ALONE! When I realized how nasty and evil of a person you really are I stood down & away from you. Her email is in her bio! The same way you login on someone else's phone to see people's pages you blocked from you could have gotten the email address from there to send you "Sincere Condolences" this ain't the time to play!
https://www.instagram.com/p/BIiVz2XAubu/
Hmm. What do you think? Were K. Michelle's messages genuine? Or do they scream, "HEY, BLOGS! WRITE ABOUT ME!! I'M BEING A GOOD PERSON TODAY!!!"
Be the first to receive breaking news alerts and more stories like this by subscribing to our mailing list.