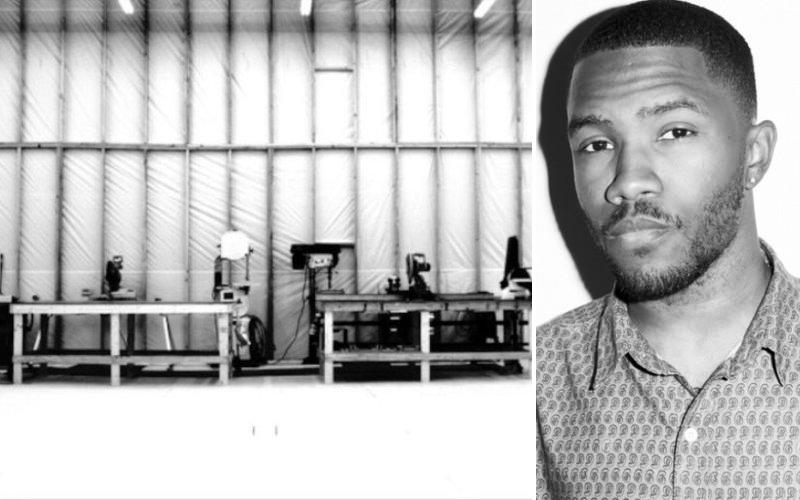 Frank Ocean is still playing with our feelings. July has come and gone and he still hasn't released his long-awaited sophomore album, Boys Don't Cry. However, the singer is apparently "building" something.
Fans became super excited early Monday morning (Aug. 1) as an Apple Music live stream video began playing on Ocean's website, Boysdontcry.co. The original video featured two workbenches in a warehouse with muffled sounds in the background. The stream then changed featuring a dark figure crafting something at a woodworking station.
Titled "Endless," the live stream popped up around 3:00 am EST and many believed the singer-songwriter was about to reveal new music. However, fans waited… waited… and waited some more. But all we got was this strange video.
(It should be noted that not everyone is seeing the video properly. For instance, all I get is a black screen. People have found better success with mobile devices and different internet browsers.)
Fans were obviously not happy when Boys Don't Cry didn't drop in July like we all anticipated. They were even more upset as they stayed up late (or woke up early) to stare at a live stream with no new music debuting.
It feels like Frank Ocean has been doing this for four years. pic.twitter.com/ElJz4W9p5g

— Parker (@panoparker) August 1, 2016
Raise your hand if you've ever felt personally victimized by Frank Ocean pic.twitter.com/TiwBCALayW

— ???????? | ????? ????? (@KlNGNEUER) August 1, 2016
https://twitter.com/vanessajonezz/status/760048307947376640
Am I really going to sit here and watch this live stream loop on repeat for the next month waiting for something to happen? Of course I am

— ? on hiatus (@lonnybreauxs) August 1, 2016
Favorite song off this new Frank Ocean album?

— Pigeons & Planes (@PigsAndPlans) August 1, 2016
Frank Ocean tomorrow as he sees millions still on his livestream. pic.twitter.com/0ckG2oKjkg

— JUAN (@JUANACOSTA__) August 1, 2016
WHICH ONE OF YALL HURT FRANK OCEAN SO BAD HE HAD TO PLAY ALL OF US DIRTY SO MANY TIMES IM TIRED FRANK LET ME SLEEP pic.twitter.com/t8llpdACDO

— kay (@leavesmeIonely) August 1, 2016
Frank Ocean got our black asses watching a whole empty warehouse. at 4AM, what kind of satanic vampirism?

— ? Tithes Dolla $ign ? (@kingrocketz) August 1, 2016
Frank Ocean is basically trolling us at this point. Some have even suggested this latest stunt is a looped video project by Francis Soriano. "Video art project I directed is up and runnin. Boysdontcry.co #Endless," he wrote in a now-deleted Instagram post with a still image of the original stream.
The stream on Frank Ocean's website is a looped video art project by Francis Soriano. Ty @okdaria 4 screenshot pic.twitter.com/Q5i1HgPi1R

— Frank Ocean Daily (@TeamFrankDaily) August 1, 2016
I think Frank Ocean is preparing to release Boys Don't Cry. However, I'm telling you right now, after all we've been through, since he announced this album LAST YEAR, Boys Don't Cry better be worth the wait!
Be the first to receive breaking news alerts and more stories like this by subscribing to our mailing list.