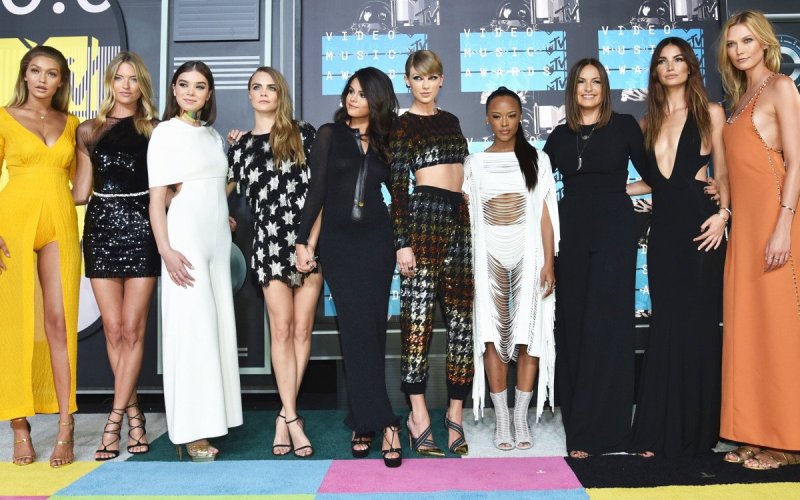 With Kim Kardashian as the conductor, several celebs (including some in her "squad") are reportedly jumping on the #TaylorSwiftIsOverParty train. And I have to say, I am absolutely living for this tea and shade.
In Touch Weekly's latest cover story goes all the way in on Swift. It features several "sources" revealing how horrible of a person Swift really is despite the public girl-next-door image she has masterfully crafted for nearly a decade. She apparently even has the nickname "Ursula," like the villain from Disney's The Little Mermaid, because of her manipulative ways.
"Some of the girls call her Ursula, after The Little Mermaid's manipulative sea witch, because she's so controlling," revealed a source. "[Taylor] will see a friend have three drinks and tattle to her boyfriend that she's an alcoholic."
And this is just the tip of the iceberg. Apparently, Swift's "friends" and acquaintances have a lot of tea to spill and were patiently waiting for the day the "Pop Princess" was finally pushed off her throne.
Calvin Harris – Swift's ex was basically the catalyst for the singer's current public relations nightmare when he put her on blast via Twitter and Instagram. "[He] knows how calculating she is," said a source, who also revealed his social media rant was a mere warning. "He's going to expose and destroy her," if she continues to play petty games at his expense.
Demi Lovato – "Demi learned from Selena [Gomez] that while Taylor pretended to be there for her when she was going through her struggles, she was calling Demi an awful singer and insulting her intelligence," a source revealed. (Swift is definitely lying here because we all know Lovato can out-sing Swift on any given day.) "Demi has been holding on to a lot of secrets about Taylor and now she feels like it's time to leak them," the source continued.
Selena Gomez – Gomez is Swift's BFF and defended her while social media was celebrating Swift's downfall. But even she can only take so much. "[Selena] recently found out some pretty horrible stuff Taylor has said about her, including about her weight and choice of boyfriends. Now some of the girls have started revealing what they've been hiding about Taylor."
You definitely have to take In Touch's "sources" with a grain of salt. However, I have always found something a little off/fake/unauthentic about Swift. It's like you always have to keep one eye on her because she's the type to smile at you in your face, stab you in the back when you turn around, and then force someone else to hold the knife. Kim Kardashian did call her a snake.
You can read more about Ursula, I mean Taylor, here and in the print edition of In Touch magazine's latest issue.
h/t: Celebitchy
Be the first to receive breaking news alerts and more stories like this by subscribing to our mailing list.