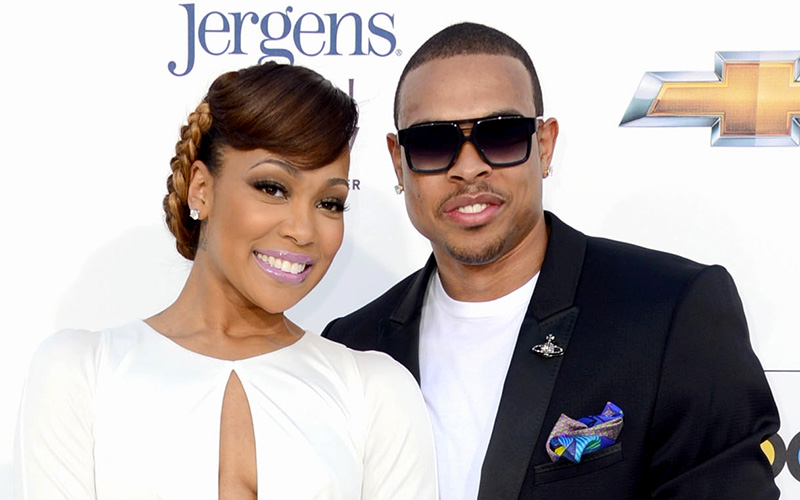 So, we all just got played big time. It was previously reported that R&B singer Monica's husband Shannon Brown cheated on her and fathered a baby with another woman. The alleged baby mama even had "receipts" to support her claims. Entertainment news sites (including this one) picked up the story and social media dragged Brown. However, it has now come to light that the entire story was FAKE!
The blog Industry on Blast was exclusively in contact with a "distraught mother" for weeks. She claimed to be the mother of Brown's 2-year-old daughter and provided seemingly credible photos, text messages, and DMs.
However, after parents claimed photos of their child were stolen and featured in the story, IOB learned the woman falsified all of the documents. She apparently became obsessed with Monica and Brown after the couple blocked her on social media. IOB called her a "stalker" that has been pitching this fake story to several outlets.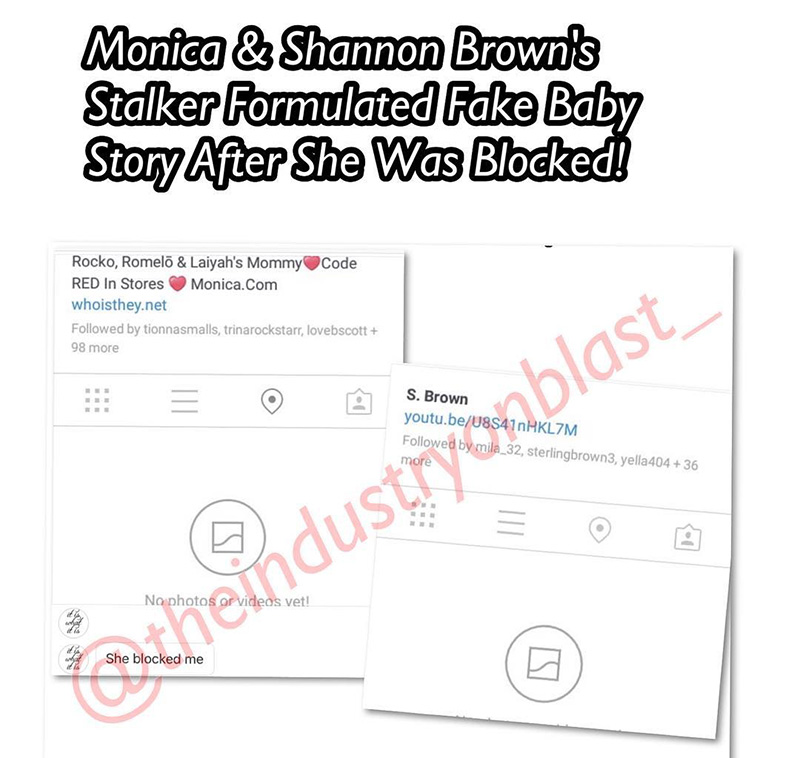 IOB removed the original article and issued a statement regarding the situation via Instagram.
IOB's Instagram page has since been deleted (likely due to the ramifications of this story) but the text version (and a screenshot) of their statement is below.
With such sadness and remorse that we have to retract a JUICY STORY. We at IOB are learning as we go and this past month we had been communicating with a psychotic stalker. This woman stalked #MonicaBrown, #ShannonBrown and their families and friends. She sent us her phone number (***)***-*** and she dmed us on twitter several times as well as email. She sent us photos of the pregnancy test being sent to Monica's brother and she sent baby photos which turned out to be STOLEN. The reason we waited so long to formulate the story was we needed more proof. Once she sent an alleged NUDE photo from a DM screenshot she had in her old phone – we said BINGO! We are huge fans of Monica at IOB and we only wanted to bring forward a serious situation and that was this woman needing a father in her daughter's life. Sadly, this story was fabricated by a person who needs to seek mental help.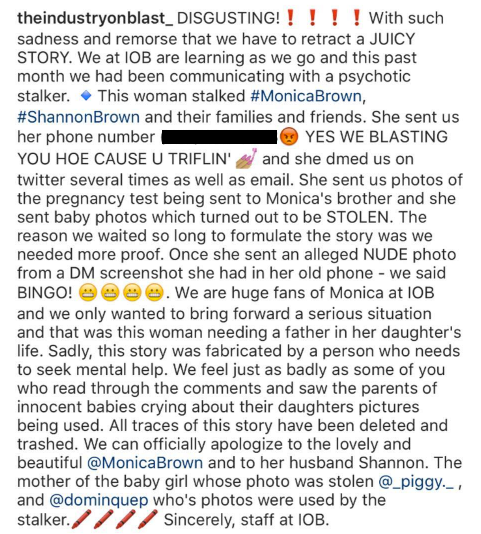 Due to an innocent child being involved, Monica also addressed the situation on her own IG.
https://www.instagram.com/p/BIGTNU0DYuL/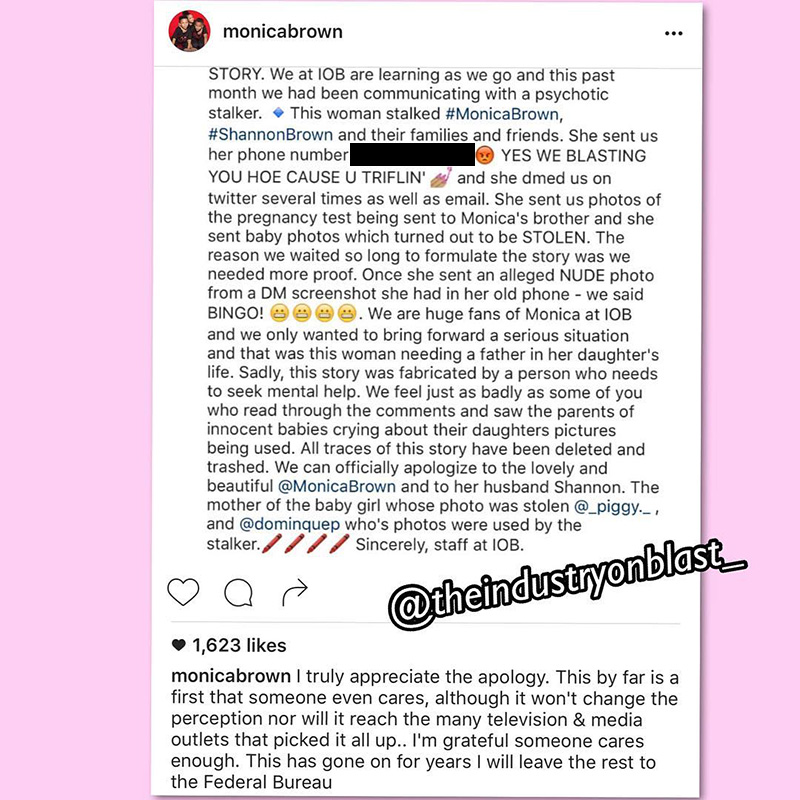 IOB also posted a personal apology to Monica and Shannon Brown.
Our deepest APOLOGIES once again to #MonicaBrown. God works in mysterious ways & we are glad she understands that we feel horribly that for weeks we were bamboozled and lied to. We didn't post right away because we didn't feel good about accusing #ShannonBrown of anything other than being a loving husband. We will assist with any investigation into who is behind these social media accounts and stealing baby photos and more! It is disgusting! We at IOB may laugh, poke fun and even threaten to fight but we ALWAYS remove stories that can result in hurt or depression – when asked. From now on, we will not post anything about #Monica unless it is positive. We have met her a few times over the years and she is genuine and beautiful. We have many writers at IOB and one decided this story was credible enough and they will be reprimanded. Monica girl, get some new music and send it to us so we can DANCE in our living rooms!
This is truly one of the craziest stories I've ever reported on. Stories regarding children should always be handled with care. Unfortunately, this delusional woman really thought it was OK to steal photos of an innocent child and attempt to ruin a marriage all because she was blocked on social media. What's worse is that we fell for her lies.
Echoing Industry on Blast, GOT also apologizes to the parents of the child featured in the viral post and to Brown and Monica for falling for the elaborate hoax.
Be the first to receive breaking news alerts and more stories like this by subscribing to our mailing list.