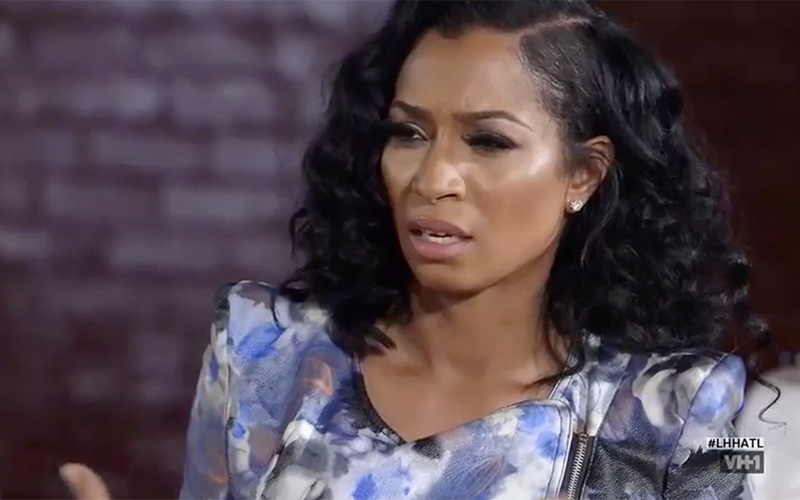 Week after week, Karlie Redd keeps taking L's, but for some reason, she keeps coming back for more.
After Lyfe embarrassed the hell out of her by giving her a promise breakup ring (where they do that at??), Karlie Redd's dignity suffers more devastating body blows as she digs herself further into the rabbit hole.
First, she takes up her friend Jessica Dime's suggestion that she go and get her "promise ring" from Lyfe appraised. Jessica loudly and repeatedly expresses her opinion that the ring is a FAKE. Karlie, on the other hand seems to hold out hope.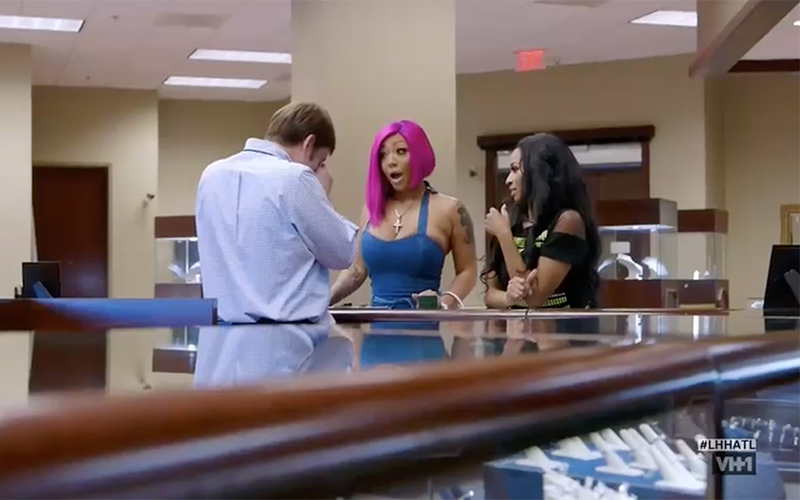 So when Karlie takes that ring to the jeweler, how much do you want to guess that ring was appraised for?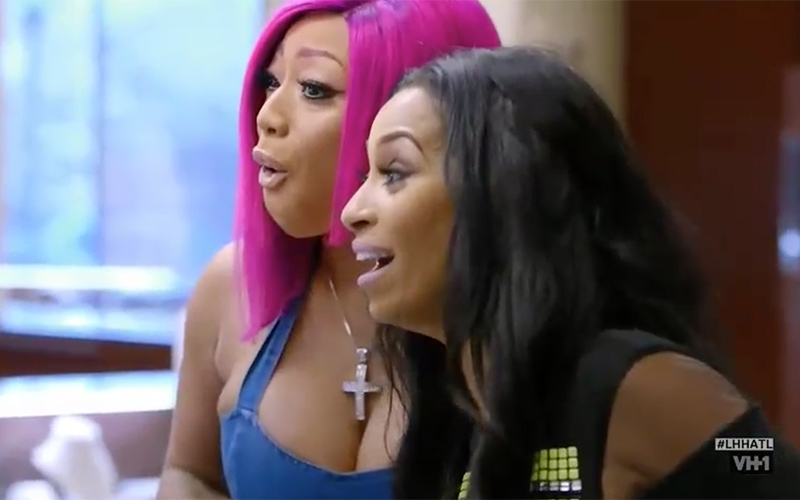 If you said $10, congratulations. If you guessed anything more than that, Lyfe fooled you.
Now I knew damn well that Lyfe was not buying Karlie no expensive ass promise ring. Not necessarily because he might not have wanted to, but because Lyfe's music career has been on life support. His albums have been going aluminum foil for at least the past 5 years. His biggest source of income in recent years has been playing Bobo the Fool behind Karlie Redd on this damn show.
So of course his broke ass ain't got the coin to break Karlie off with something from Jacob the Jeweler. But damn, I thought Lyfe had at least gone a copped a $100-something cubic zirconia. Come to find out Lyfe is out here giving Karlie the jewelry equivalent of a ring pop. No respect.
Actually, who am I kidding? The producers gave Lyfe that damn prop ring and then had Karlie go to the jewelry store to appraise it knowing that the jeweler would say it was fake and cheap, all for our shits and giggles. I see you, Mona Scott-Young, but we gon' play along.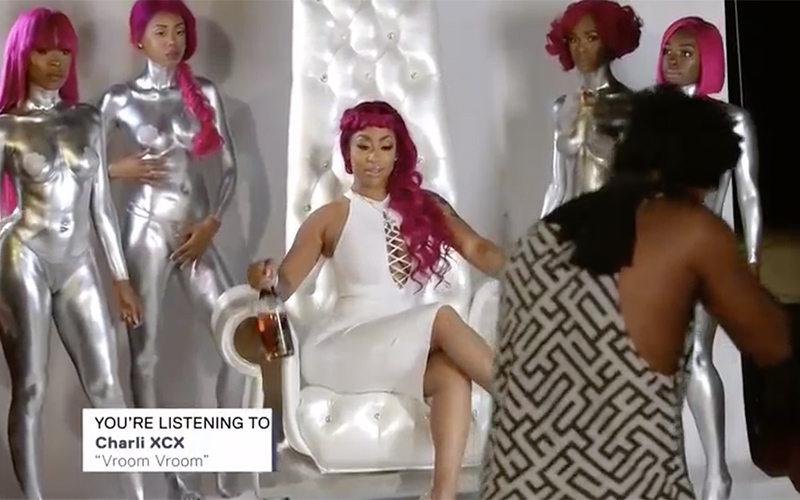 After getting a few good laughs in at Lyfe's expensive over his weak wallet game, Karlie gets hit with another doozie when her friend, Jessica Dime, invites her to the photoshoot for her pink wig line called the Pinkpiece. If I recall correctly, Jessica Dime is supposed to be some kind of rapper, so I'm confused as to why she's out here focusing on a wig line instead of her music, but I digress.
Jessica invited Karlie over not to gaze at her perfectly pink wigs, but instead to rub Lyfe's trash behavior in her face. Jessica's friend, Bianca, has a friend who just so happens to be Lyfe's baby mama.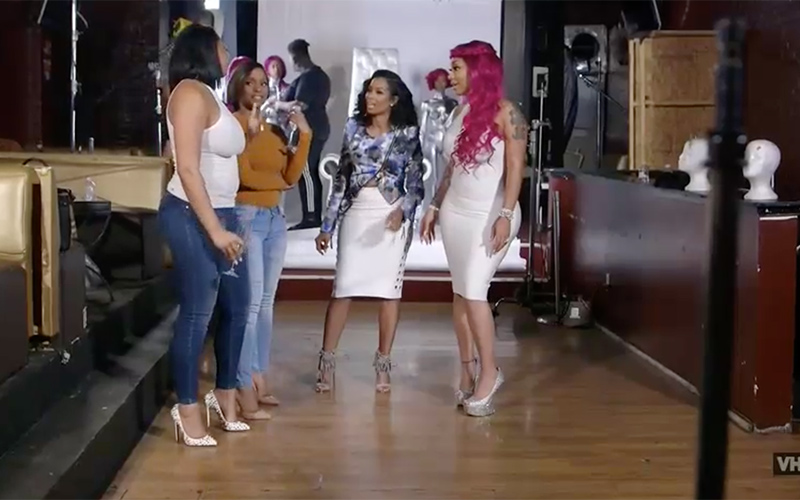 Jessica introduces Karlie to Bianca and Indiya, Lyfe's baby mama in an attempt to say, "See, girl, I told he wasn't shit."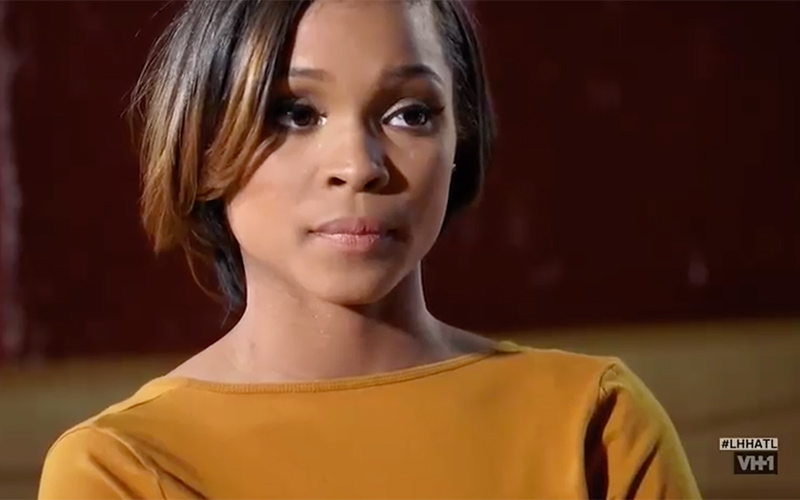 When the baby mama opens her mouth to explain that she was messing with Lyfe before Karlie got involved, Karlie snaps back and starts calling the girl a bitch. And when she insists that Lyfe impregnated her, Karlie gets irate and calls her thirsty. And when homegirl brings out her receipt, a damn DNA test confirming that Lyfe is indeed the father (Hey, Maury!), Karlie tries to throw hands on the girl and stomps off ranting about how the baby mama is thirsty.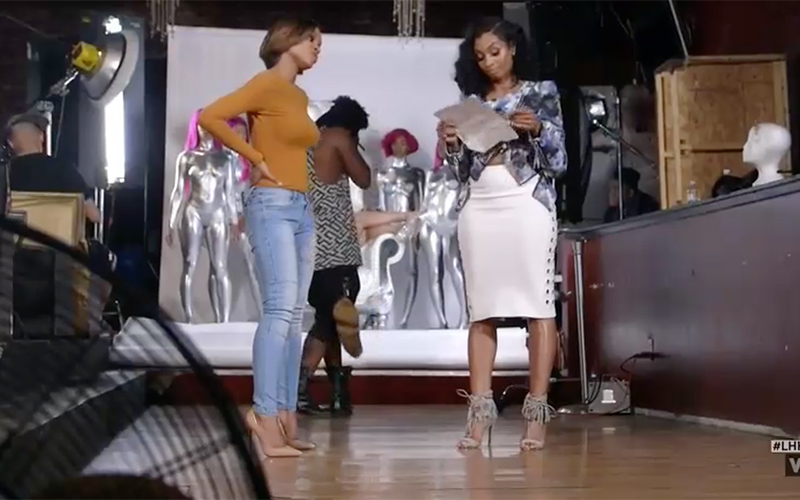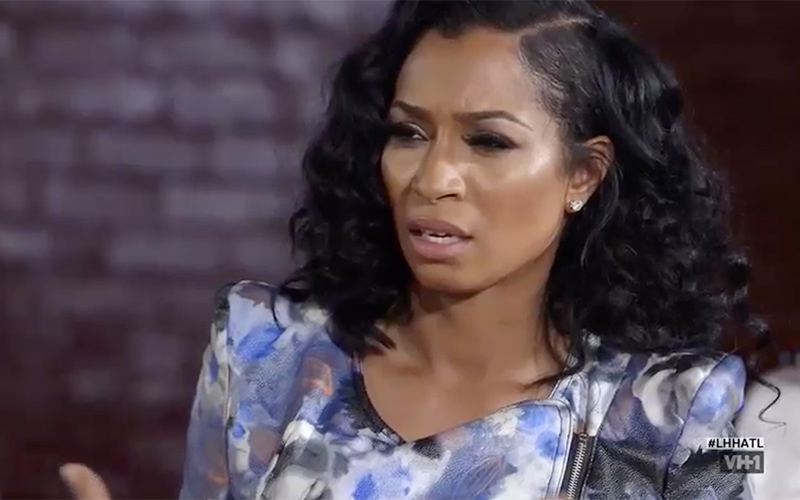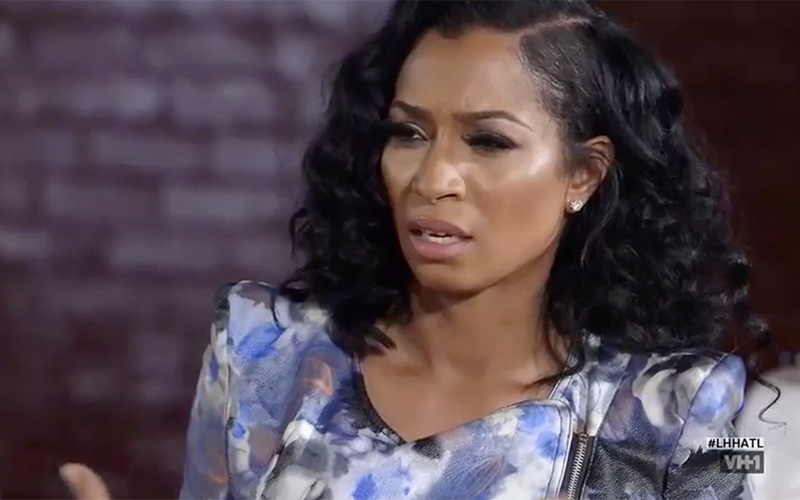 Dear Karlie, I know that your storyline on this show has become weak and decrepit, but attacking a woman for giving you the heads up that your NO GOOD man is out here impregnating girls on the streets behind your back is a new low. You're mad at the wrong one, baby.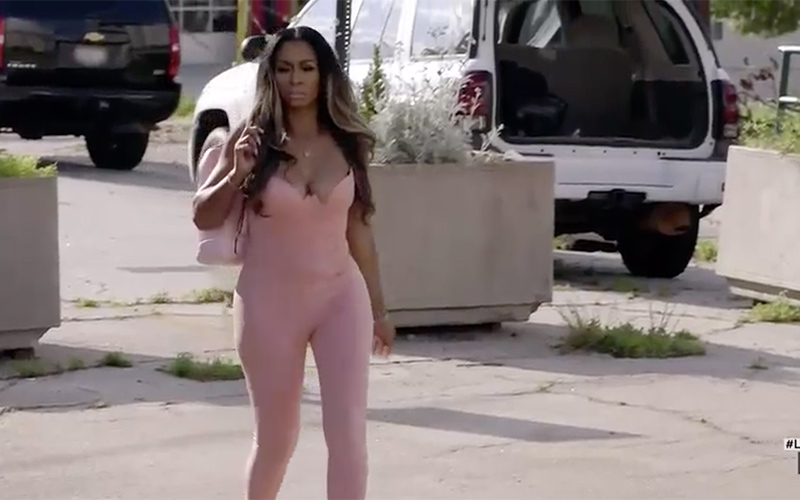 Later, when Lyfe is pretending to shoot a music video with his current rumored girlfriend, Karlie confronts Lyfe. First, she asks him about the ring, Lyfe doesn't deny it and straight up tells her he ain't got the money like that to buy no expensive ring.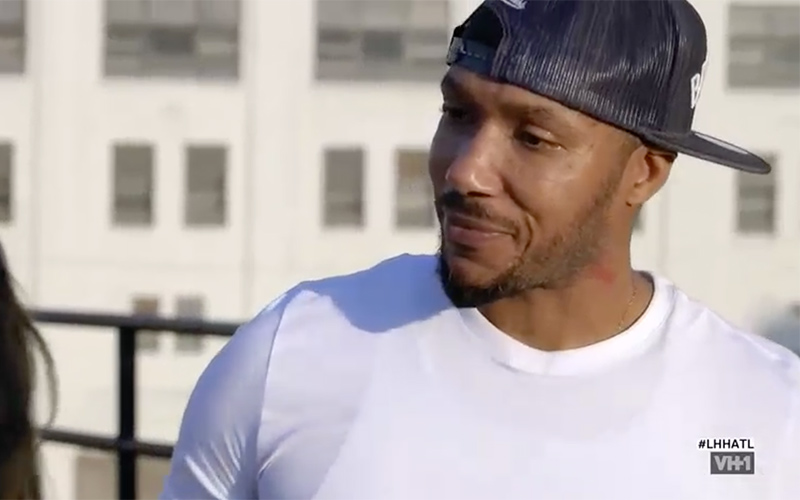 "I mean the ring was just symbolics. Like I know that it was not a real ring, but man you know I can't afford that," said Lyfe.
He's ethering himself. This is too much.
And when Karlie asks him about the baby mama, Lyfe shrugs his shoulders and essentially says, "Ok, ma, and?"
"I see that she more interested in doing her than keeping a man happy," said Lyfe.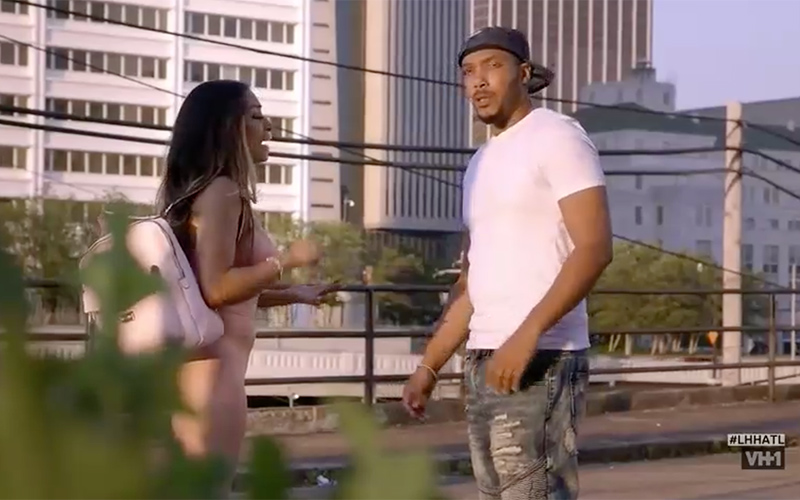 Karlie, stop trying to make fetch happen. You're better off pining for Scrapp through the glass in prison than running behind Lyfe's sorry ass.
K.K. and Tiarra Have a Breakthrough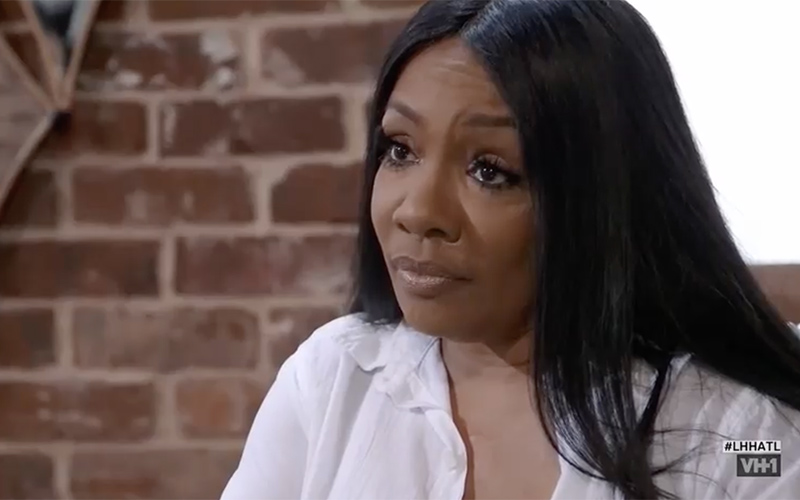 While a LOT of this so-called reality show is scripted, when LHHATL has genuine moments, it makes for compelling TV.
The tension between K.K. and her son's baby mama Tiarra has been heated since the beginning of the season. When the two last met, K.K. vowed to show up at Tiarra's house and whoop that ass. But with Scrapp behind bars for some time now, K.K. has had a chance to have more sobering thoughts and whether it's through guilt or from the producers' insistence, K.K. has had a change of heart.
So she calls Tiarra over and for the first time, the two women sit down and have a cool, calm and grown-woman conversation.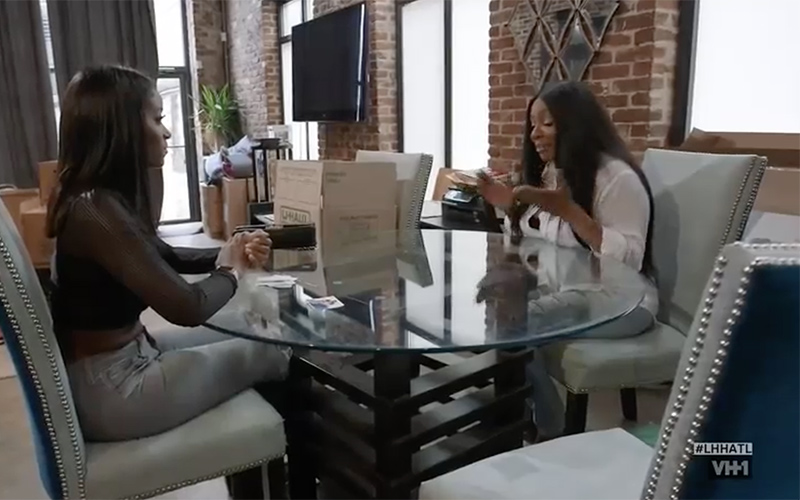 As the two ladies discuss the drama and angst between them, K.K. makes its clear that with Scrapp in prison, she wants nothing more than to be in her grandson King's life. And she's willing to break down her walls and rebuild a relationship with King's mother to make that happen.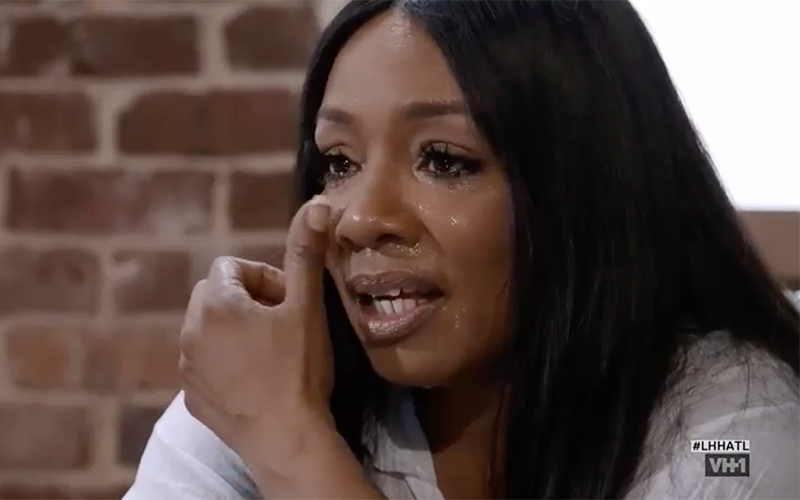 Whether the reunion was forced or genuine, who knows, but the tears and words coming from K.K.'s mouth during this scene are too real to be fake. It's sad that it took this point for them to start to heal but it's good to see people healing relationships in addition to the destruction of families that we so often witness on this show.
The Trouble with Tommie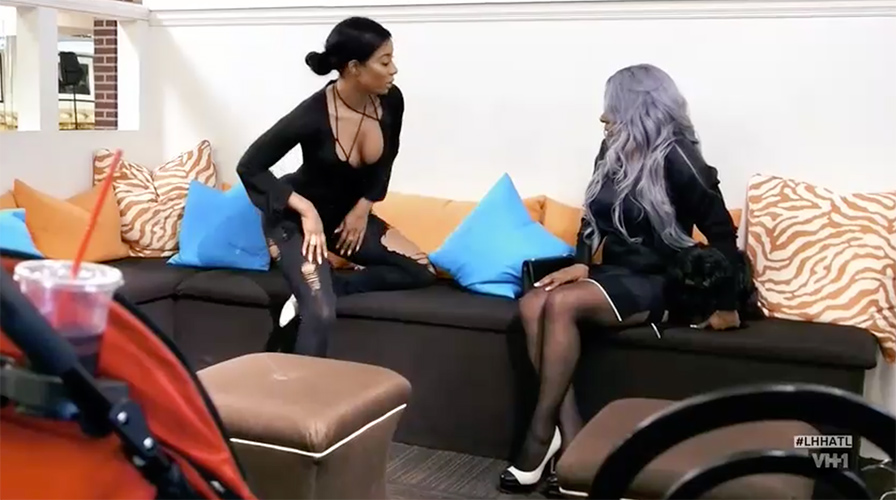 Scrapp has left several women in the wreckage as he's gone off to jail but none of the women has ended up as badly as his ex-girlfriend Tommie. After sniffing around Stevie J earlier the season and cuddling up to Joseline for kuddy kat licking sessions, Tommie ends up caught in the crosshairs of Joseline and Stevie's psychodrama.
An encounter between Tommie and Stevie off-camera supposedly results in Joseline calling the police on Tommie. Tommie's version of the story claims that Stevie came over to Tommie's hotel room with an indecent proposal offering to help Tommie with her music career. Tommie claims she told Stevie she was indecent and told him to leave. Joseline caught wind of Stevie being in Tommie's room and in a move out of spite, calls the police claiming that a fugitive is hiding out in the room.
"We got a call from an Atlanta number that it was a fugitive here in the room," said Tommie. "Nobody knew my room number but this girl [Joseline]."
Tommie is furious about the betrayal and she tells K.K. about it while she's slightly inebriated. K.K., putting on her maternal bird cap for a minute, tells Tommie that she needs to seek help for her alcohol addiction. Tommie shrugs it off and then begins to moan loudly about the hurt and pain that Scrapp has caused her.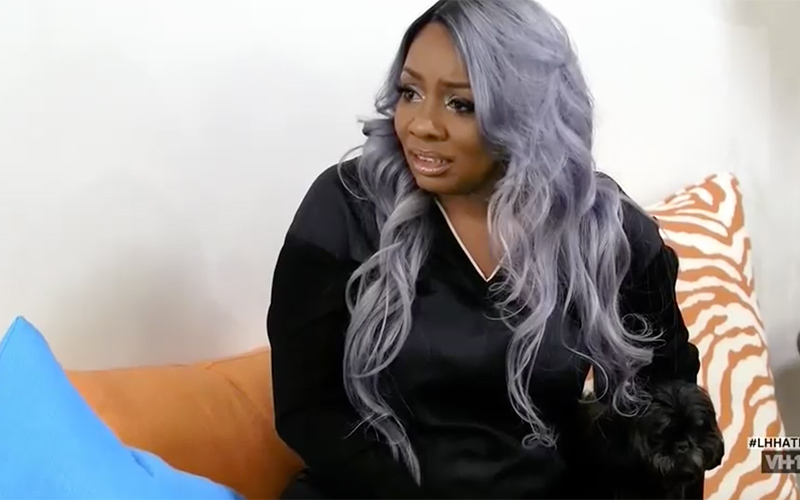 "I feel like you're acting like a goddamned fool cause he's gone," said K.K. to Tommie. "It kills me that Tommie drinks so much. When she's drunk, she has no control of herself."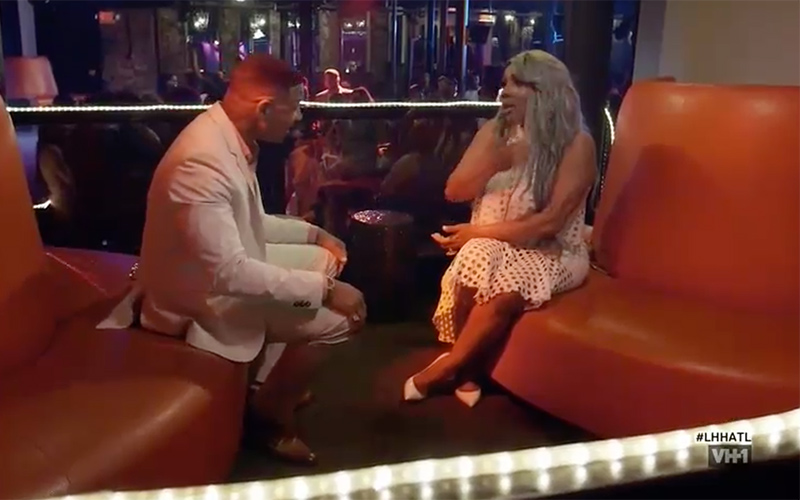 Later, K.K. confronts Stevie about the incident in L.A. Stevie, as usual, is dishonest about the encounter. He insists he would NEVER mess with his nephew Scrapp's girl, but once K.K. says that Tommie told her that Stevie went to visit her in her hotel room, Stevie claims he only did so because she asked him to. What kind of uncle goes to visit his so-called nephew's ex-girlfriend in her hotel room, for purely platonic reasons?
Does Stevie think we're as dumb as Mimi?
Although Stevie's story about his Tommie encounter has more holes in it than Swiss cheese, K.K. doesn't press him on it.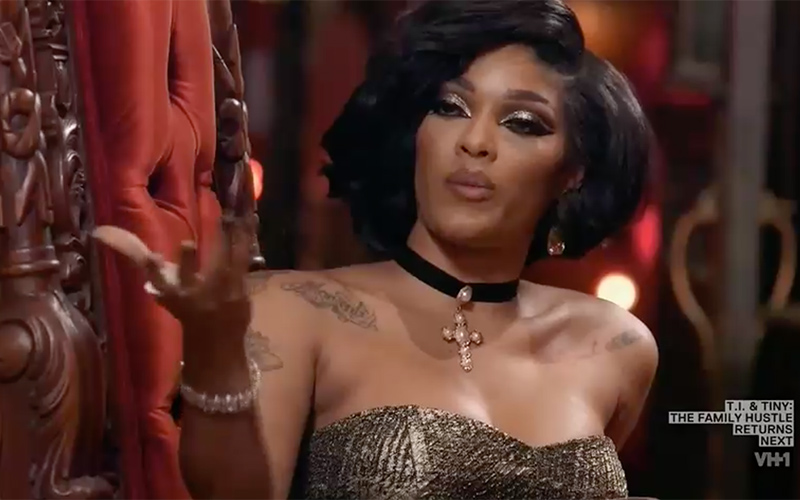 Joseline, on the other hand, panini presses Tommie in a separate encounter as she confronts Tommie about her claims that Joseline called the police on her. Wearing a sick Betty Rubble wig, Joseline is the perfect princess of petty and within five seconds, she manages to get Tommie cussing and irate.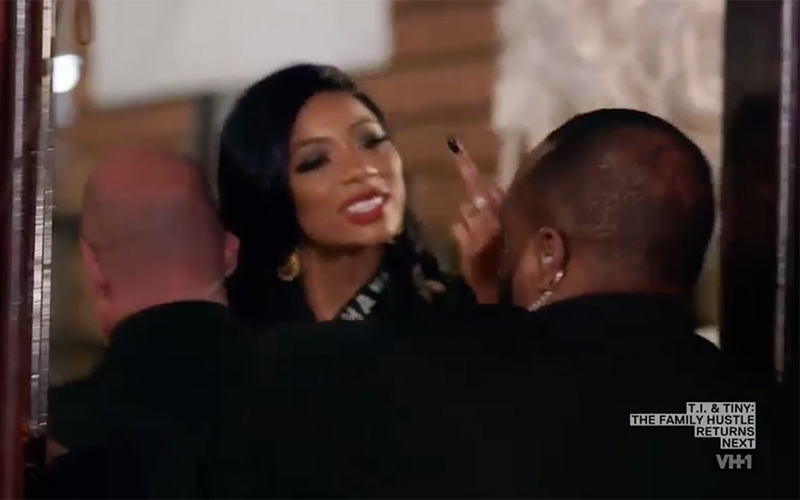 Tommie, how long are you gonna let yourself get played like a fiddle by Ms. Joseline?
Be the first to receive breaking news alerts and more stories like this by subscribing to our mailing list.