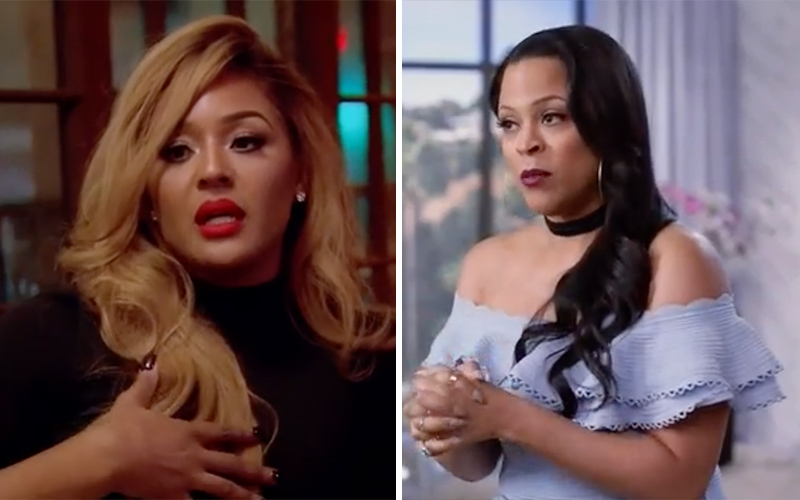 With the original Basketball Wives franchise put on ice, series founder and star Shaunie O'Neal and shit-stirrer superstar Tami Roman had no choice but to hitch their wagon on the L.A. spinoff Basketball Wives L.A. last season.
The injection of the OGs with the new crowd didn't go too smoothly and on last season's finale, Shaunie and Brandi Maxiell ended up trading insults with Shaunie IMPLYING Brandi was fired after Shaunie called her a bitch. But the reality was that Shaunie never did and never will have the power to dictate who comes back as a castmate on the show, and so Brandi is back for another round this season.
The main plotline for this new season, however, will rest on whether Brandi will kiss the ring of Shaunie O'Neal, so to speak, and APOLOGIZE for what happened last year in Puerto Rico between the two of them.
This insistence on an apology from Brandi to Shaunie is odd, since throughout the episode, both Shaunie and Brandi say that Brandi called Shaunie and apologized to her over the phone for the boorish behavior. But Tami and Jackie insist, in their respective scenes, that Brandi OWES Shaunie an apology.
I guess the apology doesn't count unless it's recorded on reality TV? These girls be trippin'.
Jackie Christie Be Checkin' Them Balls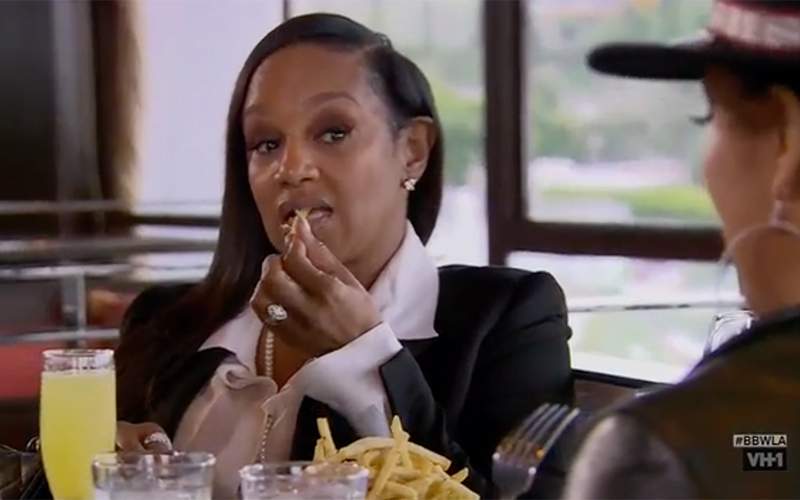 After five seasons strong, Jackie Christie is still a heavyweight when it comes to this BBWLA game. As one of the most batshit crazy personalities to ever grace the small screen, Jackie Christie's antics were made for VH1. And so it's with pleasure that we get a healthy dose of Jackie in this episode as she catches up with Shaunie.
Shaunie and her have maintained a cordial and friendly relationship throughout the break between seasons. Jackie chalks this up to their mutual respect for each other, but she's probably overexaggerating what Shaunie might consider "respect" for Jackie Christie.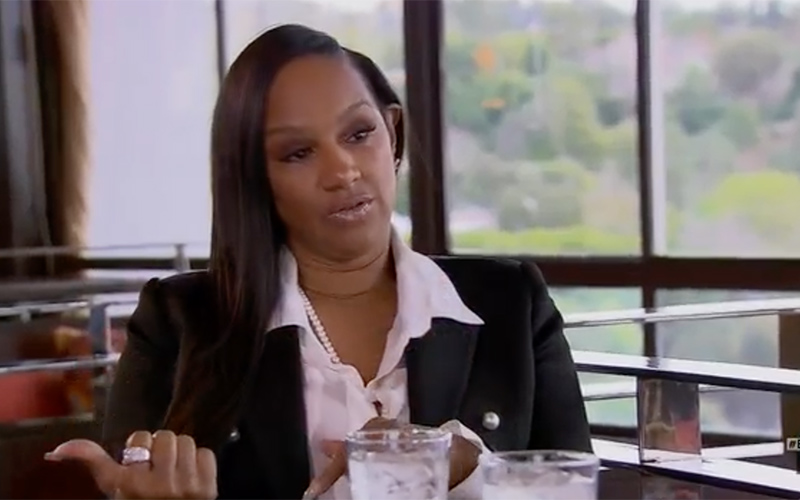 As they catch up with one another, Jackie confides to Shaunie that she's nervous about her husband, retired NBA player Doug Christie, taking on a new coaching job in Reno, Nev. You see, Doug is apparently a sex addict (he needs it two or three times a day), and if Jackie allows Doug to relocate to Reno without her, she's nervous that Doug will have his sexual needs met elsewhere.
Jackie, however, has a secret trick to keeping track of her husband's philandering: She weighs his balls.
According to Jackie, when a man has been ejaculating, his balls are lighter. So when Jackie gets home and checks Doug's balls, he's either been jacking off or creeping with some other woman. She calls it the Ball Status Check.
"You gotta make sure. If you look and it looks empty, that means he's done something while I was gone to himself," said Jackie. "If they're not heavy, they have to be full. They're balls. If they're not full that means they've been emptied, so who emptied them?"
Shaunie's response:
"Oh, okay."
After dropping that doozie on Shaunie, Jackie sits back and pops a fry in her mouth saying, "Now you get what I'm saying, so what should I do? Let him go?"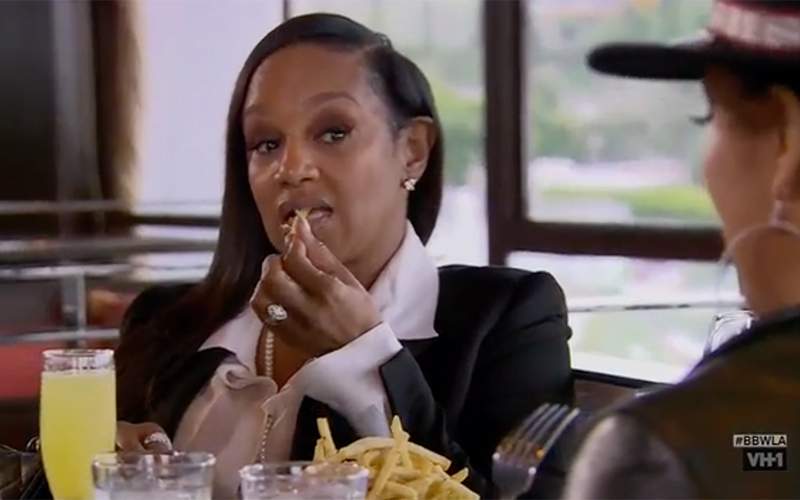 Jackie Christie, never change one iota of your crazy.
After Shaunie advises Jackie to give her man freedom and let him travel for work, Jackie innocently asks if Shaunie has heard from Brandi. And Shaunie goes off about how she THOUGHT they had put the issue behind them, but then interviews that Brandi gave after the fact about Shaunie having no power left a sour taste in Shaunie's mouth.
It's at this point that Jackie suggests Brandi owes Shaunie an apology, even though she already heard from Shaunie that Brandi apologized. But why let the facts get in the way of a reality TV show plotline?
Meet Duffey the Malaysia Slayer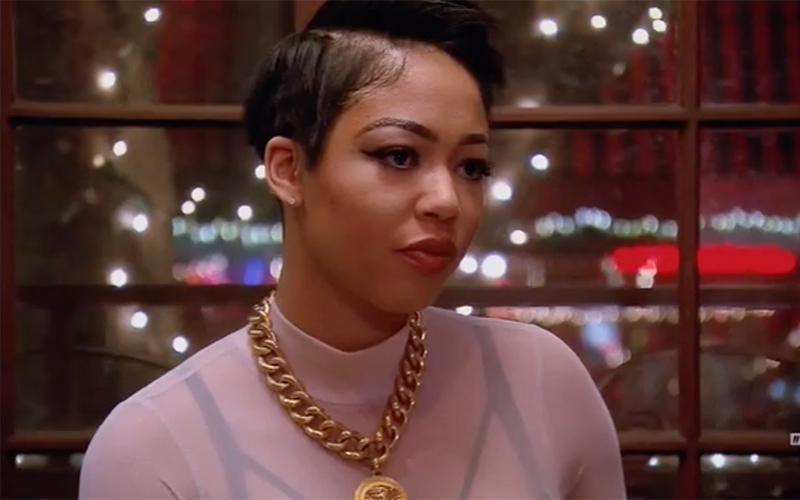 After last season's drama, Brandi retreated to Dallas to get away from the mean girls of L.A. In Dallas, her so-called sister is some chick named Duffey. Duffey is an aspiring DJ and the fiancee of basketball agent Iman Shokuohizadeh.
While Duffey and Brandi are in Dallas, they pretend to debate about whether they'll return to L.A., which is a farce because they wouldn't be taping if they weren't. But, again, we have to pretend like all of this stuff isn't scripted, so the audience is forced to watch Brandi and Duffey go through the motions.
During Duffey and Brandi's conversation, Brandi gives her side of the Shaunie beef, and it's honestly the same story: Brandi felt that she and Shaunie had squashed their beef, but then Brandi heard Shaunie say catty things in interviews that gave her pause.
After Brandi and Duffey decide to go to L.A., a meeting with Brandi's BFF last season, Malaysia Pargo, is quickly arranged. But Duffey senses things between Malaysia and her might not go so smoothly and pretty much from the jump, Duffey does her best to make a big deal out of everything Malaysia does.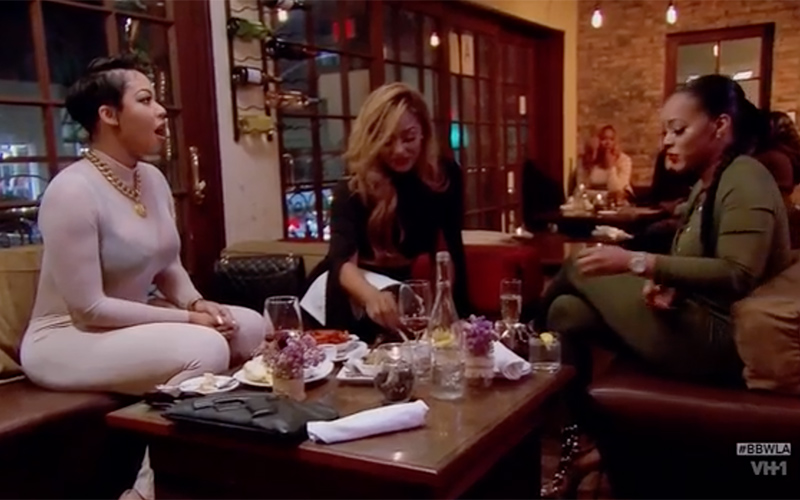 When Duffey, Brandi and Malaysia meet, Duffey takes issue with the fact that Malaysia hugs Brandi but only waves hi to her. This was a warm and friendly wave, but apparently, Duffey feels slighted because she feels as Brandi's "sister" that she deserved a hug. Petty bitch, bye.
By the end of the meeting, Duffey heavily foreshadows that she and Malaysia will not make it on the friendship train as she calls out Malaysia's stank attitude in her confessional and warns that she might have something to say about it to Malaysia's face next time she's confronted by it.
This plot device on women-centric reality shows is nothing new. A new "best friend" threatening previously established best friends is a tried and true trope. But this so-called beef between Duffey and Malaysia feels petty and without weight. So hopefully they conjure up a little meaning behind their disagreement so that we the viewers will give a damn about their strife.
Angels That Nobody Cares About or Wants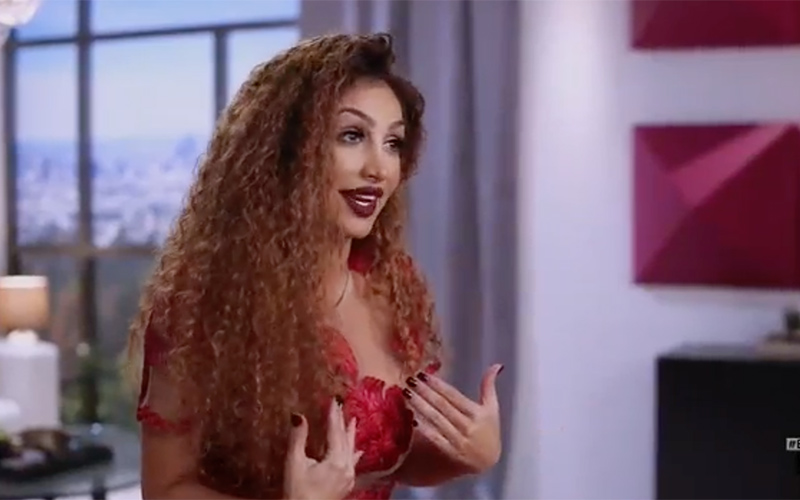 Remember Angel Brinks, aka Kim Kardashian-Lite? She was brought on last season to be a pal for Draya as Draya's circle of friends had shrunken to a non-existent status.
For some strange reason though, producers decided to keep her around for this season too, even though Draya is long gone. Angel didn't make many friends last season and in fact, she got into it with Malaysia over the ill-fitting dress she made for Malaysia. So she needed a pal to film with, and Angel decided to bring in another girl named Angel to join her. Cause that's not going to get confusing for viewers.
This new Angel, Angel Love, is dating a Washington Wizards player, but her relationship hasn't been going the way she wanted, so she decided to give him a "break," and up and moved to L.A. Cause that sounds healthy and normal.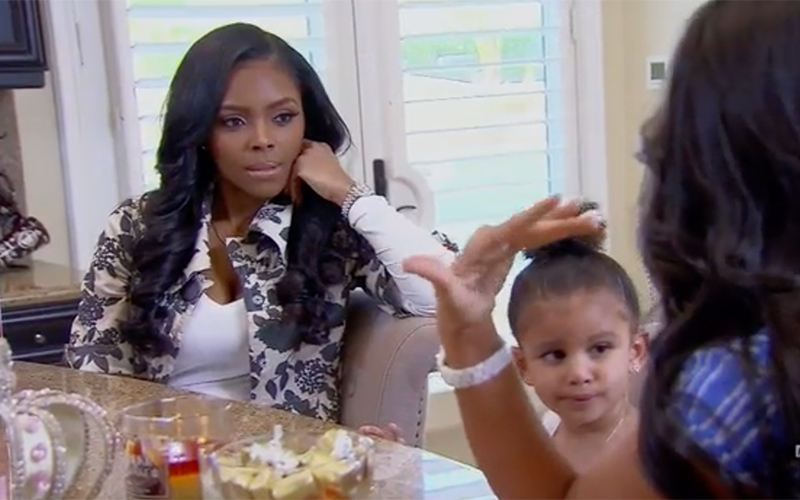 The two Angels seem like an odd pairing, but they do represent a third faction in what is clearly headed to being a fight between two all-girl gangs.
Tami Roman Shades and Assembles IKEA Furniture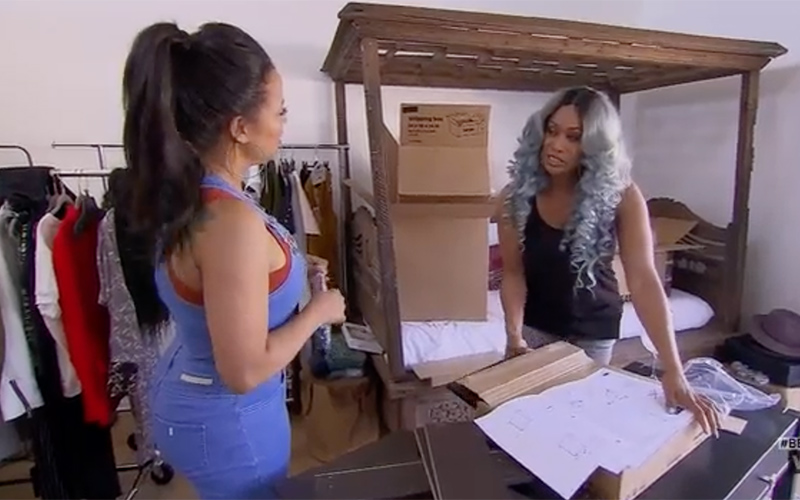 Tami Roman is the bad girl of the show now that Evelyn Lozada has developed a softer side and moved over to OWN. Tami is READY to play her part, and she is dressed as the Gray Grinch. Her silver wig is poppin' when Tami meets up with Shaunie to catch up as she assembles IKEA furniture.
You know, that's the funny and hilarious thing about Tami. While all of the other hoes on this show are tripping over themselves to wear designer duds and act like their zip code is 90210, Tami keeps it hood and real by buying the same cheap furniture we all get and assembling it her damn self while rockin' a Korean beauty store hair system.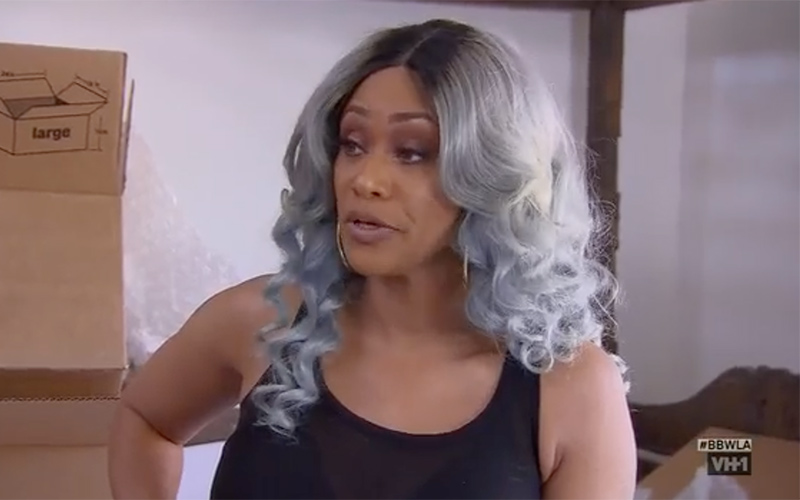 Thank you, Tami, for representing for the people.
As Tami struggles to put the wooden pegs in the hole of her new IKEA drawer, Shaunie once again recounts the Brandi saga, and like Jackie, Tami concludes that Shaunie is owed an apology. Ok, girl, the apology tour is officially on.
Shaunie, at one point, tries to rationalize Brandi's apparent about-face by saying that perhaps Brandi felt the need to defend her honor for her "fans."
"Fans? She Beyoncé? Is she Beyoncé and I missed it? Cause I feel like it's 300 good followers and that's basically family at that point," said Tami.
Welp. No lies told here, because Brandi is a nobody and her husband, Jason Maxiell, is also a nobody who's stuck playing basketball in China while real NBA players get their shine on during primetime television. So, if Brandi feels any pressure to save face for her so-called "fans," she should stop kidding herself. Don't nobody know her.
Stay tuned for the next episode when the newly assembled BBWLA clan gets together for the first time for Duffey's "Welcome to L.A." party.
Be the first to receive breaking news alerts and more stories like this by subscribing to our mailing list.