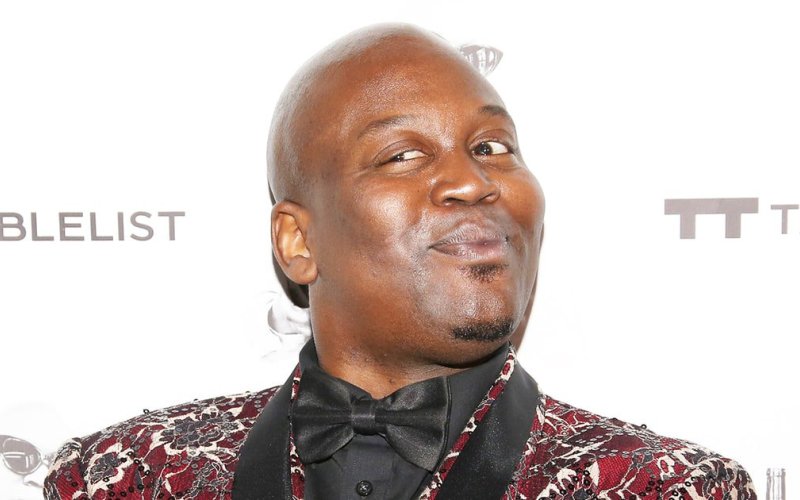 Don't EVER mess with Tituss Burgess. The Unbreakable Kimmy Schmidt actor is known for his bubbly personality and the ability to make entire crowds laugh. However, he will not hesitate to publicly call you out.
Burgess recently posted a scathing review of a New York moving company on Yelp. He also blasted the company on his social media accounts with several receipts to support his claims.
Earlier this week, Burgess contacted Franks Express to move a couch. The Brooklyn-based company agreed with a caveat. Burgess was told to write a Yelp review before they would move the couch (because it makes soooo much sense to put the cart before the horse). The actor went back and forth with the company, and after being called a gay slur, he wrote the Yelp review Franks Expressed so desperately wanted.
The review read in full:
My name is Tituss Burgess. Im an Emmy Nominated Actor forUnbreakable Kimmy Schmidt currently streaming on netflix. Thats besides the point.But watch it. These guys are the absolute most UNPROFESSIONAL workers I have EVER DEALT WITH. I called this man this morning. We chatted. He said he could move my couch at 1pm which was the time I requested. 1:30 still no movers. I called back and he says I will give you a discount…I said ok. He says but you have to post a review on yelp. I said when you complete the job i will complete the review. FOR THE FOLLOWING I HAVE THE ENTIRE TEXT EXCHANGE SAVED. He texts saying no review no show. This went on for about 45 minutes. It Completely threw my entire day. I called him about 9 times but he wouldnt pick up but he somehow was capable of texting. DO NOT USE THIS COMPANY. Im going to post this to twitter to my instagram to my facebook. You messed with the wrong Queen. #franksexpress #Igotcha #lizaminelli #Iamgonnamakeavideoaboutyoubecauseofthedeepangerif­eel #DONOTTHREATENMEIWILLWIN.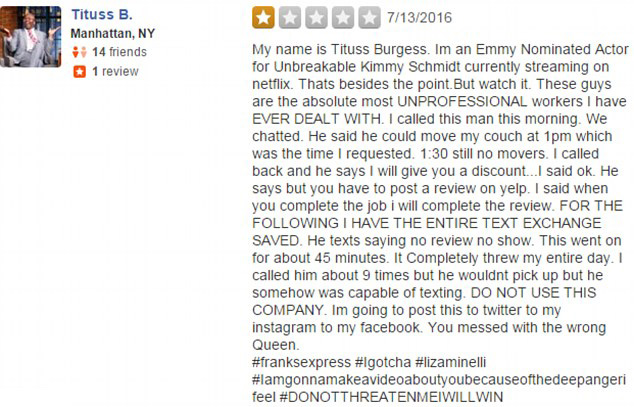 Burgess went on to call out Franks Express in a video post on Instagram and provided screenshots of his text conversation with the company.
https://twitter.com/TitussBurgess/status/753301990093053952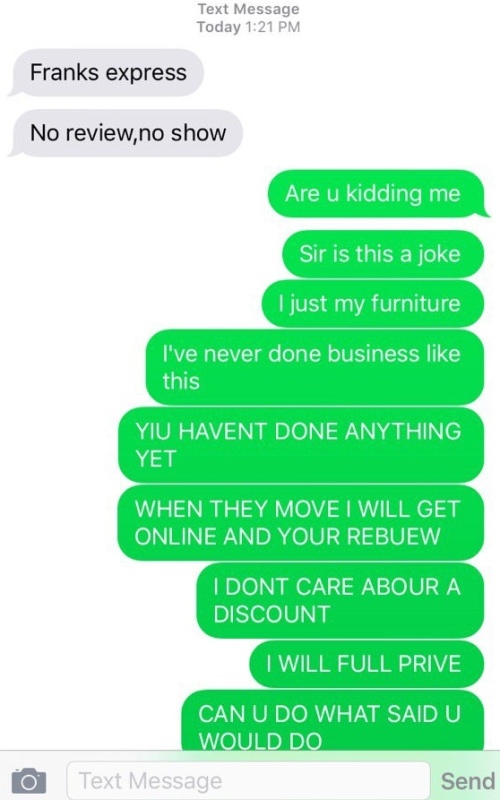 Of course Franks Express denies this ever happened. "The problem is that we don't know this guy," a manager for the company told Entertainment Weekly. The company released a statement regarding the issue that was addressed directly to Burgess.
Dear Tituss Burgess,

I am really sorry to hear that u went through all this situation-misunderstanding, I am not sure what company you dealt with, but I want to assure you, it wasn't Franks Express Inc, we are value all our customers and doing best to satisfied them all. In your review that u have posted, u mentioned that u saved a chat and txt u had with our company, may you please provide an email and phone # u had a chat with, we have a two phone lines and working email, and none of the following had any conversation with you. Let our company solve this MISUNDERSTANDING, we would be Glad to help you out.

Again, NONE of the Franks Express Inc's employee had a conversation with you
Hope to hear back from you.
That company knows exactly what they did. Franks Express shouldn't even try to deny it, especially given Burgess' text message screenshots.
Though he may be furious at the bad service, the actor is probably celebrating right now, considering he was just nominated for his second Emmy for his role in Kimmy Schmidt.
Be the first to receive breaking news alerts and more stories like this by subscribing to our mailing list.