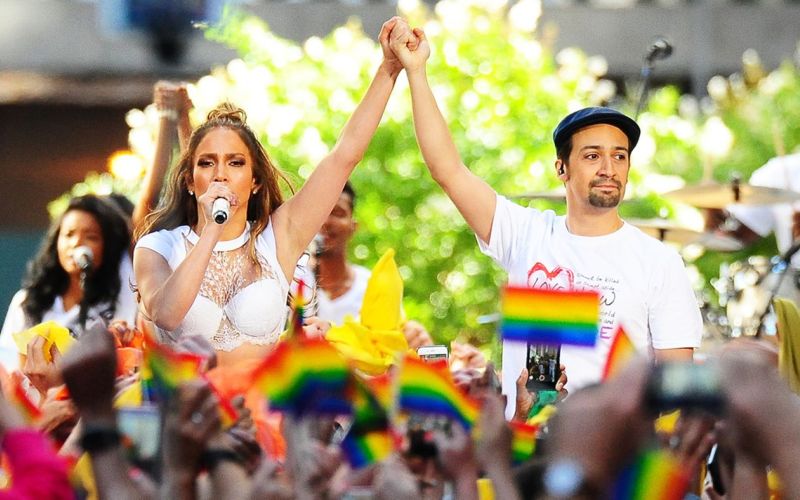 Do celebs not learn from each other's mistakes? Jennifer Lopez is the latest celebrity to tweet "All Lives Matter." Though it was deleted from her account shortly after it was posted, it didn't save her from a Twitter dragging.
Lopez was promoting her latest single, "Love Make the World Go Round." She wrote the song with Hamilton creator Lin-Manuel Miranda in honor of the Orlando nightclub massacre victims. However, where Lopez went wrong was when she included the hashtag #AllLivesMatter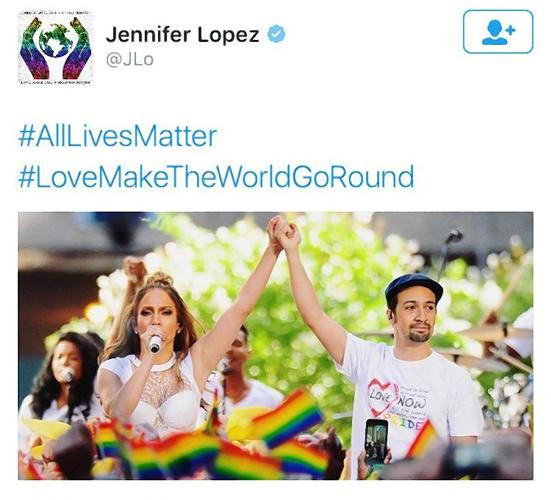 Twitter criticized the singer just as quick as the post was taken down.
Wait, J.Lo really said #AllLivesMatter like she didn't make at least 17 attempts to be black between 1992 – 2000?

— (white) chocolate gangster. (@3rdAndMiles) July 12, 2016
Mariah Carey after hacking J. Lo's account and tweeting #AllLivesMatter: pic.twitter.com/tkNHriTrog

— philip lewis (@Phil_Lewis_) July 12, 2016
https://twitter.com/RicheyCollazo/status/752926518821564416
Jennifer Lopez said "All lives matter?" Why am I not surprised? ?

— TS Burrito ? (@kaidiablo) July 12, 2016
Puffy ain't dedicate 34 I Need a Girl's to Jennifer Lopez so she could be out here All Lives Matter-ing

— Ol' QWERTY Bastard (@TheDiLLon1) July 12, 2016
#AllLivesMatter was also used to promote the song on Lopez's Instagram account. However, it has since been edited to remove the hashtag. (FYI: Twitter doesn't have an editing function like Instagram and Facebook.)
You would think someone who has appropriated black culture for most of her career would know better than to erase a movement so important to the black community. She must have forgotten the backlash she faced in 2001 for using the N-word on the "I'm Real" Murder Remix featuring Ja Rule.
Jennifer Lopez isn't the only celeb to step into a little trouble by saying "All Lives Matter." Keke Palmer, Kevin Gates, Fetty Wap, and Omarion's Omarion's ex Apryl Jones are just a few that have recently been criticized for saying the statement.
Be the first to receive breaking news alerts and more stories like this by subscribing to our mailing list.