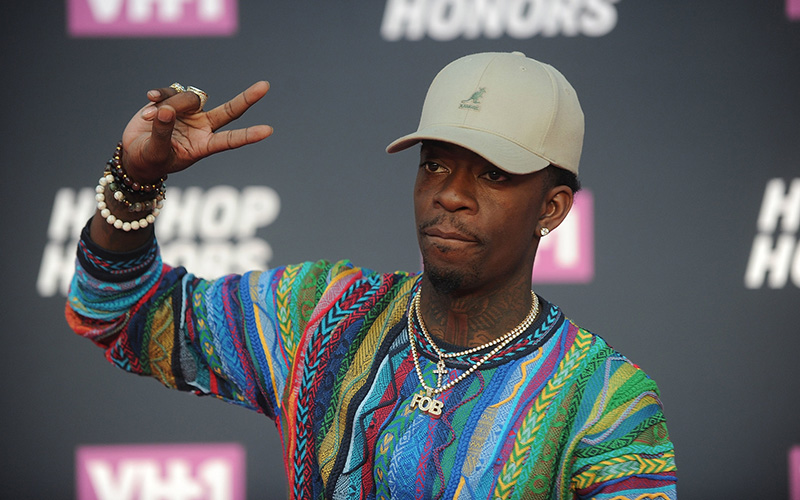 Rich Homie Quan had Notorious B.I.G rolling in his grave last night during Lil Kim's tribute at VH1's Hip Hop Honors.
Quan took to the stage to perform Junior M.A.F.I.A.'s 1995 hit "Get Money" alongside Lil Kim, but when it came time to rap Biggie's verse he totally forgot the words.
Lil Kim tried to step in and save Quan by rapping his part of the song, but the damage had already been done. Watch the video clip below.
Twitter, of course, went in on Rich Homie and made it known that he f*cked up big time.
Yo @RichHomieQuan … Biggie lookin at you like… pic.twitter.com/115f5TpuyM

— EL WMS • #SCXNOLA (@OnPoint_El) July 12, 2016
Rich Homie Quan is ruining Biggie's verse. #HipHopHonors pic.twitter.com/NJ1BE6AvLs

— watchLOUD (@watchLOUD) July 12, 2016
Rich Homie Quan can never said he was inspired by Biggie as a rapper & forgot classic lyrics. Bye. He gotta go. #HipHopHonors

— Erica Nichole (@EDotNichole) July 12, 2016
Rich Homie Quan sincerely just committed career suicide. Wow

— Low (@LowKeyUHTN) July 12, 2016
Puff when he sees Rich Homie Quan backstage pic.twitter.com/NVfOv4l8MH

— Dr.Jekyll & Mr.Hyde (@MisterRDot) July 12, 2016
The entire Brooklyn looking for @RichHomieQuan like pic.twitter.com/qEbDJzRRIn

— El Padrino (@Taurian_B) July 12, 2016
Whoever thought Rich Homie Quan was a suitable replacement for Big needs to be fired from life. #Hiphophonors

— Adrian Dukes (@adriandukes) July 12, 2016
https://twitter.com/tcaxo_/status/752698384381861888
Puff should make Rich Homie Quan walk 2 miles to Juniors for Cheesecake after that

— Carol of the Chells ? (@ChelsIsRight) July 12, 2016
https://twitter.com/ScottieBeam/status/752699039460786176
When Puffy pull up on Rich Homie Quan back stage pic.twitter.com/fxB7Zw1XHC

— DussèDaddy? (@ReemRozay) July 12, 2016
All of Brooklyn when @RichHomieQuan forgot Biggies lyrics #HipHopHonors pic.twitter.com/ZBmIRNzg31

— B E A N Z | Living My Best Life Right Now! (@PhotosByBeanz) July 12, 2016
Charlamagne Tha God and Brooklyn rapper Joey Badass also joined in on the fun.
https://twitter.com/cthagod/status/752703891268112386
https://twitter.com/cthagod/status/752704796000391168
https://twitter.com/cthagod/status/752706238715195394
https://twitter.com/cthagod/status/752706934076219392
https://twitter.com/joeyBADASS/status/752908946399236096
Rich Homie has since responded to all the slander and apologized to Biggie, his fans, and the city of New York in a post on Instagram.
https://www.instagram.com/p/BHxpu5nDh8L/?taken-by=richhomiequan&hl=en
I assure you that I never intended to disrespect Biggie Smalls. I have long respected his work and his contribution to the rap game.I greatly apologize not only to Biggie Smalls, but also to all of my fans and to New York. The city of New York has been nothing but good to me. I felt honored to stand on stage with artists I grew up listening to.Once on stage I had some technical difficulties and must admit I got nervous.I will forever be sorry to New York, my fans, Biggie Small, Lil Kim, and all the Hip Hop community for my performance. I hope you can accept my apology. To Lil Kim, Thank you for the opportunity.
Lil Kim also came to Rich Homie's defense and thanked him for showing up for her at the last minute.
https://www.instagram.com/p/BHxwjTKB-Aw/?taken-by=lilkimthequeenbee
Spoken like a true giant. I loved you before and I'm gonna love you after Rich Homie. People make mistakes and things happen sometimes that we can't fix or undo. If you guys only knew the technical difficulties that went on behind the scenes. I would like to thank my friend @richhomiequan for coming through for me at the last minute. It's all love
Be the first to receive breaking news alerts and more stories like this by subscribing to our mailing list.