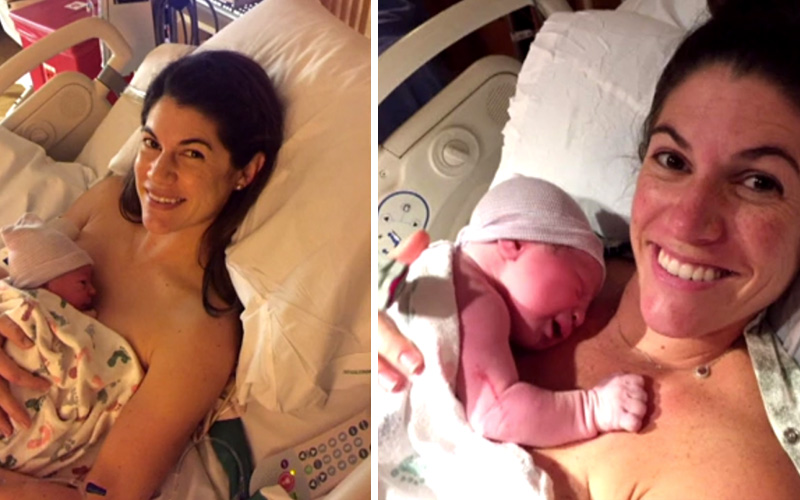 Like most twins, Sarah Mariuz and Leah Rodgers have always been tight, but their closeness took a WTF?! turn when each woman gave birth to her first child on the same day and at the same time in their respective time zones.
Rodgers, who is older by 11 minutes, welcomed her son Reid Joseph first at 1:18 a.m. on Thursday, June 30 in Denver Colorado, and Mariuz gave birth to a baby girl, Samantha Lynn, at 1:18 a.m. in La Jolla, California, according to Today.
The sisters learned they were pregnant and planned to surprise each other with the news on Thanksgving. However, no words were necessary because Rodgers told Today that as soon as she saw her sister, she knew.
"She showed up to my front door and I welcomed her and Nick [Mariuz's husband] inside," said Rodgers. "And I had this crazy twin intuition — I call it my 'twintuition' — and I knew she was pregnant, too."
Rodgers, not wanting to steal her younger sister's thunder, decided to keep mum about the fact that she was going to be a mom as well. "I wanted Leah to have her moment of sharing her news, rather than me just saying, 'Me too!'" Mariuz told Today.
But after learning their due dates were only four days apart, Mariuz couldn't contain the news any longer.
"I ran down the hallway and got the ultrasound pic out of my purse and slapped it down next to Leah's," said Mariuz. "We were jumping up and down, just so happy for each other. Everyone was just in shock."
The women insist their dual pregnancies were not orchestrated, just a happy coincidence.
The moms and their new additions are doing well, and Mariuz and Rodgers plan to introduce the cousins to each other this Christmas.
Be the first to receive breaking news alerts and more stories like this by subscribing to our mailing list.