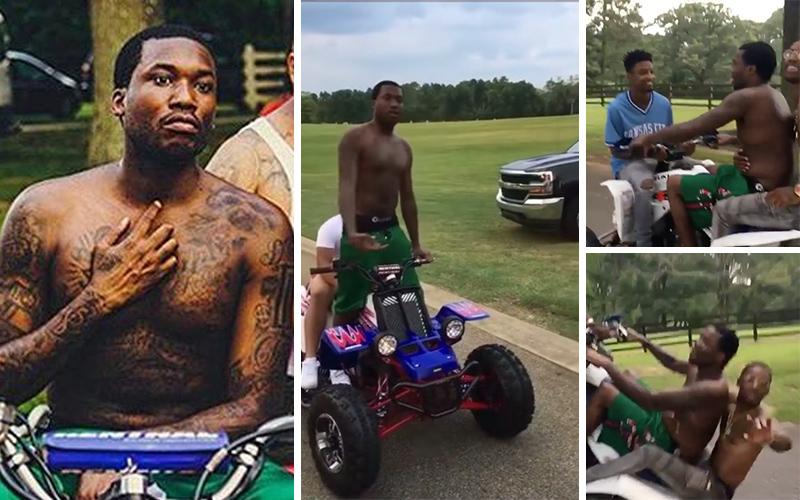 Summer, summer time! Oooh, it's summer time! And for the MMG Crew, that means it's time to hit the pool.
In a move that is sort of reminiscent of Bad Boy's hey day, Rick Ross hosted a pool party for his label in the Atlanta area by renting out an enormous mansion. He invited several hip hop blogs and influencers, who documented the event on social media.
Meek Mill, one of the bigger "stars" on the MMG roster, showed up and showed out. Yes, he brought his lady, Nicki Minaj, to the party, but Meek seemed more interested in palling around with his boys as they brought out the four-wheelers and ran amok on the mansion's grounds.
Now I know that hip hop culture is progressing when it comes to combating homophobia, but some on social media are loudly whispering around this footage of Meek Mill and his boys riding on a four wheeler. The male member of Meek's entourage is riding behind Meek and grabbing his waist as the Philly rapper pulls off some stunts.
Less progressive minds are calling this "gay." Personally, it seems more reckless than gay, but this is a culture that's hypersenstive to any kind of touching between two men and given that they're both shirtless and that the guy is BEHIND Meek and grabbing his bare torso, well…it's easy to see why some people's imaginations are running wild.
For more footage of Meek and his crew, and Rick Ross's splash dive, check out this clip.
What do you think about Meek's fun in the sun with boys? Is it questionable or totally uneventful?
Be the first to receive breaking news alerts and more stories like this by subscribing to our mailing list.