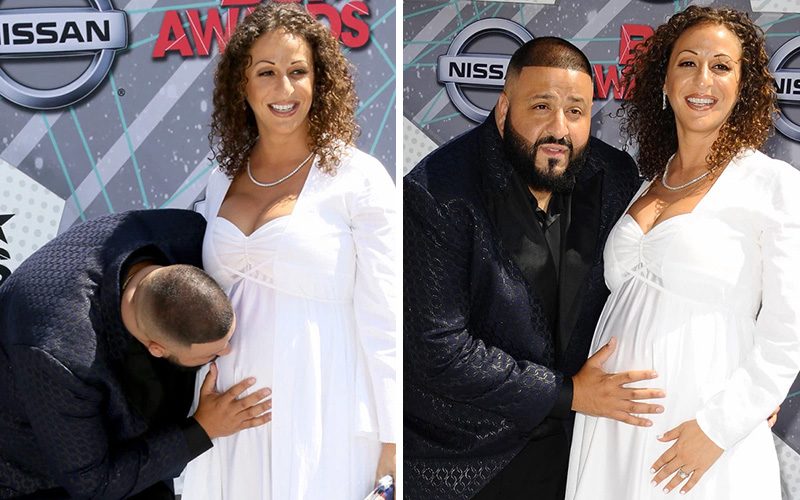 DJ Khaled's Snapchat might get a bit more interesting in the coming months. The hitmaker has revealed plans to Snapchat the birth of his firstborn … that is, if his fiancée allows it.
The 40-year-old hip-hop figure has become an Internet sensation due to his popularity on Snapchat. Last December, when he got lost at sea on his jetski in Miami, he Snapchatted the entire ordeal, and his numbers grew exponentially on there.
Khaled also uses his following on the social platform to drop "major keys" (life advice and wisdom) and talk about how blessed he is to be doing what he loves everyday (e.g. opening for Beyoncé's "Formation" Tour).
Snapchat doesn't allow you to see how many "followers" a user has, but we wouldn't be surprised if Khaled was the most followed user on there.
"I'm having a boy, my first child… I want to Snapchat the whole birth," DJ Khaled Jimmy Kimmel.
When asked about what his pregnant fiancée Nicole Turk would think about about being watched by millions of people while she's having a baby, Khaled basically made it clear that this is his show to run.
"The key is that I'm the king and every queen should support the king. I'm a talk to the doctor and if he says everything is going to run smooth, meaning that the queen is right and my son is right, if it's running smooth … I can just do my thing."
In a previous interview with Beats 1's Zane Lowe back in early June, Khaled didn't seem so sure about whether his fiancée would go along with his plans to Snapchat the birth of their child.
"If they let me, well my girl probably gonna try and punch me in my face when I do it, but I'm thinking about Snapchatting the whole birth," he said. "I just think the next young king, icon needs to be documented. My son is gonna be born an icon, he a don. He's special cloth for real."
He added, "When I see my woman's belly there's times I have tears come out my eyes because I look at her super different in a good way because my son is in there. One thing I can tell you I am going to dedicate my whole life to giving my son joy. I'm giving him everything and I'm not gonna stop. I don't believe you have to put limits on joy. I've been wanting this for a long time."
Be the first to receive breaking news alerts and more stories like this by subscribing to our mailing list.