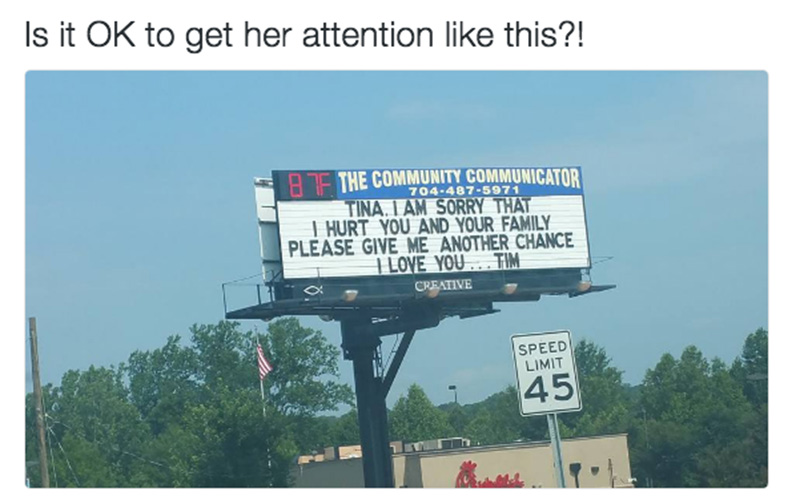 These days, it's hard to keep up with all of the various ways to communicate with your friends, family, or even strangers. Whether it's Facebook, Twitter, texting, Kik, Periscope, Snapchat, or any other number of things that I'm not aware of, there's no shortage of ways to spread your message these days.
But what do you do when someone won't answer your calls, return your texts, or blocks you on social media?
Well, one North Carolina man decided it was time to go old school. After an obviously devastating lover's quarrel, a man from Charlotte reached out to his love in a way she couldn't ignore: a big ass billboard.
Is it OK to get her attention like this?! pic.twitter.com/49iG82dYie

— The Ace & TJ Show (@TheAceTJShow) June 28, 2016
There are so many questions from this. What could Tim have possibly done to Tina and her family? Will Tina ever give Tim another chance? But most importantly, is plastering a love letter for all to see on a billboard really the best way to win back a partner?
There's no way to know if we'll ever find out how this story ends, but there's one thing we can take away from it all. Ladies, if you don't want your personal business looming large over your city, it's best to return his call.
Be the first to receive breaking news alerts and more stories like this by subscribing to our mailing list.