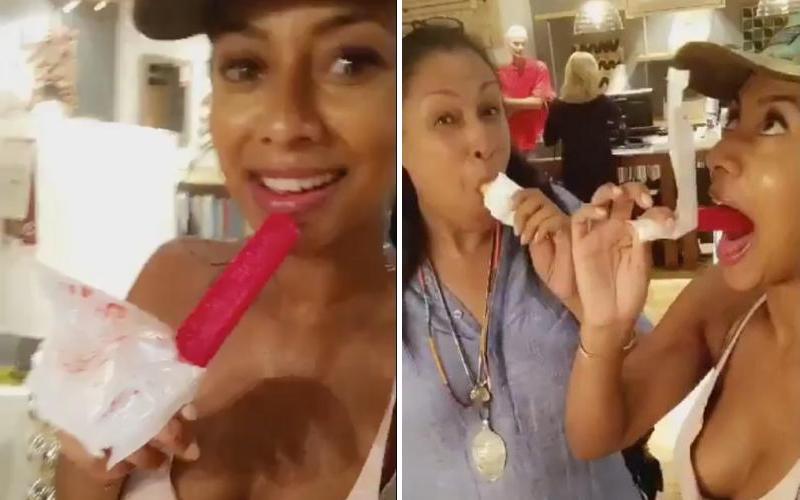 Don't ever claim Keri Hilson has no talent ever again!
The singer is often dragged online for making negative comments about Beyoncé and criticisms of her own music. However, this week she became a trending topic after displaying a unique talent on Snapchat.
Nah, This Video Tha Best Thing In Keri Hilson Catalog pic.twitter.com/01mWrhovU8

— Adolf Clitler (@MrinconSiderate) June 23, 2016
And yes, that's her mama telling her to "do the whole thing." In reaction to the 10-second clip, Twitter responded exactly as you would it expect it to.
If Keri Hilson is your mood: pic.twitter.com/rP8PfP3Ypg

— Philly To The World (@CoryTownes) June 23, 2016
https://twitter.com/DrCube_/status/746460138932998144
https://twitter.com/Thats_KeAndra/status/746463412683685888
https://twitter.com/big_business_/status/746117692134854656
Kehlani was getting her back broke, Teyanna Taylor getting her back broke. Keri Hilson should have been in the ER pic.twitter.com/fsL0VyOaI7

— #waitonme?? (@Toyyaaaa) June 24, 2016
Hilson proudly responded to all the hype on Twitter.
Wish I could blame it on the alcohol, but really I just be trippin all day. Sometimes I forget Snapchat's not just for my own enjoyment! ??

— Keri Hilson (@KeriHilson) June 23, 2016
Though her mama instigated the moment, Hilton knew exactly what she was doing. Why else would she post it on Snapchat? She earned the viral moment she was seeking and might have even gained a few followers. Unfortunately, it probably won't interest more people in her music. (OK, OK, I'm gonna stop throwing shade on behalf of Queen Bey.)
Hilson's clip was a silly moment in time that clearly got a rise, so to speak, out of social media. And you can't deny that the girl's got some skills. Keep your eyes on the lookout for what she might post next.
Be the first to receive breaking news alerts and more stories like this by subscribing to our mailing list.