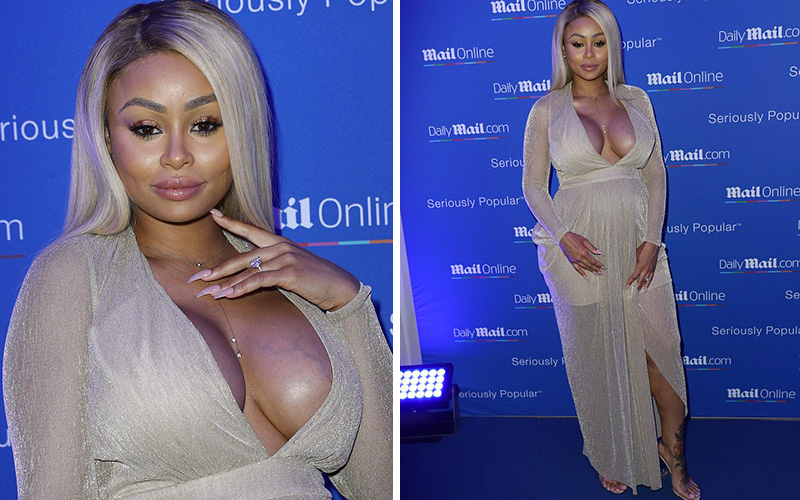 Blac Chyna is fully embracing the Kardashian lifestyle. Rubbing elbows with the Hollywood elite, Chyna is in France attending Cannes Lions International Festival events and she's dishing about her pregnancy and upcoming nuptials.
Extra caught up with the model while enjoying the Daily Mail's Seriously Popular Yacht Party. She wore a gown that showed off all her humps, if you know what I'm saying, including her growing baby bump. See, she's already copping Kim Kardashian's style. And she was more than willing to give a baby update.
"I haven't been sick, craving anything. I'm just pregnant, I'm all belly," she said.
She also revealed that she knows whether it's a boy or a girl. Although she and Rob aren't ready to make a grand announcement just yet (they're keeping it a secret), they do have a few names picked out.
While Chyna is keeping quiet, a little birdie has hinted baby Kardashian is a boy. A source says they had a run-in with Chyna's mother, Tokyo Toni. She allegedly slipped up and said "I can't wait until he's here" shortly after telling the source she didn't know the baby's sex or any potential baby names.
Chyna is probably just waiting for the right time to deliver the ultimate blow to the Kardashian Klan that even her grandchildren will carry on the Kardashian name and legacy.
Baby Kardashian continues to be the couple's first priority. "Right now we're working on the baby, sorting out things, and just getting everything ready for our new addition," Chyna said.
She also told Extra Rob stayed in the States to shoot scenes for their new reality show and to expect their wedding to take place next year. She doesn't want the stress of planning a wedding to affect the baby.
In a separate interview, Chyna spoke with the host of the party and told them that she had zero doubts about whether Rob will be a great dad. "He's a genuinely loving person, Rob has all the qualities of a good father. He'll be straight," she told the Daily Mail.
Asked how she felt about the Kardashians lauding her for, as Kanye put it, "helping Rob with the weight," Chyna said, "It makes me feel good but I tell him to give himself some credit also."
Be the first to receive breaking news alerts and more stories like this by subscribing to our mailing list.