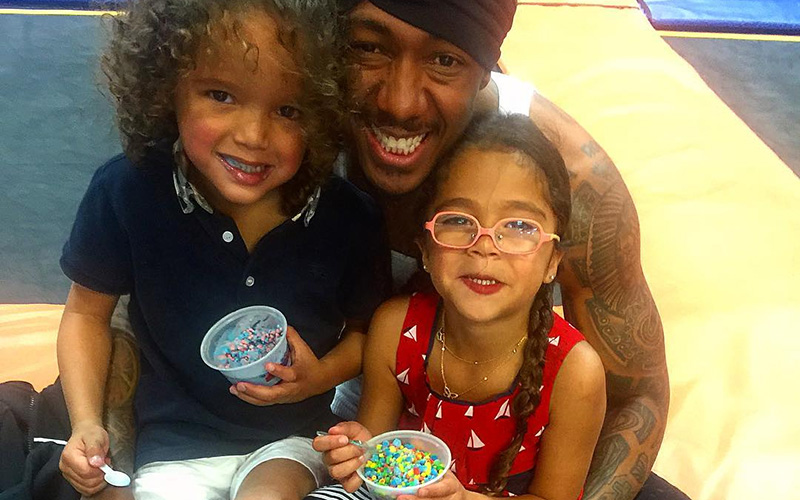 It's so easy to crack a joke about Nick Cannon whenever he enters a conversation. However, even I can't throw shade when he's around his adorable twins, Monroe and Moroccan.
Despite his ongoing divorce from Mariah Carey and being one of Hollywood's busiest personalities, Cannon was able to spend the "Best Father's Day Ever" with his only children.
Daddy and the 5-year-olds enjoyed the day at Sky Zone. But wait, was Mariah there too? It seems Carey also attended the Father's Day celebration as Cannon gave her photo credit to the sweet family pic below.
https://www.instagram.com/p/BG2wI8XkQWt/
Sky Zone and Ice Cream! Best Fathers Day Ever!! Photo credit @mariahcarey
It's great seeing Cannon and Carey come together for the sake of the kids. Though their divorce has become messier than intended, it's evident that they treasure Monroe and Moroccan.
However, it's not all smiles between the former couple. Nick raised a few eyebrows with his newly released rap freestyle, "Divorce Papers." I know you're thinking, "Nick Cannon still trying to rap?" But that's not the issue. In the track that dropped Thursday (Jun 16), he criticizes the custody agreement they have regarding the twins.
"And now I can't see my kids 'cause the government sucks," he raps. "It's f**ked up that the time you spend with your own kids is called visitation."
According to TMZ, the lines confused Carey because he has always been able to see his kids whenever he wanted.
Cannon also addressed his apprehension in signing the divorce papers in the song. It's been two years since the couple filed for divorce and it seems Cannon is the hold out. TMZ reports he may be manipulated by lawyers because Carey and Cannon have remained amicable in comparison to other celebrity divorces.
"Man, f**k it. Let's sign the papers," Cannon raps at the end of his freestyle.
Nick Cannon better get his pen ready. Mariah Carey is engaged to billionaire James Packer. This will be her third marriage.
Be the first to receive breaking news alerts and more stories like this by subscribing to our mailing list.