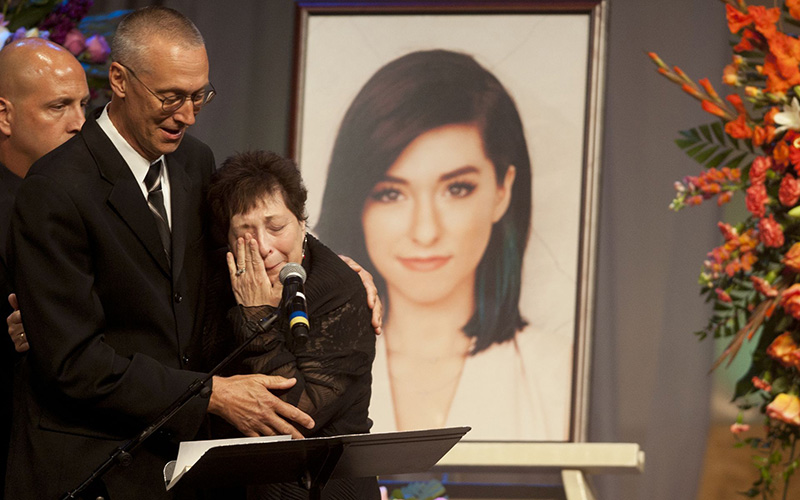 Orlando, Florida has seen some dark days over the past week. The string of unspeakable tragedies began with the fatal shooting of former The Voice contestant Christina Grimmie. The 22-year-old was laid to rest Thursday (Jun 16) in a private funeral and burial, followed by a touching memorial service on Friday.
A source close to the Grimmie family told People that Thursday's service was a private "intimate gathering for her family and close friends."
On Friday, Thousands of friends, family, and fans gathered at Fellowship Alliance Chapel in Grimmie's New Jersey hometown to celebrate the singer's short, but impactful life. Friends expressed their condolences and shared fond memories of Grimmie, while family members attempted to remain in high spirits as they remembered their daughter and sister.
"We have been fans for years but we didn't know how much we appreciated her until she passed," said 24-year-old Alissa Canto. She and her husband drove 7 hours to attend the service.
"What I liked about her most was she didn't just treat her fans like fans, she treated them more special than fans. She treated them like friends or like family members, even without knowing them," commented Garret Lang, one of Grimmie's fans that refer to themselves as "Team Grimmie."
However, the most touching tributes came from the singer's parents, Tina & Bud, and brother, Marcus Grimmie. With tears rolling down her face, Tina Grimmie reflected on the last time she saw her daughter; it was Tina's birthday (May 25). The treasures their final mother-daughter time, but also admitted she's struggling to come to terms with her passing.
"There's this gigantic hole in my heart that I know is never going to go away. Never going to go away," Bud began. However, he ended his goodbye with the comforting thought he will see her again. "She's better off; she's way more alive now than she's ever been. She's not going to be hurt anymore," he ended.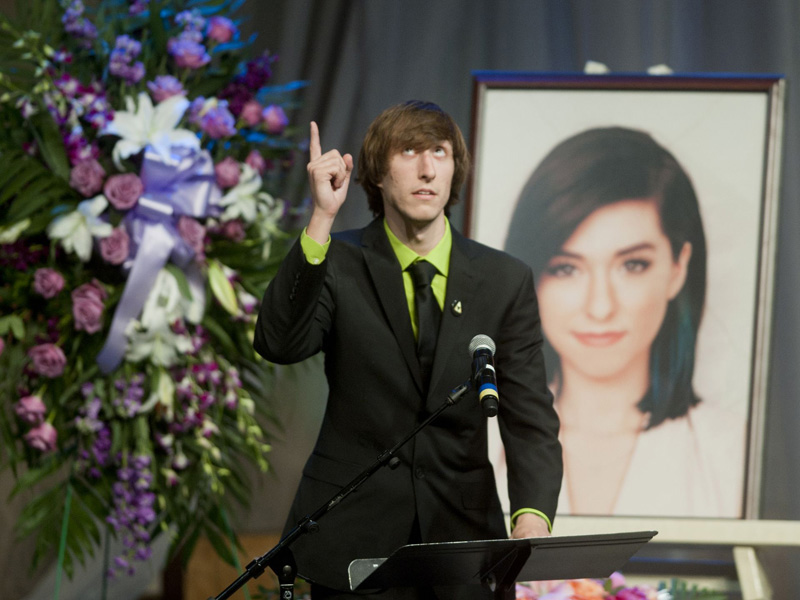 Marcus was with Christina in Orlando as she was shot multiple times by a crazed fan. He even tackled the shooter. It's still hard for him to talk about the shooting and losing his baby sister. However, he did reveal one chilling detail.
"All the rumors are true that when the gunman came…her arms were open," Marcus said. "That's how she treated everyone she knew, her arms were open for them."
Although no members from The Voice were in attendance, many have expressed their condolences. It was also confirmed that Grimmie's Voice coach, Adam Levine, did cover the funeral experiences.
As a fan of The Voice and Grimmie, it is truly heartbreaking to feel the loss of such a talented singer. However, I can't even begin to understand the loss and grief her family feels. Hearing and reading their statements brought tears to my eyes; there couldn't have been a dry eye during the service.
She was an incredible talent with a promising future. Unfortunately, she was taken away too soon, but we can still remember and celebrate her achievements. Below is a tribute released through her team and official YouTube account.
Be the first to receive breaking news alerts and more stories like this by subscribing to our mailing list.