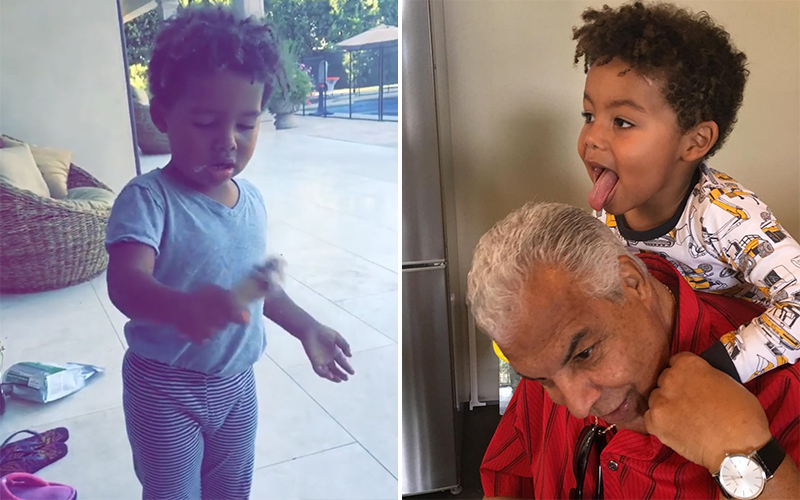 If TV and film makers ever decide to cast a black, toddler version of Dennis the Menace, they should look no further for their star than Amber Rose and Wiz Khalifa's baby boy, Sebastian "Bash" Thomaz.
Although there was plenty of love lost between his two celebrity parents, Baby Bash is unbothered and living his life like it's golden with zero fucks given.
If you follow his mother, excuse me, his "muva" as she likes to call herself, on Instagram, you'll get a good dose of some of Bash's antics. Here are a few recent ones that will give you that warm fuzzy feeling on the inside.
1
Baby Bash Spills His Ice Cream
https://www.instagram.com/p/BGfCY5AEq5a/
Ice cream and kids are a troubling combination. On the one hand, kids love ice cream. On the other hand, ice cream rarely escapes a death on the carpet, concrete or grass. Baby Bash has decided that although his ice cream cone is quite tasty, it would be fun to violently shake the ice cream cone. Of course the ice cream ends up on the floor and when his mother Amber exclaims, "Look what happened to your ice cream!" he bashfully explains, "Sorry, I didn't mean to."
Now you know his little bad ass knew damn well that shaking that ice cream like that would result in a spill, but with those doe eyes and that sweetly-worded apology, who can blame Amber for telling him it's ok and that she'll clean it up?
2
Sebastian Tries to Lick His Great-Grandfather's Head
https://www.instagram.com/p/BEtRT4ikq2H/
Little kids love being hoisted up on their father, uncle and grandfathers' shoulders, so it's no surprise that Sebastian enjoyed his time up on his great-grandfather Poppy Sonny's shoulders.
But why on earth is Sebastian trying to lick the back of his great-granddaddy's head? Sonny looks like he's trying his darnedest to not have toddler saliva on the back of his head and Sebastian looks like he's enjoying (playfully) terrorizing his great-grandpa.
3
Sebastian Roars During Amber's People Photo Shoot
https://www.instagram.com/p/BE_l4ejkq68/
In a profile on Amber Rose and her single mom lifestyle, People Magazine came to her home and paid her a visit. Lil' Sebastian acted a complete fool and decided to give the camera a good ol' time as the photo above shows Sebastian roaring like his name was Young Simba.
4
Sebastian Tells His Mother to Look at His Butt
https://www.instagram.com/p/BGiiATkEq_F/
When you're little, there is absolutely nothing more entertaining than potty humor. Butt, poop, pee, penis, vagina: mention any of those words in front of a toddler and you're bound to get some giggles. Amber captured little Sebastian running up to her and sticking his butt out at her as he commanded her to "Look at my butt!" Amber replied, "Look at MY butt!"
See, what Sebastian DOESN'T know is that people looking at his mama's butt is how she got put on in the first place and it's how she landed and bedded his daddy. But why taint the purity of a child trying to have some good ol' fashioned fun?
So if you've been out here oohing and aahing over Blue Ivy and North West, please don't sleep on baby Sebastian Taylor Thomaz, cause he's got cute for days. And frankly, I wouldn't be surprised if he ends up snagging North West as his wifey when he grows up. Which frankly be a twisted, but appropriate, circular dose of karma given that his mama is North's daddy's ex.
While it sounds messy to the rest of us, with Blac Chyna getting wifed up by Rob Kardashian, despite the fact that she's the baby mama of Rob's sister's ex-boyfriend, it's pretty much just another day for the Kardashian Klan.
Be the first to receive breaking news alerts and more stories like this by subscribing to our mailing list.