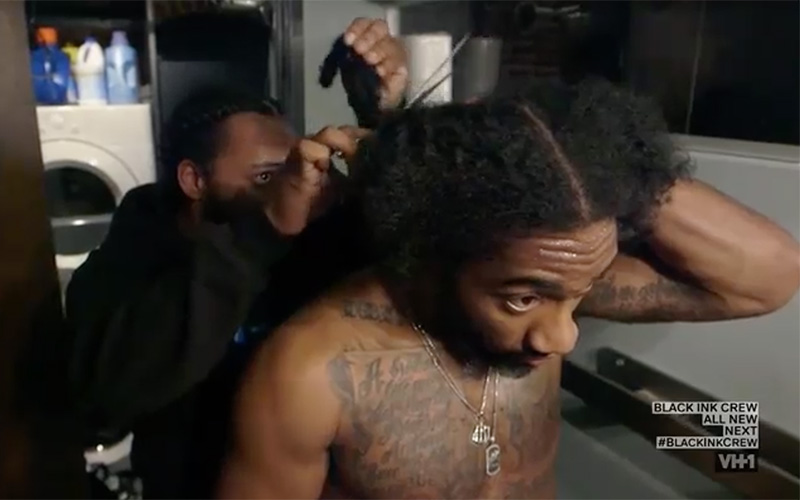 If you have a violin, please break it out for Scrapp DeLeon, TV's saddest weed seller ever. Like Mendeecees on LHHNY, Scrapp is leveraging his jail time drama for a plot on LHHATL, but unlike Mendeecees, he's going to jail for a minor crime: selling weed.
If Jay Z can get away with selling crack and cocaine, why can't Scrapp push a lil' weed and be bout his business?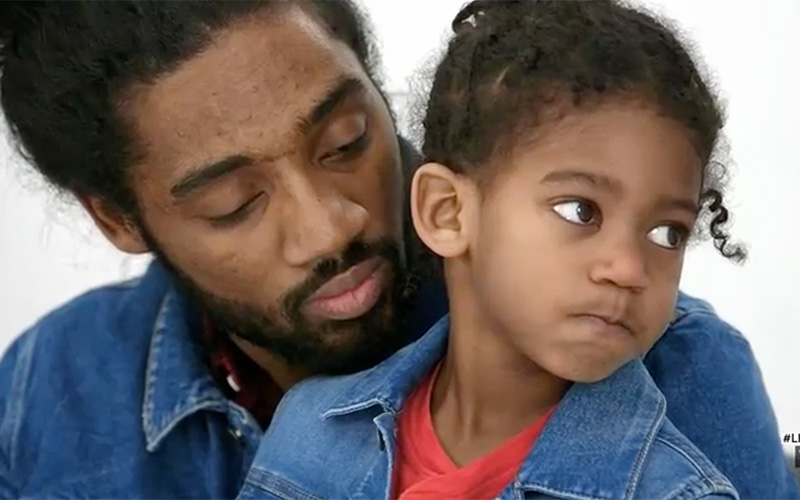 While it's clear that Scrapp and his family are milking the shit out of this jail saga, my heart did break when Scrapp's son, King, shed a single tear as his father held him in his arms and broke the news to him that he'd be going away for a while.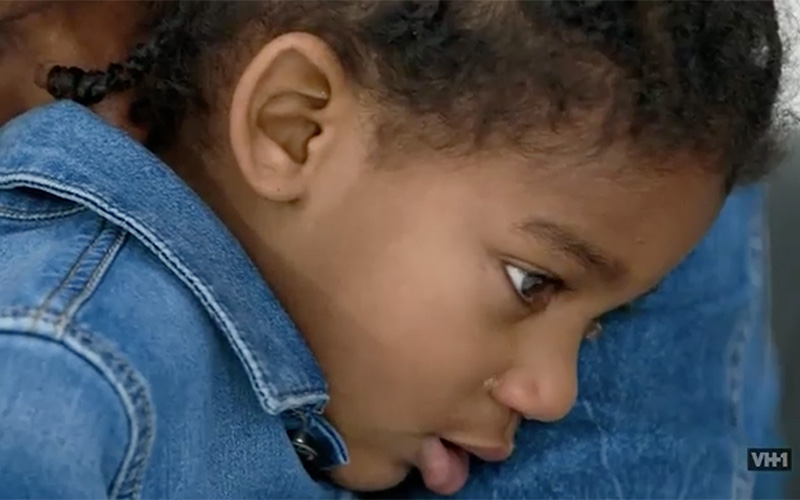 Even Grandma Grinch, aka KK, had her black-ice heart melt a little as she observed the touching father-son moment from the shadows.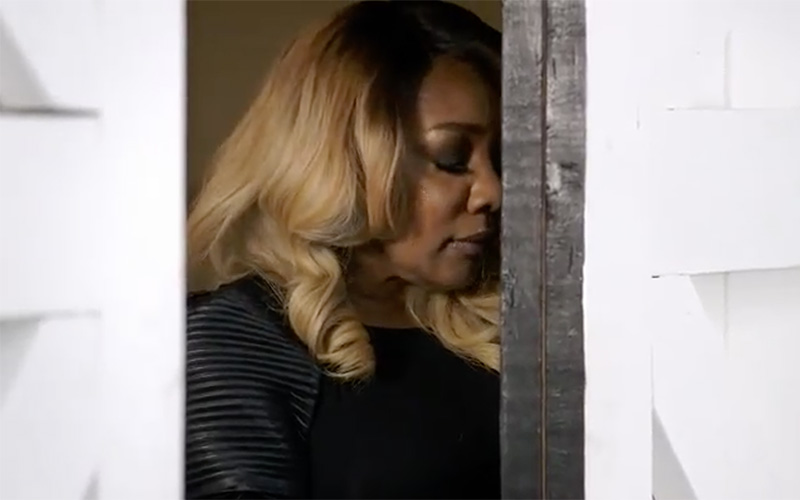 After bonding with his son, Scrapp prepares to face the music and in preparation for his prison stint, Scrapp chops off his pigtails.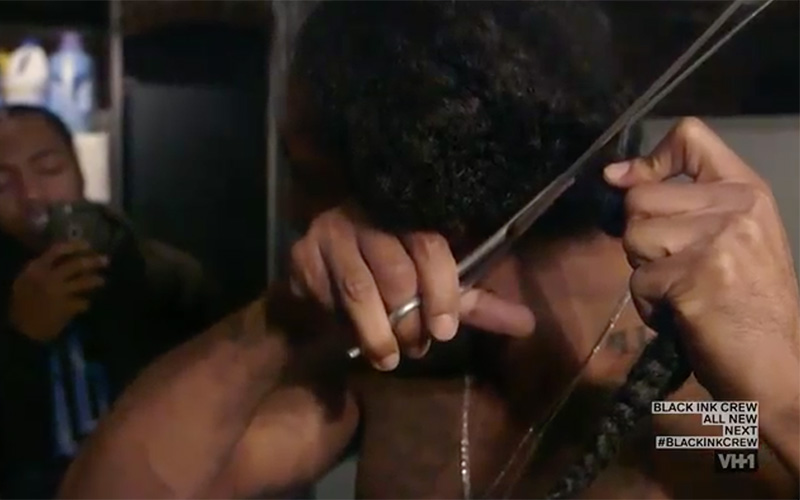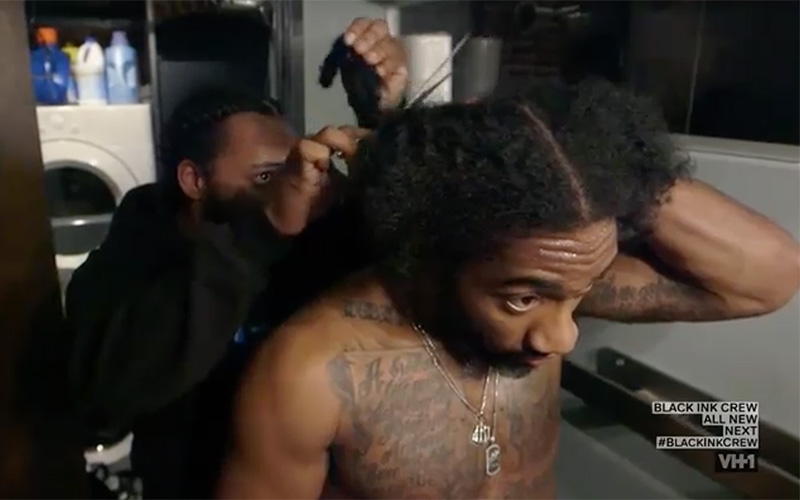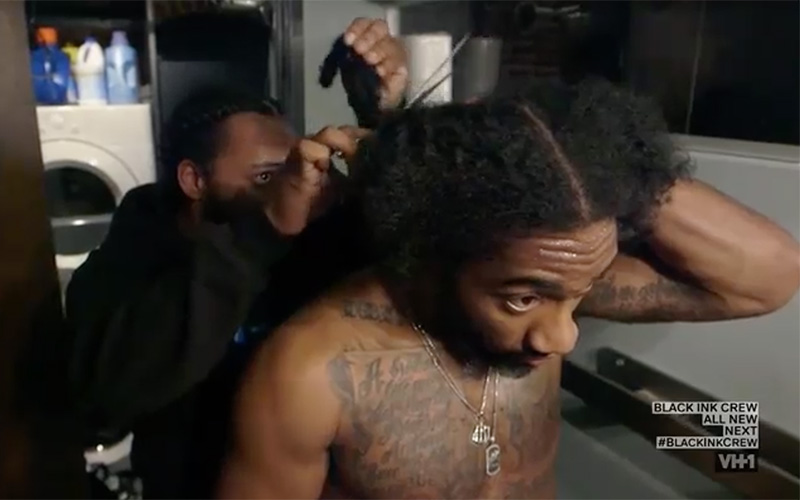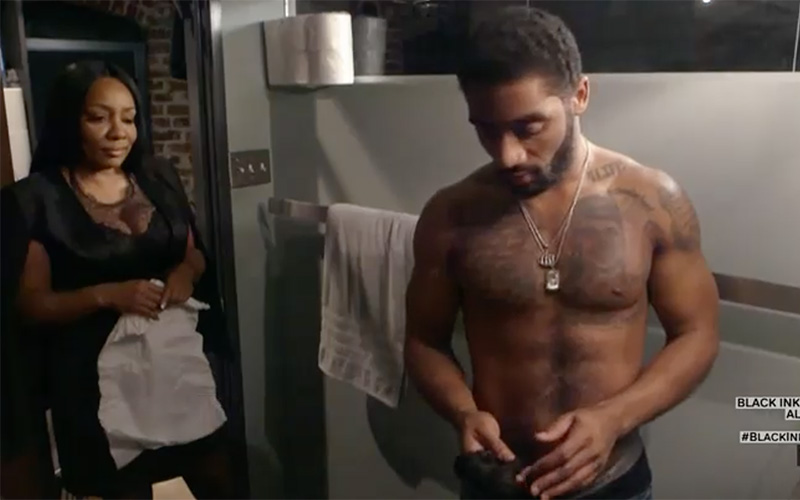 It's all very dramatic in a Waiting to Exhale way. By chopping off his knotted, fuzzy, untamed mane, Scrapp is shedding his burdens, his crimes and his dead weight.
The one kind of creepy thing is how his mother, KK, shows up in the bathroom to save one of Scrapp's lopped off pigtails. Keeping a lock of your baby's hair when they're an infant is one thing, but fetishizing a grown man's pigtail? Get a life, KK.
The last scene in The Passion of the Scrapp is when he shows up at the courthouse and his ENTIRE extended family shows up to say good-bye. I mean, every damn auntie, uncle, cousin and family friend showed up and showed out for Scrapp's court date. They did a group prayer and called on the heavenly father SEVERAL times.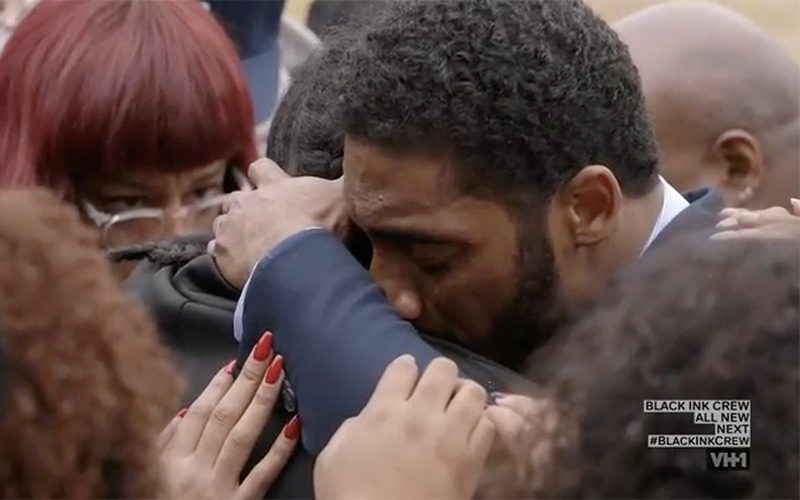 They should've been calling on the heavenly father when Scrapp was out selling weed though. Maybe then the prayer circle could've done something.
Sidenote: While some members of Scrapp's extended family appear to be Christian, as the group prayer showed, Scrapp and his brother, son and nephew are practicing Muslims. They show shows Scrapp in Muslim garb and prayer and he picks up a copy of the Quran before he heads to the courthouse.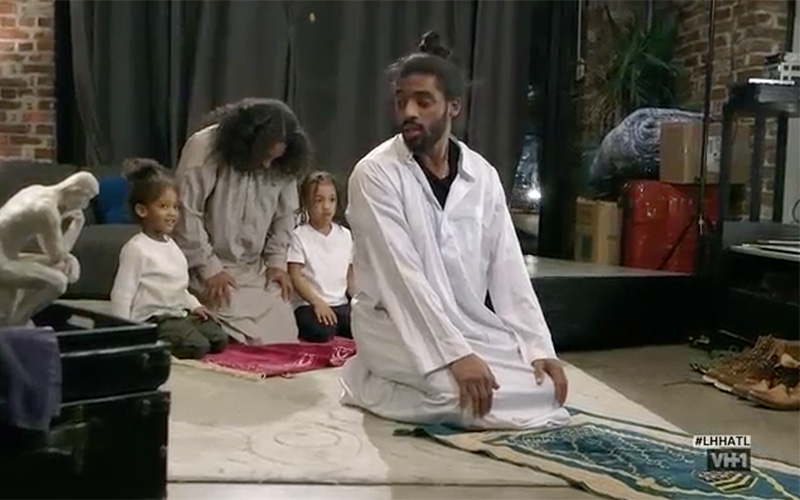 My question is: On what planet is Allah cool with you smoking, selling weed, getting tattoos, having promiscuous sex with multiple women at the same time, and attempting to murder your own stepdaddy?
Scrapp has got to be the most confused ass Muslim in these streets since Mike Tyson.
D. Smith Continues Her Reign of Terror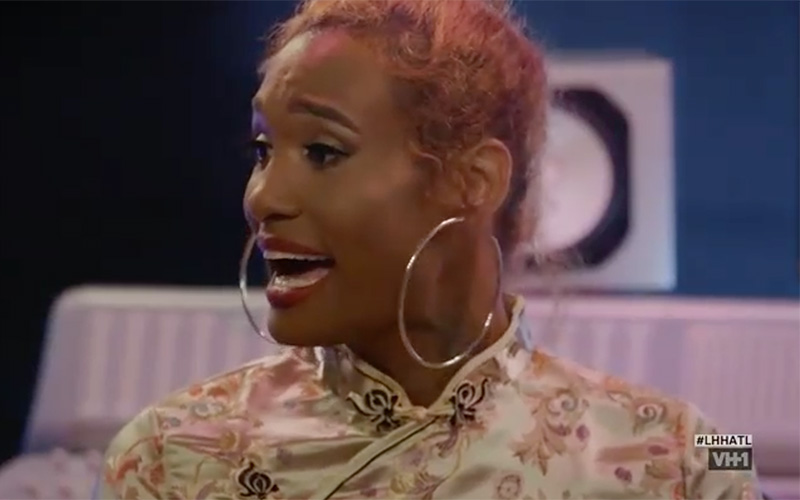 After getting into it with Bambi, K. Michelle and Joseline at her album release party, D. Smith and Betty White continue to keep it ratchet by stirring the pot.
In a studio meeting with Ariane, who apparently wants to be a singer now (girl, bye), D. Smith does her best impression of a music producer. D. Smith and Betty Idol agree to work with Ariane on her music after a bullshit boo-hoo session. Good luck with that, ladies. Ariane is about to make Karlie Redd look like Rihanna up in this mug.
I just wish D's hair didn't look like such a dustball. These wigs are looking they've been through the fire, to the limit, and to the wall.
Later on, D. Smith butts heads with Deb Antney, Waka Flocka's mom, who has apparently decided to jump on board the silver hair trend that these youngin's are rockin'.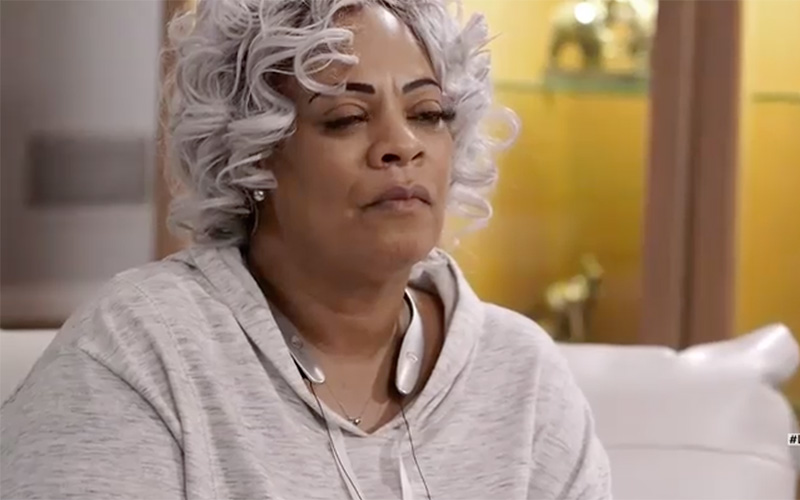 But here's the problem: If you're actually around the age of a grandma, rockin' silver hair just makes you look like a Golden Girl.
So anyway, Deb decides to reach out to D. Smith to see if she'll participate in her anti-bullying panel. Really though, it's a guise for Deb to attempt to diplomatically squash the beef between D and her soon-to-be daughter-in-law Tammy Rivera. But that conversation goes south as D. Smith refuses to budge an inch when it comes to Tammy.
This carries over when D. Smith and Betty Idol show up at the anti-bullying panel as guests. Betty Idol came into the room with nothing but shade and attitude as she rolled her eyes at the crowd.
Not content with just being an observer, D. Smith decides to step to the podium to give the panel and the audience her testimony on growing up black and transgendered. It's very "woe is me" and all that jazz.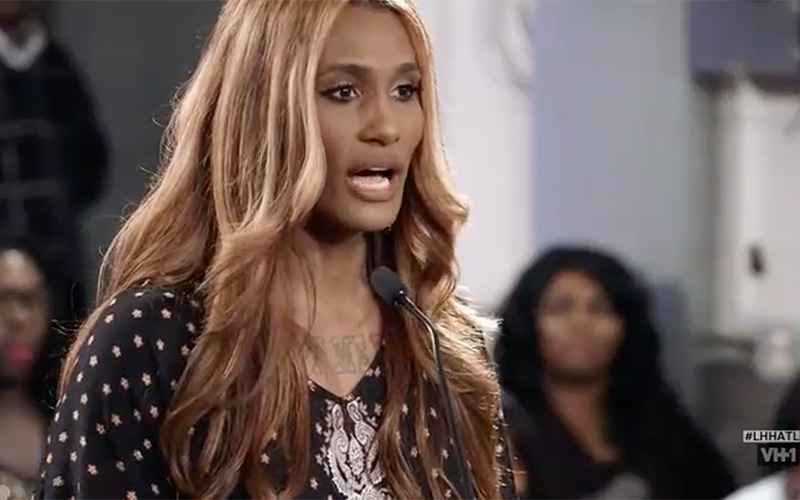 When I tell you that Deb and Tammy were NOT here for it, let me tell you, I'm for real.
After ANOTHER squabble over Waka's alleged transphobic comments, which saw D. Smith pound her fist on the podium, Deb throws D. Smith out of the event and the anti-bullying panel continues in peace.
If trouble had a penis and a bad collection of crazy wigs, its name would definitely be D. Smith.
Be the first to receive breaking news alerts and more stories like this by subscribing to our mailing list.