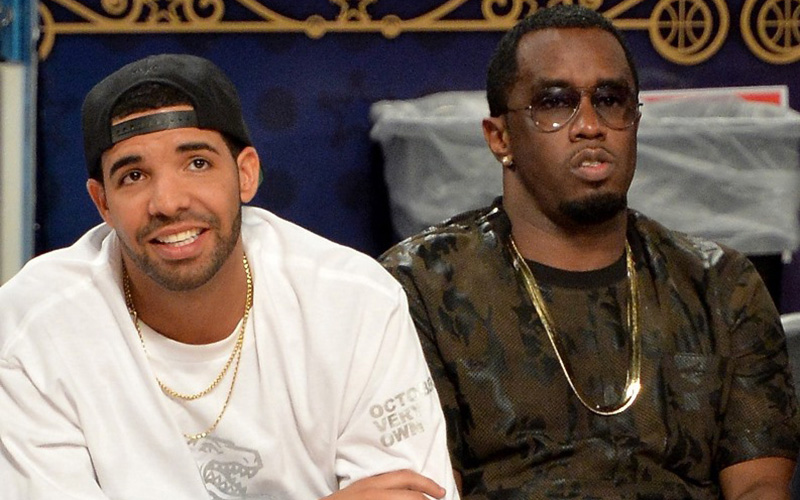 Drake still hasn't gotten over his infamous 2014 fight with Diddy.
For those who don't remember, or need a little refresher, Diddy allegedly punched Drake outside LIV nightclub in Miami for stealing his "0 to 100" beat from him. Sources also said that Drake dislocated his shoulder and had to be taken to the hospital.
Diddy denied ever putting hands on Drake in an interview with "The Breakfast Club" and there were reports that the two later kissed and made up, but a new song Drake dropped this past weekend tells us otherwise.
The track, titled "4PM in Calabasas," is full of shots at Diddy and references to his music. Drake even mimics Diddy's "Ha Ha" laugh on his 1997 hit "Can't Nobody Hold Me Down."
Drake raps:
The higher I get, the less they accept me / Even had the OG's tryna press me
Ha-ha-ha-ha / No way out cause I'm already in it.

Look at me now, they look at me like the golden child, Can't nobody hold me down, especially not right now.
Drake also addresses the fight and makes it clear that there's no forgiveness in his heart for Diddy.
"Certain shit just too wild to reconcile / Take that, take that, no love in they heart so they fake that / DiCaprio level the way they play that, damn nigga, what is that," he says.
Diddy wasn't the only one who felt the wrath of the golden child. Drake also threw subliminals at Joe Budden, Meek Mill, Chris Brown, Tory Lanez and a few other Toronto rappers.
Check out "4PM in Calabasas" below:
Looks like Drake will be eating up and spitting out OG and rookie rappers in the game, all summer 16.
Be the first to receive breaking news alerts and more stories like this by subscribing to our mailing list.