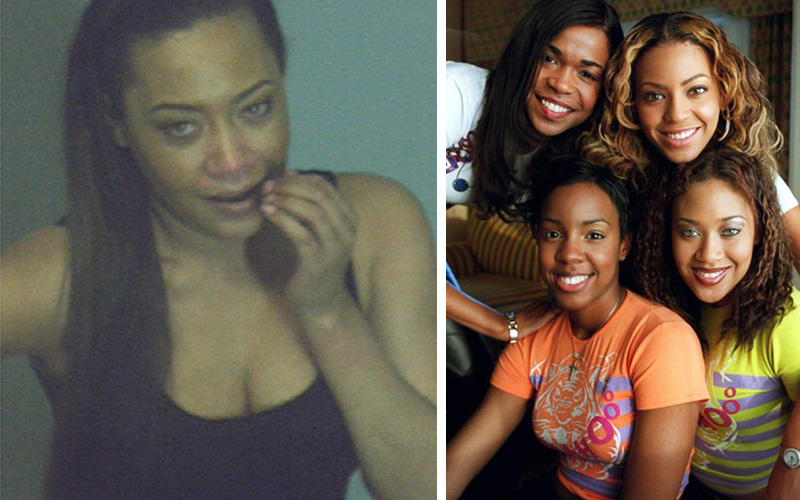 Farrah Franklin, the former Destiny's Child who was in the group the least, but talks about her time in Beyoncé's shadow the most, is back in the headlines again for another round of public shame and disgrace.
If you can go back, way back in time, and recollect in the farthest recesses of your mind, once upon a time, Farrah Franklin was briefly (very briefly!) a member of Destiny's Child.
After Beyoncé, Kelly and Mathew pushed Latavia Roberson and LeToya Luckett out of the group, they dialed up the back-up singer temp agency and got two fresh bodies into the rotation.
Farrah Franklin was seen in the "Say My Name" and "Jumpin', Jumpin'" videos and she made a few appearances with the girls, but before we could even remember to forget her name, she was booted and Destiny's Child officially became a trio.
Since her short stint with Destiny's Child, Farrah Franklin has gone on to do a whole lot of…NOTHING. She's tried to leverage her quick hit with Destiny's Child into an acting career, a solo music career and more, all to no avail.
Instead, what Farrah seems to good at is getting herself into trouble with the law and ending up on the front page of TMZ.
Case in point, Farrah Franklin was recently arrested by DeKalb County police for public intoxication after she attracted the police's attention while arguing with a male friend outside of a gym at 3 am, reports TMZ.
According to cops … Farrah got into an argument with a male friend around 3 AM Thursday outside a gym in DeKalb County, GA. When officers showed up she said she was not ready to go home, and added … "These n***** won't leave me alone."

Cops noticed signs of drunkenness — odor of booze, slurred speech and bloodshot eyes — and asked how much she'd been drinking. She fired back, "Not enough."

Farrah — who was in DC from 1999 to 2000 — was arrested and booked for public intoxication and possession of a small amount of weed.
I have no idea what someone would be doing outside of a gym at 3 am, drunk and, it sounds like, high. I don't wanna say that Farrah is a professional lady of the night, but if this doesn't sound like a ho on the stroll getting busted with her John…
Dear Farrah, please stop pretending like you have a place or position in the entertainment industry and get you to a 9-to-5 and just quietly live out the rest of your life with whatever semblance of dignity you can hold on to. You can play "2 Truths and a Lie," use your Destiny's Child background as interesting trivia and pursue a perfectly satisfying career as an office administrator.
Be the first to receive breaking news alerts and more stories like this by subscribing to our mailing list.