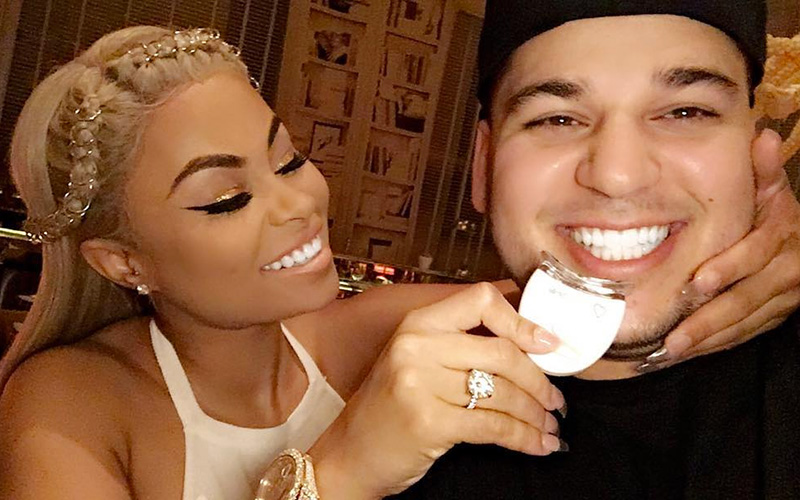 Save your moans and groans and please don't kill the messenger, but another Kardashian series is headed to your TV screens.
E! has officially announced that Rob Kardashian and Blac Chyna will star in their own reality show. "Rob & Chyna" (working title) will follow the newly engaged couple as they prepare for the birth of their first child together.
"Very few love stories have created as much pop culture buzz as Rob and Chyna's, and we are thrilled to see Rob in such a happy place. We are excited to share the next chapter in their relationship," E! Executive Vice President of Original Programming & Development Jeff Olde said in a press release.
Though I'm not going to go as far as to question the couple's love for each other, I do doubt it's their so-called "love story" that has everyone captivated. The family dynamics and the acceleration of their relationship is what has people glued to social media and blog reports.
See if you can keep up: Blac Chyna is the mother to Kylie Jenner's (Rob's sister) ex-boyfriend, Tyga's child. She alo is Kanye West's ex-girlfriend Amber Rose's best friend, and she reportedly does not get along with multiple members of Rob's family.
Meanwhile, Rob has struggled with depression and weight gain, voluntarily left the public eye, and briefly became estranged from his famous family. Like, what?! It makes for great TV, but how can this be real life?
Wendy Williams is so petty for this Kylie, Tyga, Blac Chyna, Rob flow chart. ?? #icant pic.twitter.com/wj4rGX2Smp

— ??L E A?? (@_MissLeandra) April 19, 2016
Throughout all the drama Chyna has had with the Kardashians, she clearly is getting the last laugh. She got the black sheep of the family to put a ring on her finger, filed a trademark claim for the name "Angela Renee Kardashian," and she will co-executive produce their E! show, along with Rob.
And to top it all off, she will give birth to the only heir to actually bear the Kardashian surname. Chyna just might be coming for that Kardashian Krown.
https://www.instagram.com/p/BGH1M_Fxvrt/
I have no plans to tune in to "Rob & Chyna." However, I can almost guarantee E! has another hit on its hands. The show will air later this year with a special episode to celebrate Baby Kardashian's birth.
Be the first to receive breaking news alerts and more stories like this by subscribing to our mailing list.