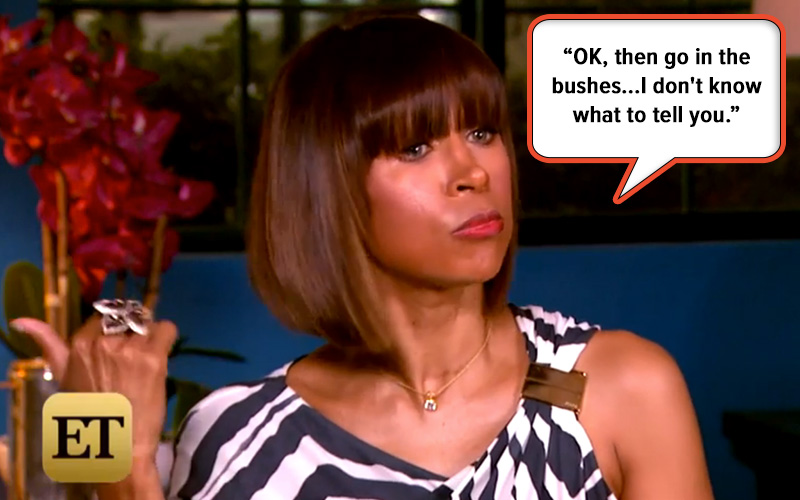 Actress turned FOX correspondent Stacey Dash has come up with a way to keep those pesky, transgender pervs from ruining your always delightful public bathroom experience—let them go outside in the bushes.
Dash recently appeared on Entertainment Tonight to promote her new memoir "There Goes My Social Life: From Clueless to Conservative." In her book, Dash criticizes Caitlyn Jenner for using female public restrooms.
"It's tyranny by the minority. Why do I have to suffer because you can't decide what you wanna be that day?" she said.
The Clueless actress believes gender identity is a simply a matter of choice. "It's your body! So, it's your decision, right? We all make choices," she stated.
When ET's Nischelle Turner pointed out sexual identity is a biological issue, Dash replied, "OK, then go in the bushes. I don't know what to tell you, but I'm not gonna put my child's life at risk because you want to change a law."
Dash apparently hasn't done her research, since neither sexual orientation nor identity have anything do with with pedophilia. Spotting someone peeing in the bushes promises to be far more damaging to a child's psyche, no?
Dash also slammed singer Lady Gaga for using her anti-bullying campaign to further her "liberal agenda." Dash isn't a fan of Gaga's Born This Way Foundation, taking offense at some of its blog content, particularly, for citing a teen's act of coming out as transgender and President Barack Obama's public support of marriage as acts of courage.
This isn't the first time Dash has made headlines for her controversial views. Earlier this year, she criticized performers who chose to boycott this year's Oscars due to the lack of African-American nominees. Dash found the political stance "ludicrous" and argued that the BET Awards and the NAACP Image Awards promote segregation.
The former drug addict and Playboy model also accused Planned Parenthood of pressuring black women to kill their babies.
Be the first to receive breaking news alerts and more stories like this by subscribing to our mailing list.