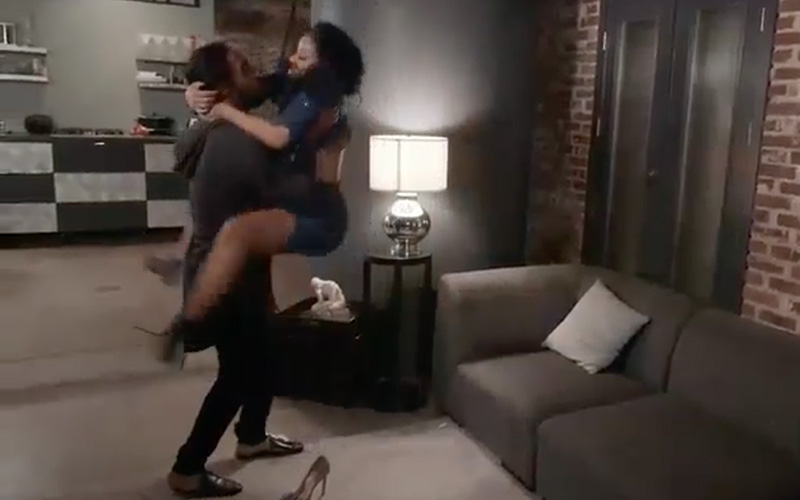 Either Tommie (aka Atasha Jefferson) is using Love & Hip Hop Atlanta as a platform to hone her skills as an actress or she really is a nutso, or hell, maybe both.
Scrapp DeLeon has been hooking up with Karlie Redd (both on and off-camera, apparently) and Tommie has now become privy to this thanks to a hotel receipt she found with Karlie's name written on it (literally) in Scrapp's car.
Feeling played, once again, Tommie busts up in Scrapp's apartment for the umpteenth time (Why does he even answer the door for her at this point?) and gets all up in his face, asking him about the receipt.
He tells her to sit down and relax, and she does. Sort of. As Tommie is sitting on the back of the couch and the two of them continue to argue — Tommie: "What was she doing in your car?" Scrapp: "Do I question who's all in your car?" — she leaps up and jumps on Scrapp like a fucking spider monkey and tries to rip his hair from his scalp.
"Tommie is always on an emotional rollercoaster," Scrapp says to the camera in his one-on-one. He's telling no lies here.
It takes a few seconds (a bit longer than usual, WTF?) for security to sweep in and help pry Tommie away from Scrapp, and just when you think things have settled down, Tommie starts running her mouth again, taunting Scrapp about how his Uncle Stevie is going to "lick [her] pussy so good" and she's going to "kick her legs open" and "let him please [her]." And as a bonus, she's going to throw in all of his friends and anyone else close to him.
I don't think she's really mad at Scrapp for cheating on her though. She should be used to that by now. I think she's really mad at the fact that he cheated on her with Karlie Redd.
"You wanna play me with Karlie mother fucking Redd … an old ass hoe with worms?!?" Tommie shouts. Then when Scrapp calls her bluff, she breaks down into typical Tommie Tears before jumping on Scrapp again after he calls her "pathetic."
Later in the episode, Tommie pops up at "middle aged thot" Karlie's job at the Playboy radio station and confronts her for fooling around with Scrapp behind her back.
In her personal interview, Karlie admits that she was tempted to come clean to Tommie, but she decided not to. "I thought about it, and I was like, 'For what? Scrapp doesn't claim this broke ass hoe!" she said.
Karlie reveals to Tommie that she tried to tell her when they were at the coffee shop, but she wasn't trying to hear it. Tommie and Karlie then start hurling insults at each other.
"You're a 40-year-old idiot," Tommie tells Karlie. "Your man, he don't fuck with you. He never fucked with you, and he not even claiming you," Karlie responds.
But Tommie couldn't give any less of a fuck about who Scrapp isn't claiming because she's got Stevie for leverage, and she brags to Karlie that she will never even spend a second with Stevie in the studio because she's too "wack" and has "always been."
Karlie then makes a comment about Tommie looking like a fake ass wallaby, and Tommie leaps over the table in an attempt to grab Karlie, who acts like she isn't scared, but judging by how fast she moved back to let security protect her, she seemed pretty shook up.
Tommie ends their altercation by tossing a pair of shades at Karlie's chest as she's being carried out by security. Karlie retrieves the glasses and tries to throw them back at Tommie and completely misses.
"Say my name, bitch. Get to know me, bitch," Tommie yells to Karlie as she's being escorted out.
Be the first to receive breaking news alerts and more stories like this by subscribing to our mailing list.