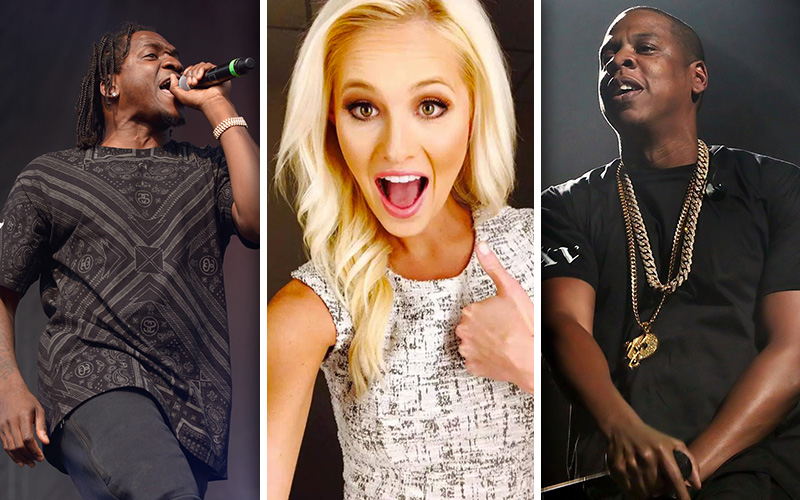 Jay Z has the whole Internet talking about his verse on Pusha T's new single "Drug Dealers Anonymous."
Pusha T premiered the collaboration last night exclusively on Tidal, which happens to be the second track Jay Z has been featured on in the past week or so.
On the track, Jay responds to conservative TV host Tomi Lahren and her comments she made about him and his wife Beyonce. "Fourteen-year drug dealer and still counting / Who deserves the Medal of Freedom? My accountant," he raps.
Earlier this year, Lahren made headlines when she slammed Beyoncé's Super Bowl Halftime Show performance and in the process, called Jay Z a "drug dealer for 14 years." A clip from Lahren's anti-Beyonce rant is also featured on the track.
"Your husband was a drug dealer. For fourteen years, he sold crack cocaine. Talk about protecting black neighborhoods? Start at home," Lahren says in the clip.
The best part of the song is at the end of Jay's verse when he references the viral "Damn Daniel" meme.
"Life made me ambidextrous / Countin' with my right, whipping' white with my left wrist / Daaaaaaaamn Daniel, FBI keep bringing them all white vans through," Jay raps on the track.
Joshua Holz, one of the two guys behind the "Damn Daniel" meme, has since responded to Jay's shout-out, and so has Tomi Lahren.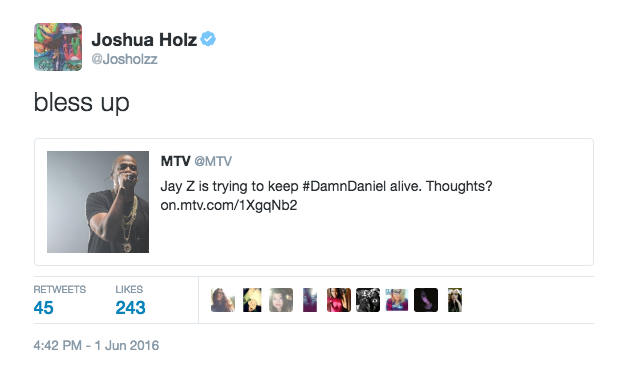 Always wanted to be on a track with two drug dealers. Thanks @PUSHA_T & #JayZ #DrugDealersAnonymous

— Tomi Lahren (@TomiLahren) June 1, 2016
Gotta love living in the 21st century.
Stream Pusha T & Jay Z's "Drug Dealers Anonymous" via TIDAL below:
Be the first to receive breaking news alerts and more stories like this by subscribing to our mailing list.