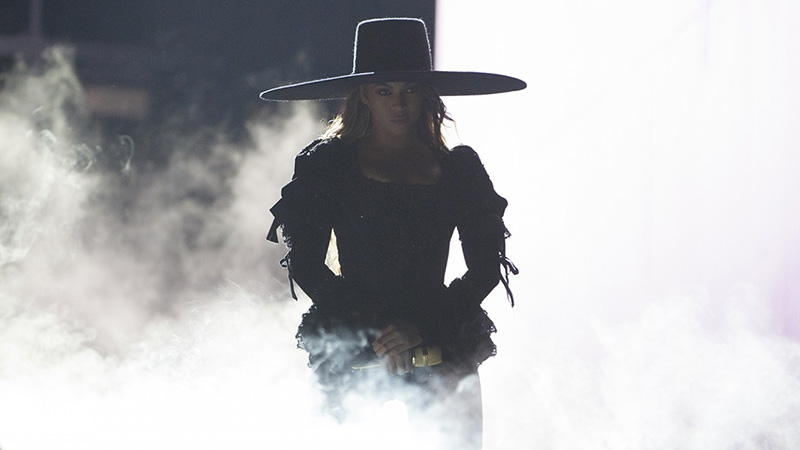 Those of you who have tickets for any of Beyoncé's upcoming "Formation" stadium tour concerts (and your venue is an outdoor stadium) should expect for the event to go on rain or shine.
If you're lucky, you won't have to deal with a thunderstorm like us North Carolina concertgoers did. But, I will say that all of the rain and lightning made the experience an unforgettable one, not just for us, but for Beyoncé as well. I know this because she said it herself.
Raleigh, North Carolina's Carter-Finley Stadium holds over 50,000 people, and we all endured severe weather and traffic delays just to see Beyoncé slay. And that's exactly what she did on Tuesday, May 3, 2016, despite a lightning storm that threatened to end the concert prematurely.
In the days leading up to the show, weather forecasts predicted a 100% chance of thunderstorms and scattered showers throughout the night of the concert, but that didn't stop the BeyHive from coming out, it just forced us to come a bit more prepared.
"I will be here rain or shine," Angela Young told WRAL. "We've got ponchos, umbrellas, towels, everything you need. We're not going to miss this for the world."
On our way to the show, we (myself and BaRock Odrama) stopped at Target to buy a couple of ponchos, but were told that they had completely sold out in the past hour. Looks like we were beaten to the punch. So we bought literally the last two raincoats they had on the rack and made our way to Carter-Finley stadium, which was around five or six miles away.
While en route to the stadium, we noticed how ridiculous traffic was, and heard on the radio that fans who were already at the concert weren't being let in due to the severe weather conditions.
Carter-Finley re-opened their gates around 6:50 p.m. and D.J. Khaled came out around 30 minutes later and performed for about an hour. Unlike his shows in Miami and Atlanta, he didn't bring anyone out, not even J. Cole as some fans expected, considering this was North Carolina — Cole's home state.
After a brief intermission, the stadium lights went out completely, Beyoncé's full set lit up, and the crowd went nuts as a 3-minute video montage played, with the BeyHive growing more anxious for Queen Bey's arrival as each second passed.
Then the beat for "Formation" dropped and you couldn't even hear your own thoughts as the crowd shrieked with excitement.
Big Freedia's voice echoed through the speakers: "Oh Miss Bey, I know you came to slay! Give them hoes what they came to see. Baby, when I tell you, I'm back by popular demand. I did not come to play with you hoes. I came to slay, bitch! Oh yes, you best believe it, I always slay!"
Then Beyoncé herself, wearing a black wide-brimmed similar to the one in the "Formation" video spoke her first words: "Welcome to the Formation Tour! Raleigh, if you came to slay tonight, say, 'I slay!' Ladies and gentlemen, if you know who you are, say 'I slay!' If you proud of where you come from, say, 'I slay!'"
Beyoncé then went into a 30-song setlist that consisted of several tracks from Lemonade, as well as her hits and fan favorites from previous albums, including "Sorry" (which the ENTIRE crowd knew, word-for-word, especially the "he better call Becky with the good hair" line), "Bow Down," "Run The World (Girls)," "Mine," "Baby Boy," "Hold Up," "Countdown," and "Me Myself & I."
She even sang a beautiful rendition of her Naughty Boy collaboration "Runnin' (Lose It All)" before belting out what she called her favorite Lemonade track, "All Night."
The Queen then disappeared behind the stage for a moment while we were treated to a musical interlude from her guitarist, who flawlessly played a medley of songs including "6 Inch," "I Care" and "Ghost."
Beyoncé came back out and performed another round of her hits, including Lemonade's "Don't Hurt Yourself," which transitioned into "Ring the Alarm," followed by "Diva" (featuring a Hip Hop dance break to "Cut It"), the "***Flawless" remix, "Feeling Myself" (She said, "Changed the game when that Lemonade dropped, know where you was when that Lemonade dropped, I stopped the world…") and "Yoncé."
Then Mother Nature decided Beyoncé was doing too much slaying, and that's when the rain picked back up. But that didn't stop Queen Bey, who performed "Drunk In Love" and "Rocket" … IN THE POURING RAIN.
Now it's time for yet another video interlude, but after this one, a man comes on the microphone and says that due to the lightning, the concert has been "suspended." Not canceled, just postponed until the lightning storm passes. "Beyoncé has said that she is not leaving until she performs a full show," the announcer said to ease our worries that the show wouldn't be completed.
It took what seemed like forever for everyone to properly evacuate the stadium (imagine 50,000+ anxious people exiting a venue at the same time) and hundreds, maybe even thousands, of fans decided to just go home. A terrible decision on their part, because within 30-45 minutes, an announcement was made that it was safe for us to return to our seats, and Beyoncé picked right back up where she left off.
"The show is not over! Thank you guys for your patience," Beyoncé told us as she returned to the stage to perform "Daddy Lessons." She thanked us again after a dance break: "Thank y'all so much for staying."
Next up, Beyoncé sang "1+1," which was followed by a beautiful "Purple Rain" Prince tribute. She didn't sing, but her whole stage, including the massive 100 to 200-foot screen, turned purple and the crowd waved their phones in the air as the music played. The fact that it was actually raining (like how it did when Prince performed at the Super Bowl in 2007) made the tribute even more impressive.
The Queen returned to the stage yet again, this time in a red leather outfit with a matching fur coat, and she performed a medley of another set of hits and fan favorites, including "Crazy In Love," "Bootylicious," "Naughty Girl," "Party" and "Blow."
She disappeared behind the stage one last time while the show's final video montage played — this one had home movie clips of her, Jay Z and Blue Ivy, which had everyone saying "awww!"
When Beyoncé came back out for the finale, she moved to the "Bey Stage" in the middle of the field for a moving performance of "Freedom," which saw The Queen and her dancers splashing puddles of water (not from the rain, the stage literally turned into a shallow pool) all over fans (including ME!!!) who were surrounding the second stage.
Bey ended that part of the show with quick performances of "Survivor" and "End of Time / Grown Woman" before performing the encore song "Halo." At this point, it was literally pouring down raining, and Beyoncé loved every minute of it.
@Beyonce said it!! That rain didn't stop us from being in formation #FormationWorldTour pic.twitter.com/aniFOAQBxg

— Micah (@MicahWest) May 4, 2016
During "End of Time," she said to the crowd, "This rain ain't stop this show, and can't nothing stop my love for y'all. Thank you guys so much!"
Before transitioning into "Halo," Beyoncé said, "The rain is actually beautiful. Thank you guys for moments like this I'll never forget … Y'all have been such an incredible audience."
Not even the pouring rain and an accompanying lightning storm could stop the slayage that is Beyoncé.
Photos via: Beyonce.com
Be the first to receive breaking news alerts and more stories like this by subscribing to our mailing list.