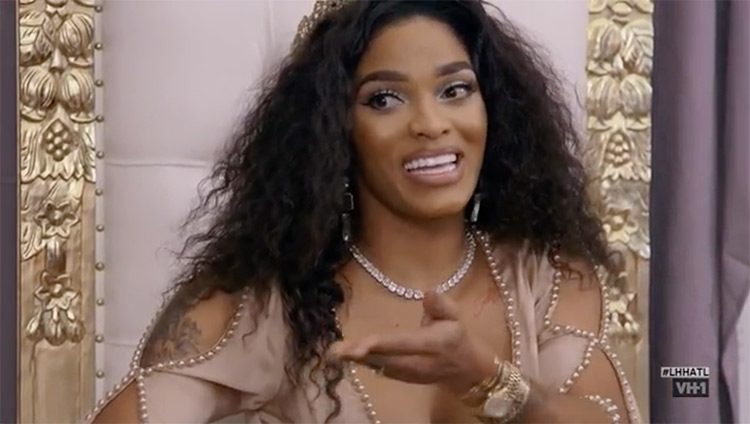 As Elton John says, "The bitch is back!"
After a stint in Hollywood with Stevie J for their lackluster spinoff, Joseline Hernandez has returned to her main stage in Atlanta.
The producers of Love & Hip Hop Atlanta know reality TV royalty when they see it, so they pretty much let Joseline stunt and shine on these "raggedy rats," as Joseline calls them, without restraint.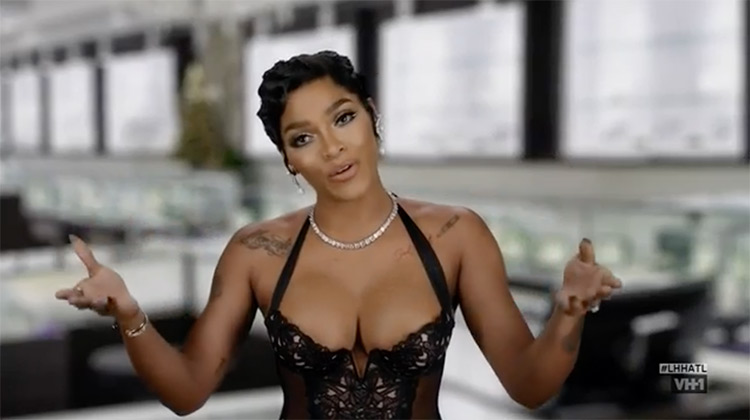 The first thing Joseline does when she returns to Atlanta is get Stevie J to buy her some expensive shit. You know Stevie is always repenting for some sin or the other, and Stevie loves having Joseline's transgender-lookin-ass body bouncin' up and down on his beefcake at night, so he gives the Puerto Rican Princess whatever she likes. In this case, Joseline wants expensive jewelry.
While Joseline runs Stevie's credit ragged, he fills Joseline in on all the ratchet news she's missed out on while she was in LA. Namely, the fact that Mimi is a newfound lesbian with a girlfriend. Joseline and Mimi, in case you forgot, are actually friendly for the first time ever so Joseline is tickled to hear that Mimi is livin' la vida lesba. Of course, Joseline also doesn't let a moment go by without reminding the audience that Mimi, Stevie and her had a threesome one time and apparently Joseline licked Mimi's kitty kat, really, really good.
But what Stevie doesn't know is that Joseline is holding a secret. KK and her sons are close to Stevie, so much so that Stevie refers to Scrapp as his nephew. But Joseline knows something about KK and Stevie that she's putting in her back pocket to use later during the season. Joseline lays out her trap and tells Stevie she wants to have a launch party for her latest music video and single, "Church." She wants to invite KK and her sons and their girlfriends, which includes Tommie, who she's already friendly with.
Stevie, at the mention of Tommie, discusses how Tommie and Tiarra are caught in a nasty love triangle with Scrapp and even have come to blows recently. Joseline plays the part of the concerned friend and vows to sit with Tommie for a heart-to-heart. Stevie thinks Joseline is being thoughtful, but he doesn't realize she's actually setting him up.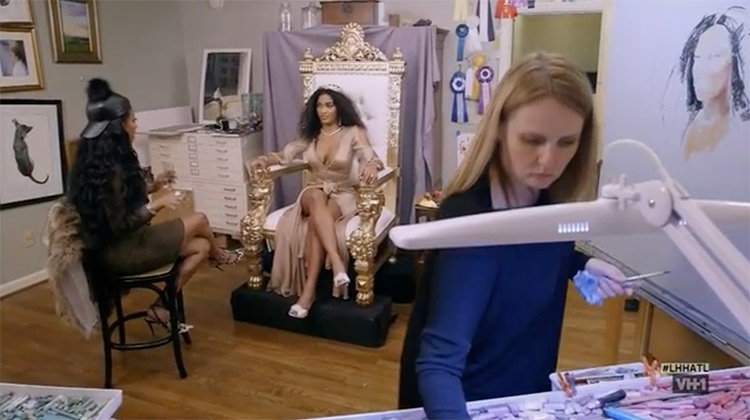 Joseline invites Tommie to her portrait painting session to get the 411 on everything that's been going down. Poor Tommie pours her heart out to her friend about how Tiarra, Scrapp's baby mama, has been terrorizing her life and in doing so, she uses colorful words. I guess the tiara has Joseline feeling like the damn Queen of England because she scolds Tommie for not speaking in a "ladylike" manner.
So Joseline is an etiquette expert now? She needs to carry that over to the Real Housewives of Potomac.
Joseline explains that in her newly enlightened state that she's learned that putting your hands on these bitches is not the way and she wants Tommie to learn how to get her emotions under control.
But Tommie has advice for Joseline: Watch out for these snakes in the grass.
Tommie lets Joseline know in no uncertain terms that Jessica "Dimepenny" and Karlie Redd both spoke unfavorably about her while she was out of town and warned Tommie to beware of the ugly side of Joseline. Joseline is not amused, but she keeps her poise and vows to invite her frienemies to her party anyway.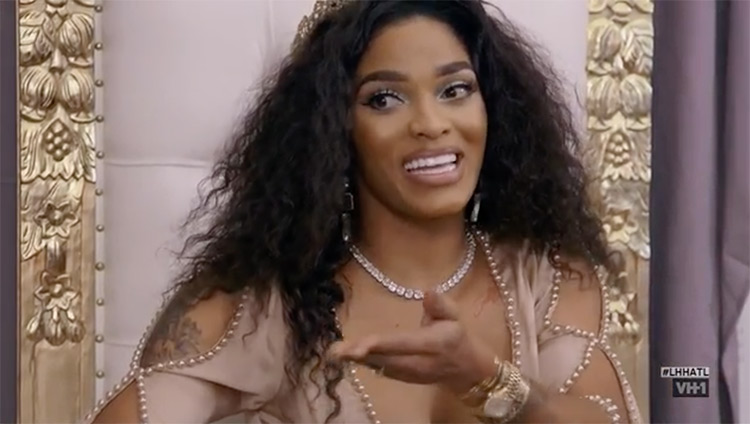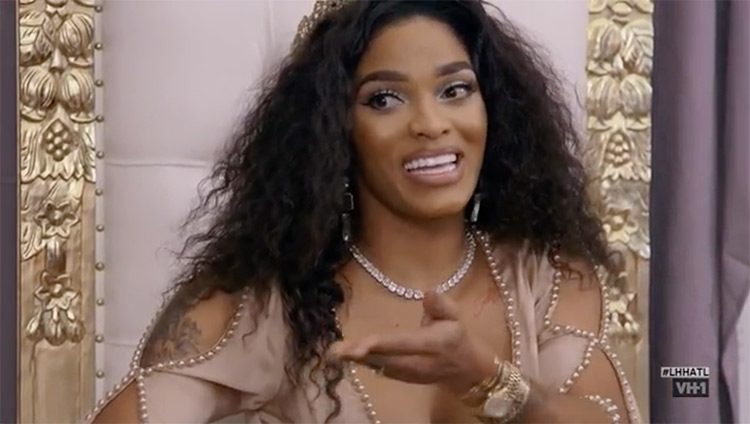 "We can all have a great time and really learn how to be in a room with each other without having to argue with each other, fight with each other, and pull each other weave off, and pull each other makeup and lashes off. We don't have to do that all the time," Joseline says.
I mean, if the fighting and weave pulling was removed from the show, why else would anyone watch?
Joseline, who is full of surprises this episode, lets Tommie know that she knows a secret about her man, Scrapp: He has ANOTHER woman he's been sleeping and creeping with who ISN'T Tiarra and she's been around for years.
How a man with a troll face and troll-doll hair is slinging all of this snatch I'll never understand.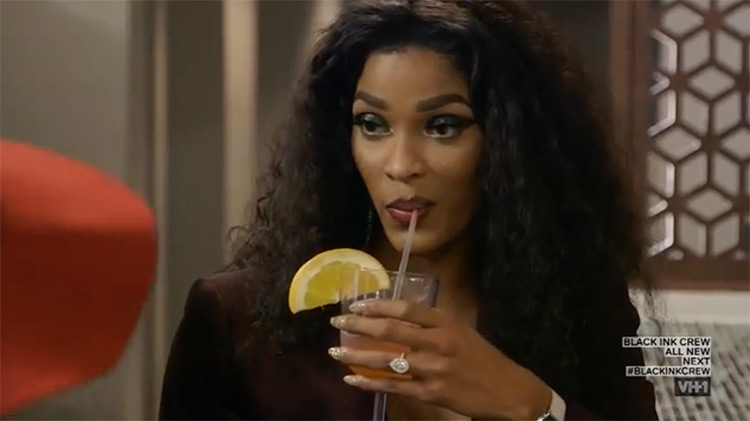 Joseline Comes to Snatch Karlie Redd's Wig
After catching wind of what Karlie has been saying about her, Joseline arranges for a meeting with Karlie. Joseline, however, comes ready for war with Bert from Sesame Street's eyebrows, lipstick from Wednesday Addams and a wig from Angela Bassett's Waiting to Exhale character's closet.
Feigning innocence and coyness, Joseline cooly greets Karlie and pretends like she has no idea why there's a rift between the two of them when Karlie asks her what's going on between them.
Joseline is the worst, she can't help but twist the knife in poor Karlie Redd's back even though it's clear how the loss of their friendship is crushing Karlie.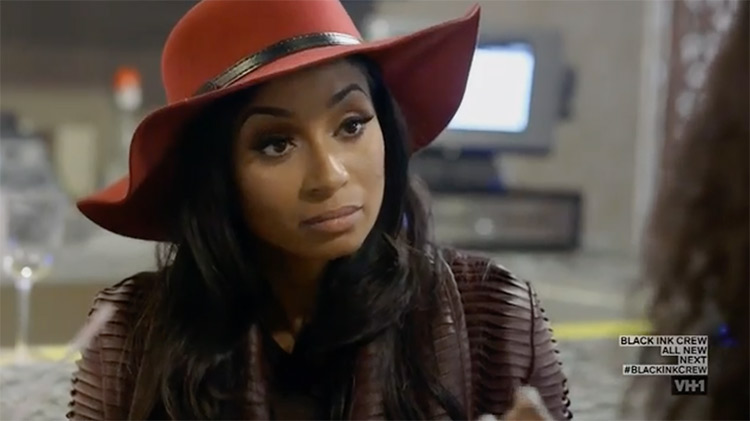 That's when Joseline pulls out her checkmate: She pulls an envelope out of her purse and warns Karlie to stop dragging her name in the mud or else she'll release the information in the envelope to the blogs.
Karlie is INCENSED by the blackmail attempt and she starts speaking in pigeonese, which sends Joseline into hysterics.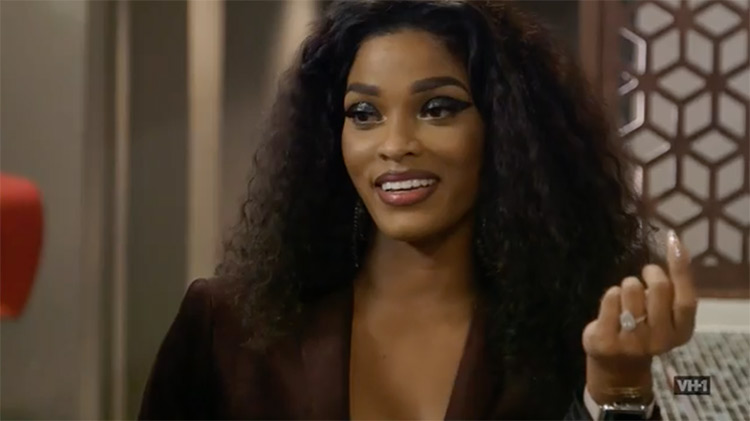 I don't know what secret Joseline has on Karlie, maybe it's Karlie's original birth certificate from 1884, but whatever it is, Karlie is not taking kindly to being threatened. At all.
Jessica Dimepiece Plays Peacekeeper
Since her music career is going nowhere, Jessica Dime decides to occupy her time trying to fix other people's personal lives. Since Tiarra and Tommie scrapped at Mimi's lesbian coming out party, Mimi has been furious with the two of them.
Jessica says that Mimi has judged Tiarra wrongly and thinks that given their common history (they've both dealt with cheatin-ass baby daddies), they can learn from each other and be good friends.
Mimi is resistant at first, but Jessica and Tiarra wear her down and she starts to listen to Tiarra's testimony.
It all comes off like a pseudo Iyanla moment and Mimi does her best to play the mother hen part.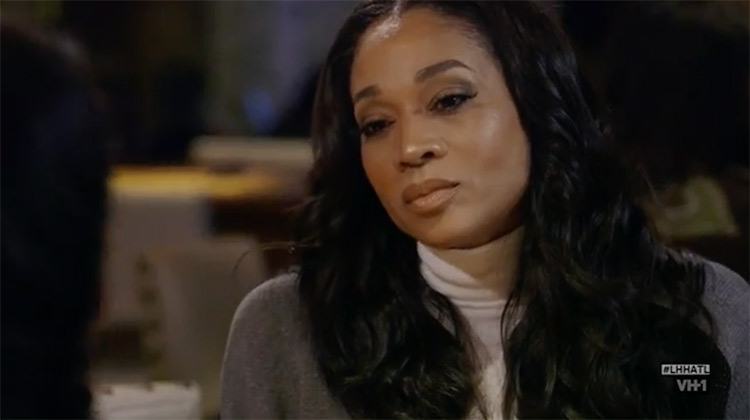 Doesn't her face scream, "I know what it feels like to get shitted on by your baby daddy on national television?"
Even if you aren't buying what Mimi is selling, Tiarra shares her testimony and explains how she's fearful of allowing her child to be left with Scrapp and part of that fear is rooted in the rocky relationship with his mother, KK.
KK is certainly not the first mother-in-law on this show to wreak havoc in her son's family life. That's been Momma Dee's entire plotline for years. So it makes sense to repeat this all over again, huh? No? Well, they're gonna do it anyway.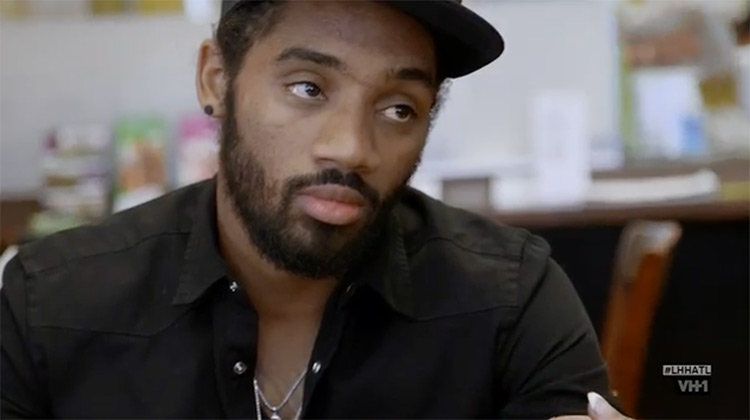 After Tiarra communicates to Scrapp that he needs to make things right between her and his mama, Scrapp tries to broker peace between them for his son's sake.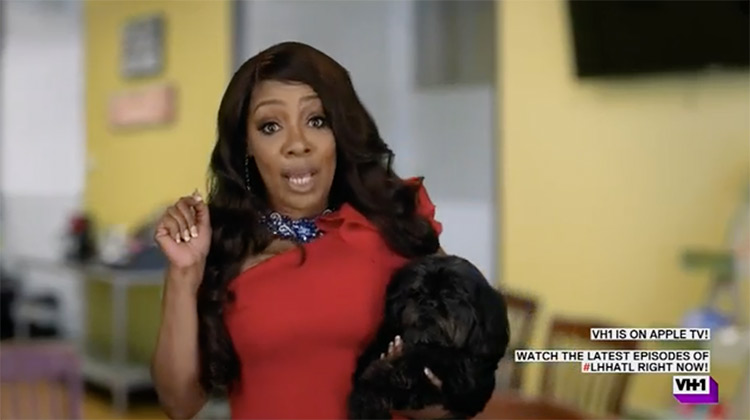 A normal mother might think about the bigger picture and squash the beef for the baby's sake, but not KK. Her petty has levels and she quickly rebuffs her son's request with a firm, "HELL NAW!" leaving him frustrated and disappointed.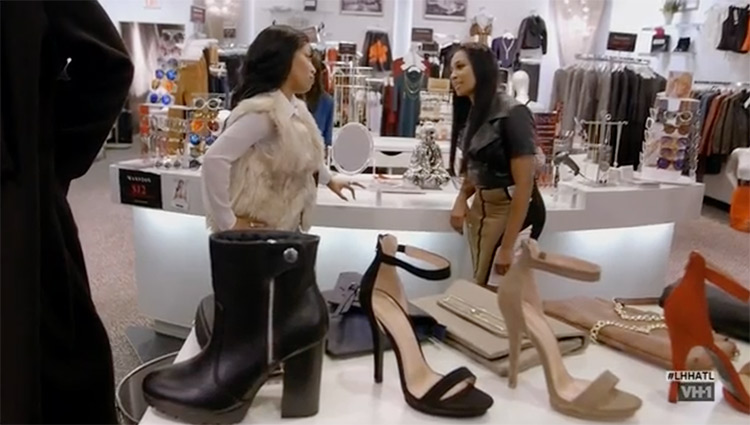 K. Michelle Comes Crawling Back
After proclaiming she was DONE with LHHATL and above the ratchet foolery, K. Michelle has come crawling back to the show where it all began for her. After an unsuccessful stint on LHHNY and a lackluster response to her spinoff reality show, K. Michelle links up with her old frenemy Karlie Redd at one of her cheap ass Chinese-rag shops in LA.
The two gossip and kiki and K. Michelle wastes no time picking up old beefs where she left off.
"What Rasheeda store doin?" K. Michelle asks shadily.
It's hilarious but shows that K. Michelle doesn't know how to let a damn thing go.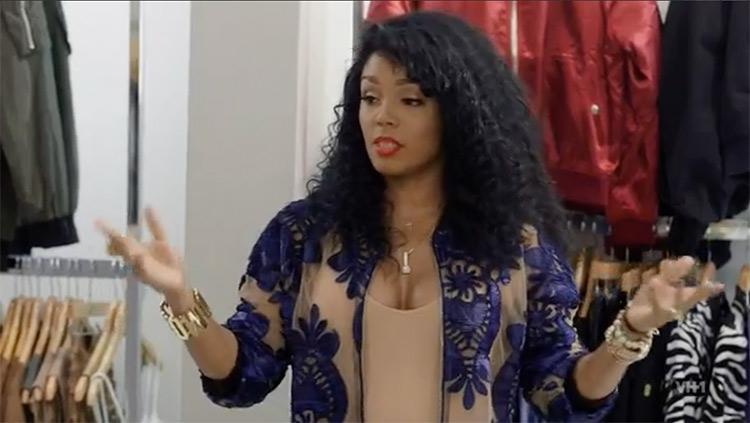 Speaking of Rasheeda's store, that damn thing is a mess. Her family is acting up and unprofessionally, and Rasheeda is trying to get that messy situation together.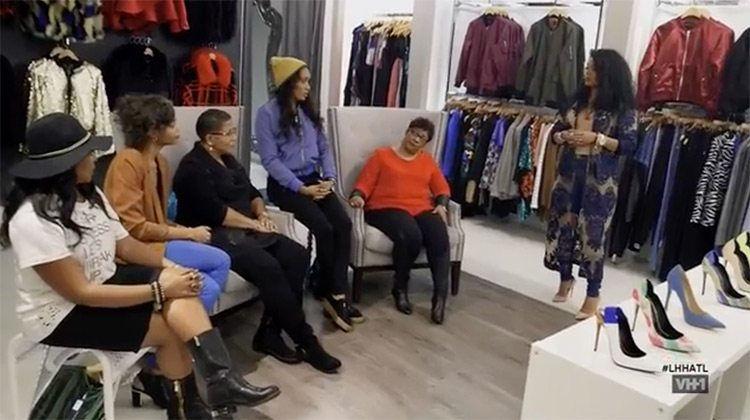 Her stepdaughter, Kelsie, is the biggest problem. She's always tardy and she's disrespectful as hell.
When Rasheeda calls for a kumbaya meeting to right all of the wrongs, Kelsie is late and mouths off at Rasheeda's mom when she dares to call attention to it.
Kirk steps into the meeting as well, and he complains that he wasn't invited. But the real problem he has on his hands is his daughter Kelsie, who complains and hijacks the staff meeting when he mentions working with one of his new artists.
Apparently, Kelsie is an aspiring musician herself and she feels like her daddy should "sign her" and support her. Girl, why? Kirk's "record label" is about as real and viable as Neverland. Being "signed" to your daddy's label wouldn't do a damn thing for your career even if you are serious about being a recording artist.
The real question I have about Kelsie though is why she's Beyonce's complexion in the scenes in the Pressed store (below, right) and why she's Kelly Rowland's complexion in the confessionals (below, left)?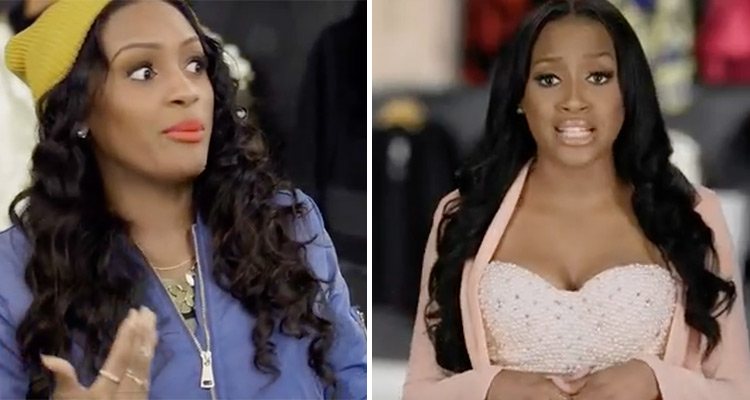 I thought it was two different people at first. Kelsie is way too young and not successful enough to go Lil' Kim skin-bleachin' on us just yet.
Be the first to receive breaking news alerts and more stories like this by subscribing to our mailing list.