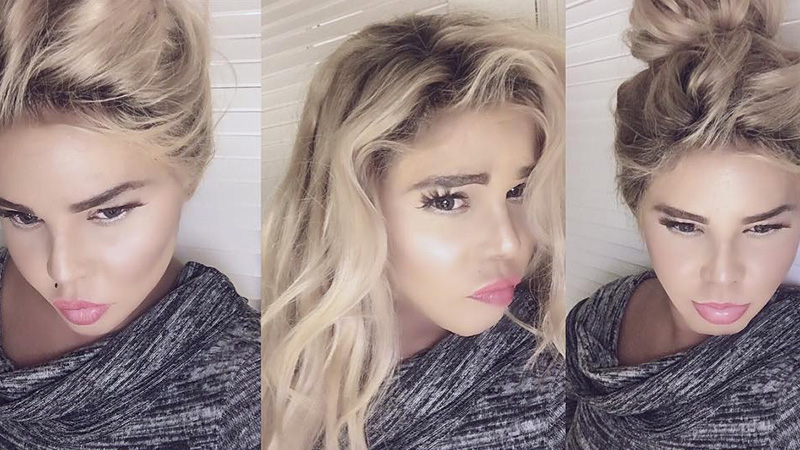 It's no secret Lil Kim's appearance has drastically changed over the years.
The former Queen of Hip Hop went from being the baddest chick in the game to looking completely unrecognizable after undergoing plastic surgery.
This past weekend, Kim debuted her newest look on social media and this may be the biggest change she has made thus far.
In a selfie collage posted on her Instagram, Kim sports long blonde hair and a noticeably lighter complexion.
https://www.instagram.com/p/BEmWuB2vsVu/?taken-by=lilkimthequeenbee&hl=en
She also shared a video of herself with two friends at the Fontainebleau hotel in Miami.
https://www.instagram.com/p/BEmbBUuPsdl/?taken-by=lilkimthequeenbee&hl=en
Fans were both shocked and concerned by Kim's new appearance, with some even accusing her of wanting to be "white."
I hope Lil Kim finds someone that teaches her true beauty and self love. The mind is a scary place.

— OXTAIL GAWD (@ThatDudeMCFLY) April 25, 2016
I feel bad for Lil Kim, honestly. Not everyone is strong enough to weather the hatred against them. Shamed before and shamed after. Sad.

— Akilah Hughes (@AkilahObviously) April 25, 2016
I really hope lil Kim gets the help she needs, as long she is happy and she got people around her that love her really nothing to stop her

— IvySoul? (@VoluptuousLiips) April 25, 2016
Sad about Lil Kim and everyone who doesn't feel comfortable in their own skin. We should be taught the importance of self-love.

— Scully (@isthatscully) April 25, 2016
Lil Kim would rather be an ugly white woman than a pretty black one. God bless.

— pj (@pjhoody) April 24, 2016
https://twitter.com/GavinJ4Kim/status/724374215994970114
https://twitter.com/OnlyAnkh/status/724539873475072000
You're saying horrible things about Lil Kim's appearance then wondering why she has self esteem issues in the same tweet????

— c (@chantellebreezy) April 25, 2016
I'm not even mad about what Lil Kim did to her herself because we hold responsibility for making her get there.

— Patience. (@patiencezalanga) April 25, 2016
Anyway I'm Lil Kim for life. Bless her entire sweet big heart and the trash hand she couldn't fame her way out of.

— The Dr. Tressie McMillan Cottom (@tressiemcphd) April 24, 2016
https://twitter.com/hansonIine/status/724539279620345856
How do you feel about Lil Kim's new look?
Be the first to receive breaking news alerts and more stories like this by subscribing to our mailing list.