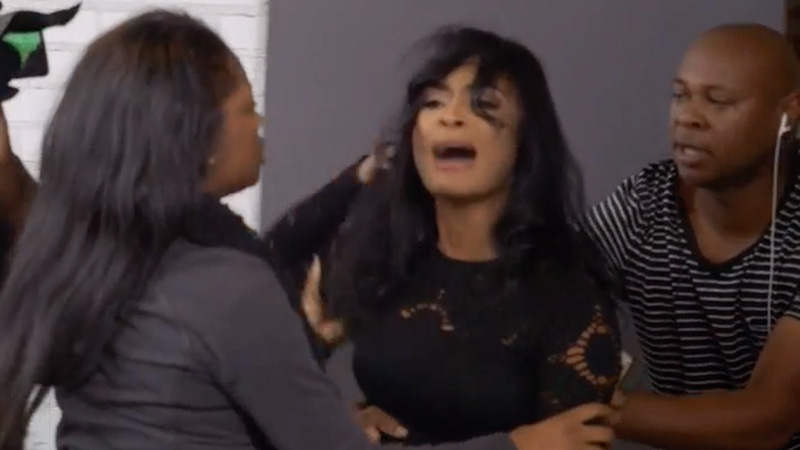 If there's one overarching theme on this season of Love & Hip Hop Atlanta, it's that too many people refuse to recognize and honor their boundaries.
When boundaries are crossed, disrespect follows and feelings get hurt. This being LHHATL, sometimes a whole lot more than just feelings get hurt. Sometimes chunks of your hair get snatched, which Betty Idol had to learn the hard way.
So if you'll recall from the last episode, the transgender fashionista named D. Smith had decided to gather and introduce Waka Flocka's wife, Tammy Rivera, to her friend, Betty Idol. Betty is a model and she figured Betty could perhaps collaborate with Tammy in some form or fashion. But Betty, who looks like a clone of Karlie Redd with her bird face and pointy nose, wasn't ever really interested in doing anything with Tammy. Instead, she put Tammy and Waka down from the jump because of some supposed transphobic comments Flocka made in an interview.
So the entire time that Betty, Tammy and D. Smith are talking, Betty is snarling and rolling her eyes at Tammy. To be honest, Tammy was quite patient, but Betty kept coming with the slick verbal jabs. Little did she know that the only thing quicker and slicker than Tammy's mouth are her hands.
After the conversation between Tammy and Betty Idol escalates to a physical altercation, security separates the two.
By the time Betty Idol gets back to her car though, she realizes that Tammy has snatched her edges and she screams, "She pulled out my hair. She pulled out my hair! She pulled out my HAIR!!!"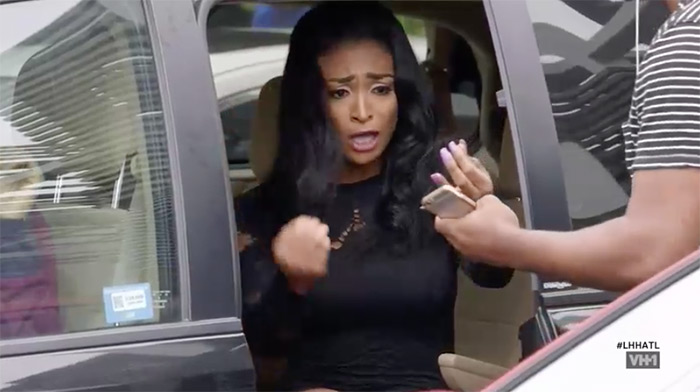 The sight of Betty holding a clump of her hair in her hands is hilarious evidence of how Tammy gets down.
Be careful who you mess with out in these streets. You might end up balder than Amber Rose.
Stevie J Comes Back to Town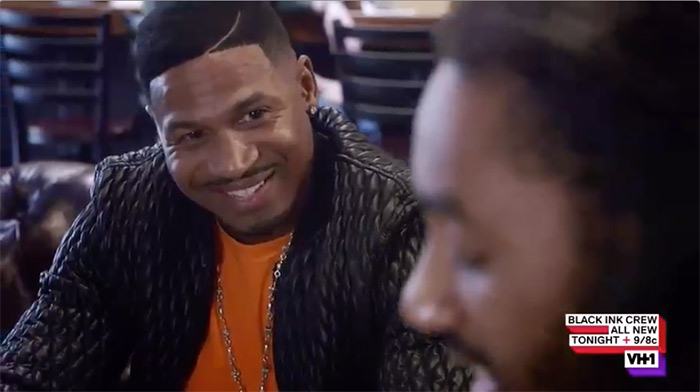 If you'll recall, Stevie J and Joseline Hernandez split town and opted to live in L.A. for a bit when we last saw them. In a move that surprises absolutely no one, Stevie J has "decided" to move back to ATL just in time for the new season of LHHATL.
Now that he's back in town, Stevie makes it a point to visit two people: Mimi, his baby mama, and Scrapp DeLeon, his supposed nephew according to Mimi.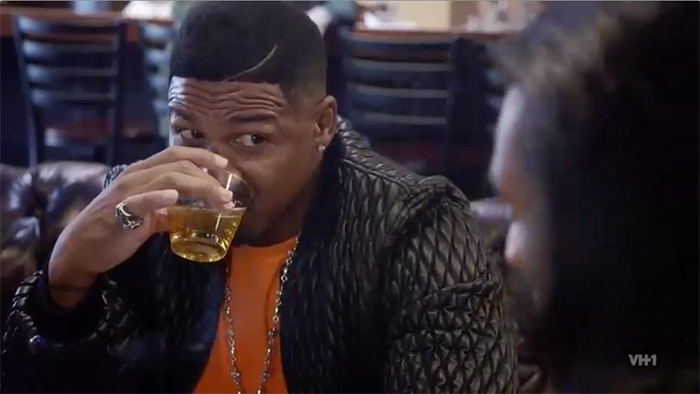 With Scrapp, Stevie attempts to play the part of the doting or concerned uncle. In a bizarro twist, Stevie counsels Scrapp to choose between the two women who are currently fighting over him: Tiarra and Tommie. Scrapp astutely points out that such advice coming from Stevie is quite hypocritical, considering Stevie's checkered love triangle past with Mimi and Joseline.
But it was cute to see Stevie J speak as if he had some sense. If only he could follow his own advice in the future, we'd be good.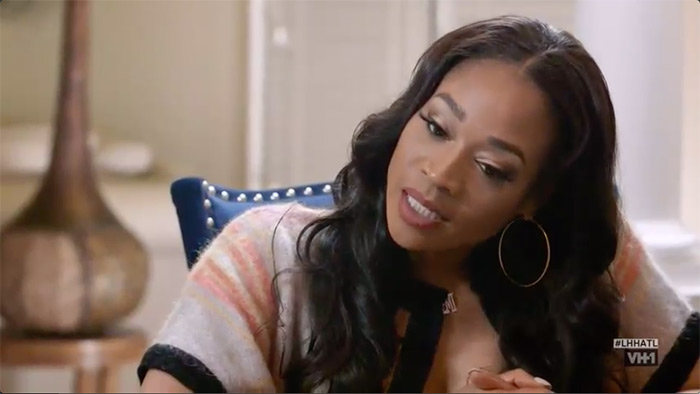 While the meeting with Scrappy is largely positive, Stevie's meet-up with Mimi goes a little left when he learns Mimi is in a new relationship and it's not with a man.
Mimi is tickled and excited to break this news to Stevie and to be honest, Stevie's facial expressions during his reaction to Mimi's lesbian love affair is what we all went through when we heard Mimi was dipping her toe in the lady pond.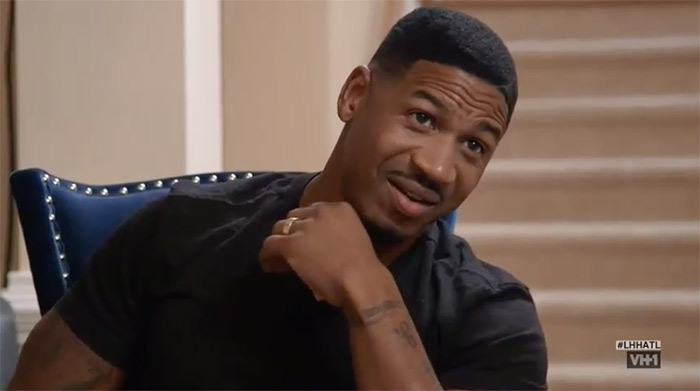 Bitch, is you serious???
Tammy Reacts to D. Smith's Cold Shoulder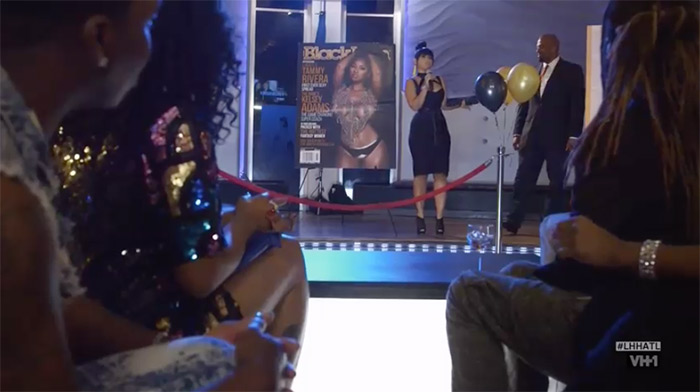 After scrapping with Betty Idol, Tammy gets back to her grind with her little fashion line and her little life as Waka Flocka's boo thang.
We get our first glimpse of Waka Flocka this season as the two cuddle and canoodle in bed. But before we get into any of that, we have to stop and appreciate the newly svelte Waka Flocka. In case you missed the memo, Flocka is a vegan now and it appears that the dietary change has resulted in some significant weight loss.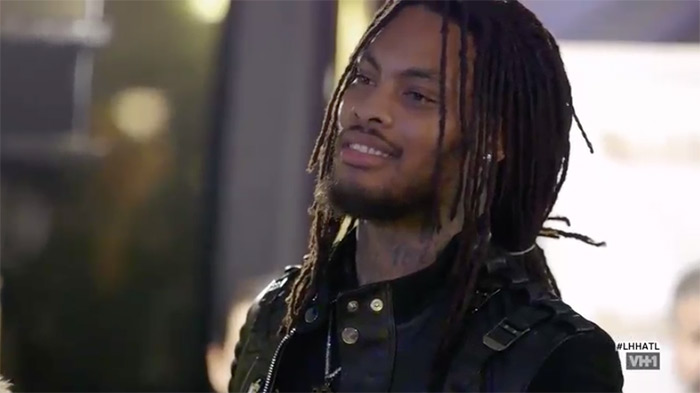 Good for you, Waka.
Tammy catches Waka up on all of the drama with Betty and D. Smith and he pretty much pays it dust. Fast forward to Tammy's next event, the unveiling of her magazine cover for Black Men magazine.
While Tammy is busy pushing her Photoshopped puss to the masses, her circle of friends gather to discuss the latest drama.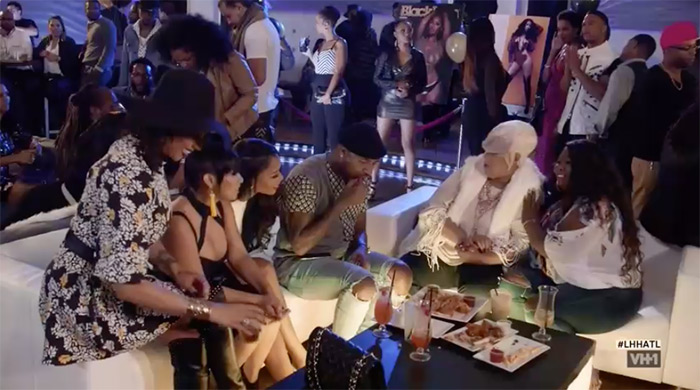 In Tammy's circle is her mother-in-law, Deb Antney who is wearing what is best described as the grandma wig version of X-Men's Storm hair. The worst part is the white wig with the swoop styling makes Deb look like a bald eagle. But you can't tell Deb she ain't fly for nothing.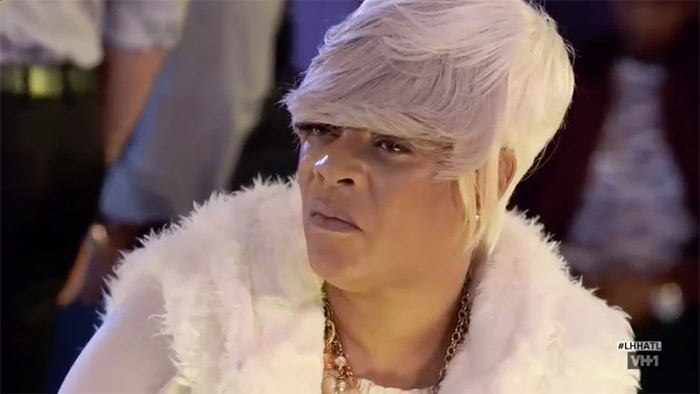 Deb makes it clear that Waka isn't "homophobic" and advises Tammy to keep her hands to herself in the future, since it isn't a good look. As Tammy chats with her crew, she tries to make sense of D. Smith's actions. Why did D. Smith invite Betty Idol to meet with her if she knew her hostile feelings toward her?
So Tammy reaches out to D. Smith in search of answers.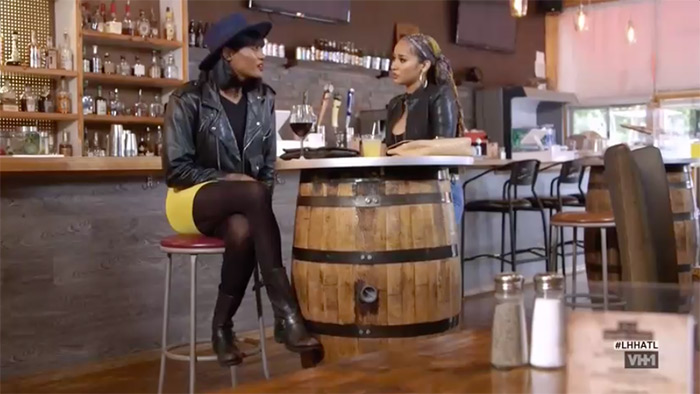 From the jump, D. Smith lobs shade Tammy's way. When Tammy asks D why she didn't show up to her Black Men magazine premiere, D. Smith responds that it wasn't her "kind of crowd." Bitch, huh? You are on LHHATL, you don't get to ACT like you're classy and above the hoodrat and ratchetry.
Tammy, to her credit, takes the shade with grace but the conversation continues to devolve from there with D. Smith pushing back when Tammy says they were trying to work together.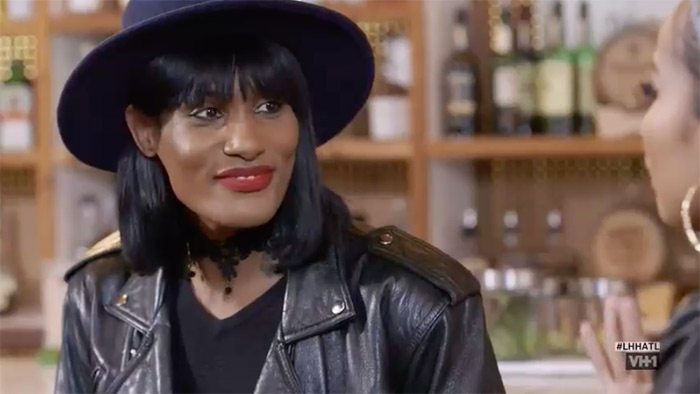 "We were trying to work together? No, you were trying to work with me," says D.
"I think those hormones are getting to your damn head or something," Tammy shouts back as she storms off.
This whole "beef" between Tammy, D. Smith and Betty is so contrived and bizarre. If the beef is with Waka's statements, why not go toe-to-toe with him instead of through Tammy?
Scrapp Tries to Broker Diplomacy Between Tiarra and Tommie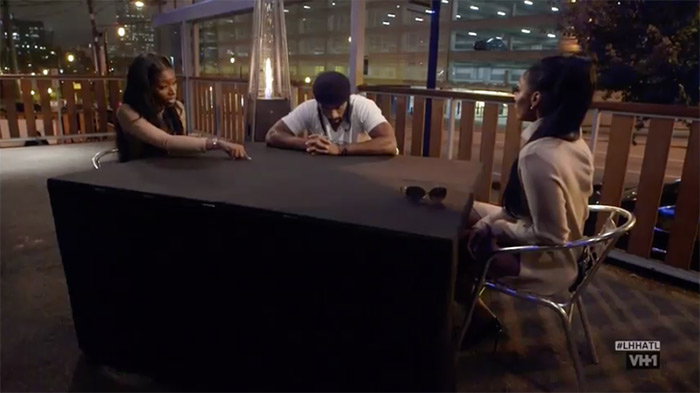 After whipping up the fury of both Tommie and Tiarra, Scrapp finds himself caught in the middle of a black woman tsunami. Although Stevie J advised Scrapp to choose one of the women in his life as his main chick, Scrapp just can't let either go.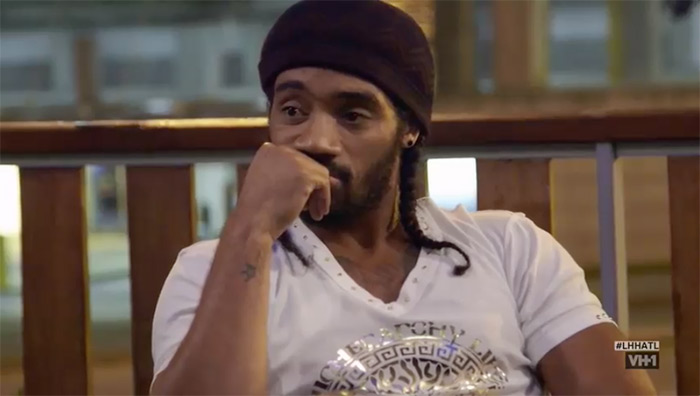 So instead, Scrapp made the situation even messier by promising to each girl that he was going to dismiss the other. Of course, he has no intentions of doing so and instead, hopes to negotiate some kind of peace in the Middle East between the two ladies where they both agree to "support" him as he faces prison time.
"I don't do ultimatums, I'm a man of options," Scrapp says. "I need them to understand my situation and be there for me."
As you can imagine, Tiarra, his baby mama, does not take well to Scrapp's suggestion that they squash the beef for his sake. Tommie, finally, realizes that maybe Scrapp really isn't down for her and in fact intends to string both of them along for good.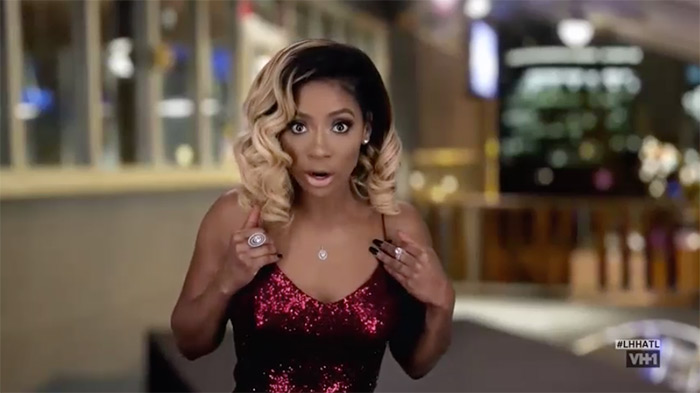 Wake up, girl. You're getting played like a chess piece. And frankly, Scrapp is not successful or handsome enough to fight over so I don't know why these two beautiful black women are even wasting their time. Do better, ladies.
Scrappy and Bambi Tango Over Betty Idol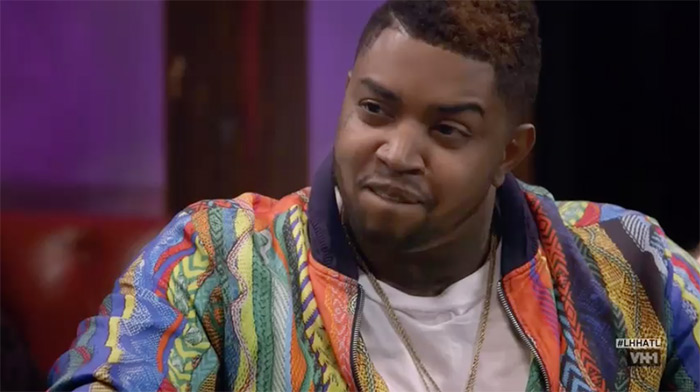 One of the subplots of this whole Betty Idol/D.Smith/Tammy Rivera beef includes Scrappy and Bambi. Bambi is at Tammy's Black Men magazine launch party and she catches wind of the fact that Betty Idol and Tammy got into a fight.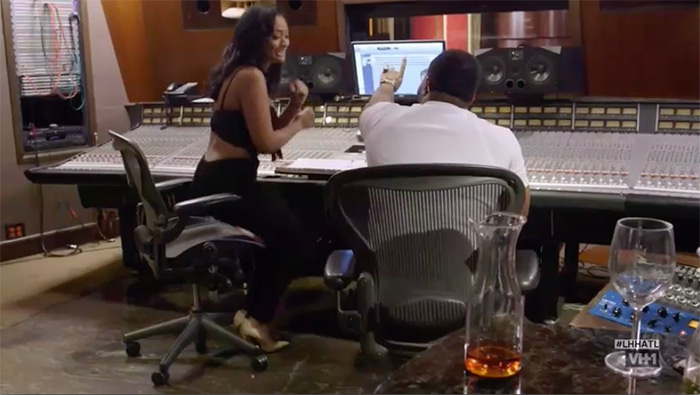 Earlier in the episode, Betty and Scrappy were seen recording and working together. And apparently, Scrappy has been sharing some snaps of Betty on Snapchat, which Bambi has not been pleased about, even though she and Scrappy are no longer an item.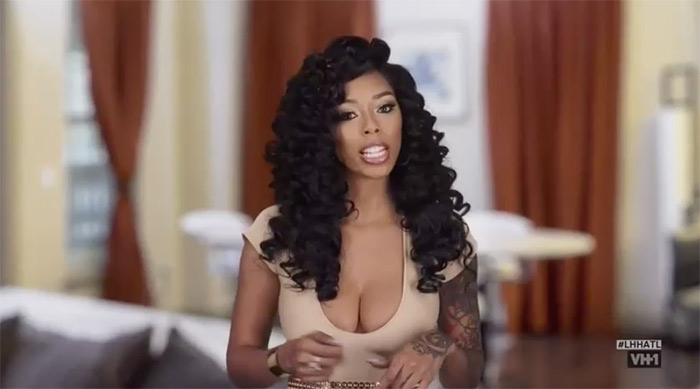 So Bambi decides to pay Scrappy a visit at his apartment to confront him about this Betty Idol chick. To be honest, the acting is such shit that it's clear neither of them give two shits about a Betty Idol. This whole thing is just a vehicle for the two of them to connect and flirt with each other.
They even go back and forth about their dog and Bambi ends up leaving with the dog. Scrappy promises to try and clean things up with Betty and get her to squash things with Tammy, he and Bambi's mutual friend. But with Betty being Karlie Redd Jr., things end up being messy.
Scrappy asks Betty to apologize to Tammy so they can work together in peace.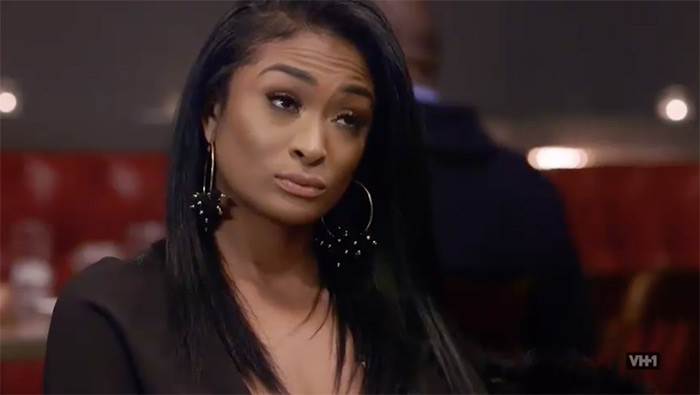 "Why the hell would I apologize to her? She pulled out my hair?!" Betty says.
Betty challenges Scrappy and says the ball is in his court, and Scrappy chooses loyalty over new pussy for once. Surprise, surprise. I guess Scrappy really does know what love and loyalty mean. Bambi wins, Betty Idol loses.
Be the first to receive breaking news alerts and more stories like this by subscribing to our mailing list.