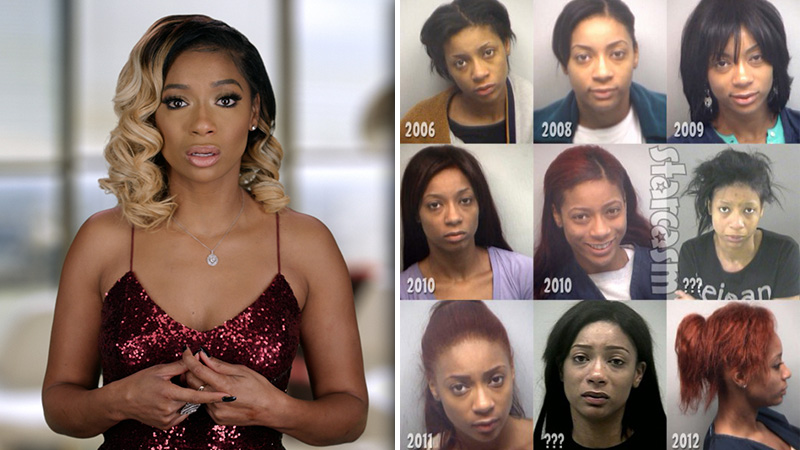 "Love and Hip Hop Atlanta" newcomer Tommie is a match made in heaven for her boyfriend Scrapp DeLeon.
On last night's episode of the show, we learned Tommie doesn't play around when it comes to Scrapp after things popped off between her and Scrapp's baby mama Tiarra at Mimi's "coming out" party.
Well, turns out Tommie is certainly about that life, and, like her ex-felon bf Scrapp, she's no stranger to run-ins with the law. The girl has mugshots on mugshots ON MUGSHOTS.
Mugshots from her lengthy arrest record were released after the episode aired … and they date all way back to 2003.
Tommie wanted to be Keri Hilson so bad in her 2009 mugshot lol. #LHHATL pic.twitter.com/SmUR6BgdHg

— B… (@thepizzapopo) April 12, 2016
According to an unconfirmed e-mail tip sent to Fameolous.com, "Tommie" isn't even her real name. It's reportedly "Atasha Jefferson" (though not confirmed) and she is supposedly wanted in Minnesota for a "fraud case she caught with Karen King."
She paid for her ENTIRE plastic surgery procedure with someone else's money and identity. The doctor who did it in Miami also pressed charges against her for stealing. Her ass teeth and lumpy stomach is all fake. Not sure how she think police ain't gonna come get her after being on television.

She ain't got no money she got like 30 mugshots all from identity fraud and stealing. We never known her to be tough only when she drinks because she a alcoholic. Not sure how Scrap baby mom let her win that fight. With her weak ass, because Tommie just got a loud mouth but she not known for beating bitches up.

She usually get drunk talk shit then get beat up. (Ask around) Scrap other ex-girlfriend is the owner of Hair R Us her name is Khatyma (the dark skinned one) she beat Tommiee ass outside of platinum 21 (A strip club in Atlanta) one day. I saw with my own eyes

Scrap didn't even really like her. He got a baby by tiara and this chick name erika her [Insta]gram is @ebeauty404 he loves these two because they really get money and act like women. He dealt with her for the show and because she Karen friend.

Last tea, her picture is hanging in Rasheeda store at pressed because she scammed Rasheeda store! We think Rasheeda to scared to confront her about it .

Karen is a complete fraud. She never beat anyone ass a day in her life she is known for fraud. That's it! Like Tommie, her criminal history is identity theft. She manipulated her own son to beat the dad/step-dad up. NO and I repeat NO nigga in the street of Atlanta is scared of the King boys, Karen, or Tommie
Mimi, who was none too pleased about Tommie fighting at her party, had the following to say about her mugshots being revealed.
32 Mugshots? ok, thats extreme #LHHAtl #MimiFaust

— Mimi Faust (@MimiFaust) April 12, 2016
RELATED: Love & Hip Hop Atlanta's Karen "KK" King and Sons Were Arrested for Brutal Beating, Kidnapping of Ex Boyfriend
As we previously reported, Scrapp, his brother Sas, and their mother Karen "KK" King (who all appear on the show) were arrested in the past for their involvement with the severe brutal beating and kidnapping of Karen's ex boyfriend Lyndon Baines Smith, however, their charges were later dropped due to lack of evidence.
Scrapp is currently in jail serving time after being found guilty in January for trafficking marijuana and could face up to five years.
RELATED: Scrapp DeLeon Jailed for Trafficking Marijuana
A recent post from Scrapp's IG also confirmed his arrest.
https://www.instagram.com/p/BCJBuKQBSx3/?taken-by=scrappdeleon_nbl
Scrapp's mother KK also posted the following photo at his going away party back in January.
https://www.instagram.com/p/BA_oAQoyqag/?taken-by=iamthequeenkarenking
So, the fact that Tommie rides with Scrapp and his family, it shouldn't surprise anybody that she stays in and out of jail. Hopefully being on the show will slow her down. But probably not.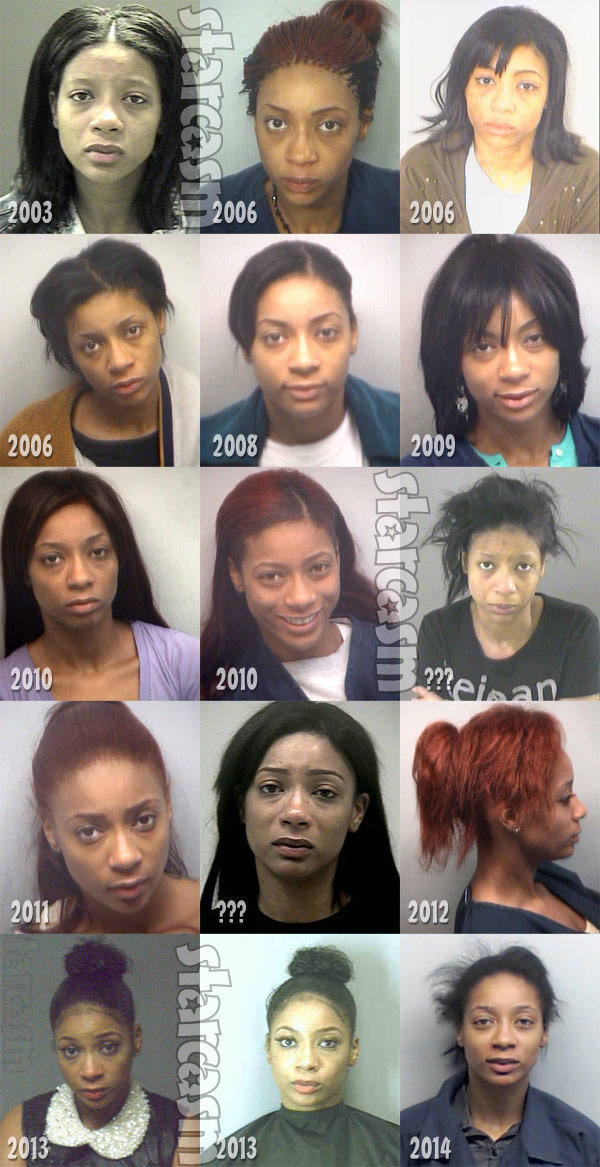 As for Tommie's lengthy criminal background, which includes dozens (DOZENS!) of arrests, Starcasm has more on that:
We can't confirm that Atasha Jefferson and LHHATL's Tommie are indeed the same person. What we do know, however, is that some of the claims the [Fameolous] tipster made regarding Atasha Jefferson appear to be at least partially true. Atasha C. Jefferson–who in turn goes by the alias Atasha Chizzaah Moore–was booked into the DeKalb County (GA) Jail on May 2nd, 2013, on one first degree felony charge. Jefferson posted a $3,500 bail and was released four days later.

Before that, the Atasha Jefferson arrest records include an appearance in court in Gwinnett County Court (also in Georgia) back in 2010. In that instance, Jefferson faced three charges: one count of "Giving False Name, Address, Or Birthdate" on June 19th of that year; one count of driving while her license was suspended, on the same day; and one count of driving while her registration was suspended, also on the same day. Jefferson received twelve months' probation on the first charge; she received verdicts of "Nolle Prosequi" [i.e. charges were dropped] on the latter two charges, though the reason why isn't immediately clear from the court record.

Atasha Jefferson's arrest records are longest in Fulton County, which includes most of the city of Atlanta, and Clayton County, slightly north of the city. She was arrested nine times in Fulton between 2006 and 2014, on a variety of different charges: three different counts of battery (one of which involves–for real–a bus hijacking); five counts of shoplifting; and, most recently, of the more general "Theft of Service." And, as far as Clayton goes, Jefferson went to court on thirteen different charges there, several of which, again in 2010, involved forgery.

In addition, the most recent Fulton County record lists a Florida address for Jefferson. That would appear to sync up with the Fameolous article–but the only Atasha Jefferson arrest record we could find in the state of Florida involved a car accident, and not theft, as the anonymous tipster alleged. Court records indicate that Atasha was actually not even arrested after being charged with Leaving the Scene of a Crash on August 18th, 2014; she received a $50 fine and was released on her own recognizance.

It doesn't look like there are any pending warrants or previous arrests for Jefferson in Miami. The claim that she is wanted for forgery in Minnesota, however, appears to have at least some truth to it. There is an outstanding warrant for Atasha Chizaah Jefferson (the spelling of "Chizzaah" differs almost from county to county) in the state, on the charge of a probation violation stemming from identity theft. The warrant is dated February 8th, 2013; it may be worth pointing out that 2013 was also the first year since 2007 that Atasha was not arrested in the state of Georgia.
Meanwhile, Tommie seems unbothered by her mugshot gallery and criminal background being leaked online. This is what she posted on Instagram:
Everybody talking I feel like a trending topic #hashtag I bet yo mouth bigger than yo pockets!! And NO! We don't #drink&drive
Be the first to receive breaking news alerts and more stories like this by subscribing to our mailing list.