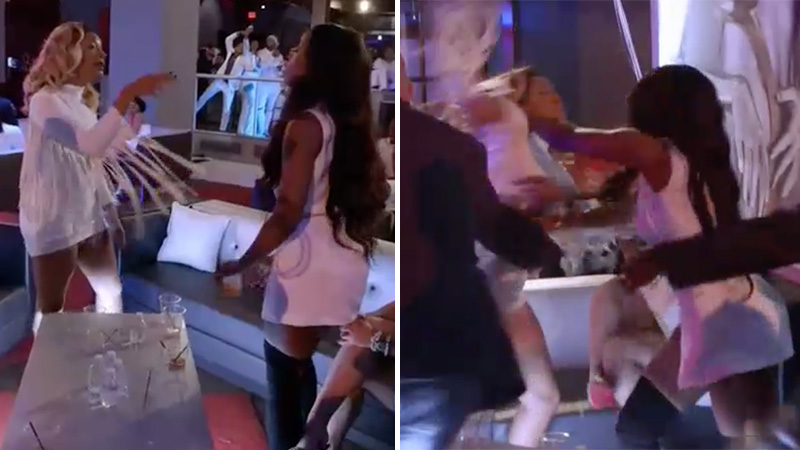 It's about to be a … GIRL FIGHT! Well, actually two. Monday night's (Apr 11) episode of "Love & Hip Hop Atlanta" started with one fight, and ended with another.
The first fight went down at Mimi's all-white affair celebrating the announcement of her new boo Chris Gould.
Last week, we were introduced to a group of new cast members: The "notorious" King Family, which includes Karen "KK" King (whose first national TV appearance was "America's Most Wanted") and her ex-felon sons Scrapp DeLeon and Sas, as well as Scrapp's baby mama Tiarra and his girlfriend Tommie.
If you'll recall, in last week's episode, Tommie enlisted the help of the always messy Karlie Redd to spy on Tiarra at her part-time waitressing job.
While there, Karlie and Co. set their plan in motion to lure Tiarra to Mimi's event so that they could get the tea on her relationship with Scrapp — not to be confused with LHHATL veteran Lil Scrappy, who has more than enough baby mama drama of his own to deal with.
Still, Karlie seemed to be shocked when Tiarra "actually showed up" to the party that she invited her to. Why wouldn't she show up, Karlie? You did invite her, right?
Meanwhile, Tommie is pissed because Scrapp told her that he was going to tell Tiarra that they've been messing around for the past year, and judging by her happy go lucky demeanor at the party, Tommie knows that Scrapp ain't told her a dayum thang.
Tommie and Tiarra spark a conversation, and in the middle of their discussion about what Tiarra does for a living, Tommie comes for Tiarra, asking her "When are you a mom?" which completely blindsides Tiarra, and from there, all hell breaks loose.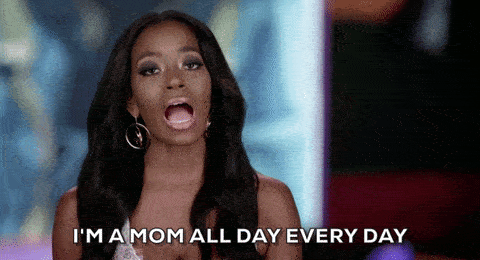 Tiarra asks Tommie how she knows anything about her parenting skills, and Tommie's response is that she knows her baby daddy and she "sits on his dick" almost every other night.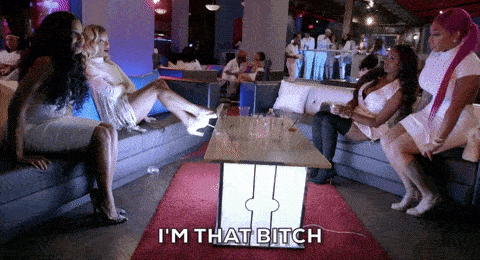 Yeah, "that bitch" who doesn't wear any panties, lol. Drinks were tossed, punches were thrown, vaginas (and p**sy hairs, according to Karlie) were exposed, and Mimi's party was ruined.
Watch Tiarra and Tommie throw down below:
Later in the episode, we are introduced to yet another set of new faces: transgender music producer D. Smith and her bestie Betty Idol.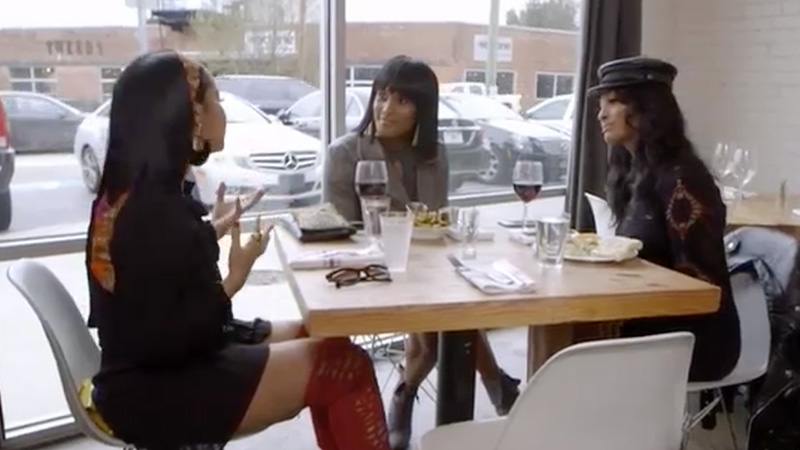 After D. Smith makes her debut in a breast cancer awareness fashion show, Tammy Rivera-Malphurs considers working with her for her own fashion line, and is shocked to learn that Smith is "transitioning from male to female."
Prior to their meeting, however, D. Smith was informed via her friend Betty Idol that Tammy's husband, rapper Waka Flocka Flame, is not very LGBT tolerant (based on him criticizing Caitlyn Jenner and her supporters), and she tells Tammy that she'll have to "think about" working with her. It's not a definite no, but it's not a solid yes either.
In another meeting, this time with Betty Idol, who D. Smith feels will be perfect as a model for Tammy's line, things don't end as well.
Betty Idol still "feels some type of way" about Waka's comments (which is odd because she seems more invested in the situation than D. Smith) and Tammy, who makes it clear that she did not come here for her, throws a drink in her face and a fight ensues, which we won't get to see until next week.
Watch the clip here:
Be the first to receive breaking news alerts and more stories like this by subscribing to our mailing list.