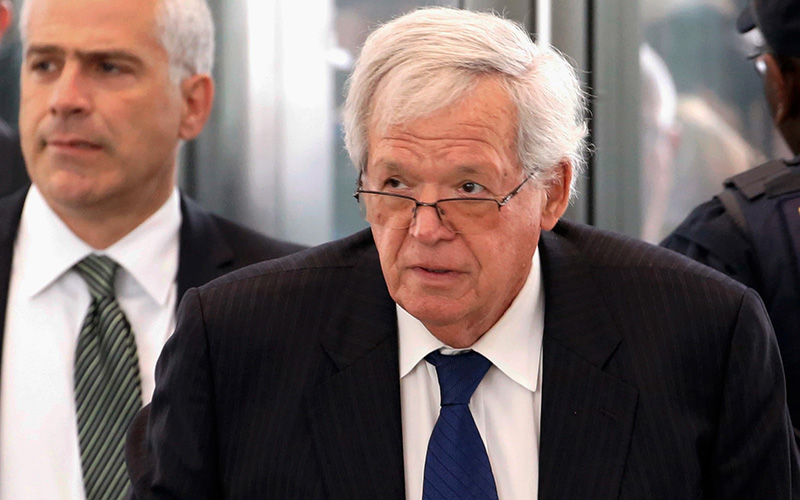 A Chicago Tribune investigation has uncovered disturbing details behind the millions of dollars in hush-money payments former U.S. House Speaker Dennis Hastert has paid out. The recipients of the funds were men who had been sexually abused by Hastert years ago when they were teenagers.
On Thursday (Apr 7), when the Chicago Tribune uncovered their investigation, they only mentioned four victims, but the following day, they updated their account to five, and there could be more.
From the Tribune's April 7th article:
The Tribune has determined the identities of three of them, all men, whose allegations stretch over a decade when they were teenagers and Hastert was their coach. One is dead. The Tribune has approached the other two — described in federal court records as Individuals A and D — and confirmed their roles in the case.

The man who received $1.7 million from Hastert and is at the center of the federal indictment — Individual A — declined to be interviewed by the Tribune. Behind the government's carefully worded court documents, reporters discovered a sometimes-pained narrative of his life since his days as a standout wrestler in the 1970s and how his interactions with Hastert might have affected him.

Individual D has talked to the Tribune at length but has not agreed to be named, although he is considering speaking at Hastert's sentencing in federal court April 27.

Hastert is alleged to have sexually abused the teens identified by the Tribune when he was a teacher and coach at Yorkville High School in the far southwest suburbs, decades before he became the longest-serving Republican speaker.

One of the alleged victims served as a team equipment manager a few years after Hastert arrived at the school in 1965. Stephen Reinboldt died of AIDS in 1995, and his younger sister has long spoken out about the details she said he shared with her while alive. Two others, who came to the school later, were talented and popular student-athletes from well-known local families — the sort of combination that often bodes well for the future. They all graduated from college.

The identity of the fourth accuser whom authorities have deemed credible remains unknown.

In a statement, Hastert attorney Tom Green did not specify any sexual abuse by his client but did say Hastert was apologetic and had suffered humiliation and shame.

"Mr. Hastert has made mistakes in judgment and committed transgressions for which he is profoundly sorry," Green said. "He fully understands the gravity of his misconduct decades ago and regrets that he resorted to … an effort to prevent the disclosure of that misconduct."
It's worth noting that Hastert has never been arrested for or charged with a sex crime, which, legal experts say would now be barred by statutes of limitation.
However, Hastert did plead guilty last year to "illegally structuring cash withdrawals to evade bank currency-reporting requirements" as he pooled $3.5 million in cash to give to "Individual A" to keep quiet about the sexual abuse allegations.
The Chicago Tribune's April 8th article, in which they uncovered a fifth victim, offered more details into Hastert's sexual abuse against the minors:
Four of the victims were wrestlers for Hastert at Yorkville High School, prosecutors said, while the fifth was an equipment manager for the wrestling team.

Two of the wrestlers told authorities that Hastert performed a sex act on them on one occasion, while the two other victims alleged that Hastert had inappropriately touched them once while giving them massages.

The student manager, Stephen Reinboldt, who is dead, told his sister that he was sexually abused throughout high school, according to the filing.
The article then goes into great detail about Hastert's encounter with each victim.
Meanwhile, in a new 26-page memorandum that acknowledges Hastert's sexual abuse allegations, federal prosecutors have reportedly asked a judge to sentence the former House Speaker to a maximum of six months in prison at a hearing on April 27th.
"He made them feel alone, ashamed, guilty and devoid of dignity," Assistant U.S. Attorney Steven Block wrote. "While defendant achieved great success, reaping all the benefits that went with it, these boys struggled, and all are still struggling now with what defendant did to them."
Due to the statute of limitations expiring, Hastert — who at one point was second in line to the presidency — is only being charged with banking fraud, which he pled guilty to back in October.
Be the first to receive breaking news alerts and more stories like this by subscribing to our mailing list.