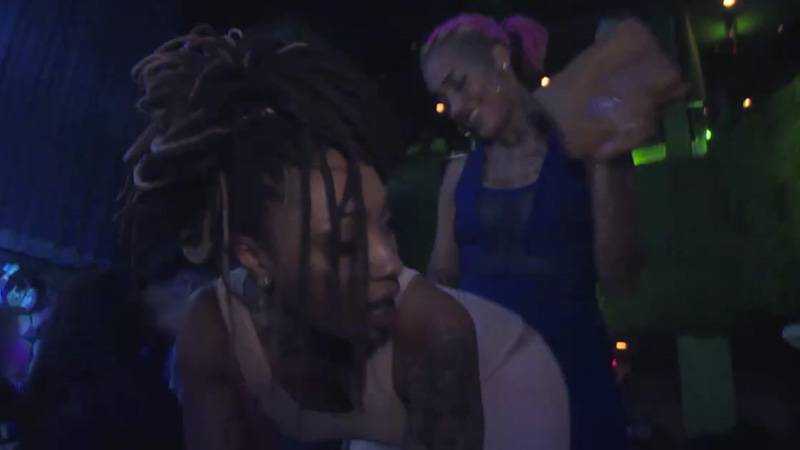 "Black Ink Crew" Season 4 is going to be LIT!
The super trailer for the fourth season of Black Ink Crew New York has arrived, and there's so much going on it's ridiculous.
Where the hell do we begin? Do we start with Ceaser and his issues with anger management? Or what about O'Sh*t's new foray into alcoholism? Wait, no, let's kick things off with Dutchess' drunken lesbian encounter with Donna. Or maybe we should talk about Sky throwing hands with Rah Ali from "Love & Hip Hop?"
Also … Did Dutchess and O'Sh*t really have sex?!? And why the hell is Puma getting SHOT at?!? WTF IS GOING HERE?!?
There's also a new girl on the scene, Melody, and Sky says she's Dutch with moisturized lips (LOL).
Like we said… LIT!
The new season premieres next Monday, April 4th at 9pm.
Watch the Black Ink Crew NYC Season 4 super trailer below and keep scrolling for the press release from VH1.
VH1's ink-inspired drama "Black Ink Crew" returns for what may be the most tumultuous season in franchise history!

Expect some epic next-level events this season including 2 new shops, out of this world tattoos and 3 new artists who bring a fresh new vibe to the scene. Tune in on Monday, April 4 AT 9PM ET/PT as the gang juggles relationships, family, and past rivalries while embarking on quests to build upon their successes.

Shop owner Ceaser contemplates opening a new shop on 125th Street to further expand his Harlem reign of the Black Ink brand. His legacy is in the city where he's striving for moguldom, but his heart is with his long distance fiancée Dutchess, who's working to open a shop of her own in North Carolina. She's determined to start her tattoo art empire – but will she be able to cut ties with Black Ink for good? And will Ceaser continue to pursue his professional goals or will his heart lead the way?

O'Sh*t works hard to maintain his sobriety and stay on the straight and narrow. But when Kathie solicits the court for child support, his inner demons creep back, causing him to fall off the wagon. Meanwhile, Sky finally gets the Brazilian butt lift she's been obsessing about for years but her hope to begin life anew ultimately fades as serious issues from her past become impossible to ignore.

Ted now finds himself second in charge and takes his newfound responsibility seriously – sometimes to a fault. Black Ink's apprentice, Donna is eager to hold her own and become a bonafide tattoo artist, until a shocking hook-up on an all-girls trip to Miami derails her ambitions and the tension between her and the crew spirals out of control.

When the mother of his kids takes a job in another city, Walt unexpectedly finds himself stepping up his daddy duties. When placed in a position to have to explain the birds and the bees, this new level of responsibility might prove to be more than he was ready for.

This season, the shop also adds a striking new artist named Melody who brings a very interesting following of clients and vitality with her. After overcoming the struggles of a bi-racial childhood as well as a checkered past of her own, Melody might be the catalyst to a more enlightened and renewed energy in the shop.

Ceaser's greatest rival and ex-Black Ink employee Puma is positioning himself as fierce competition after opening his new tattoo shop, "Art2Ink." New to the Art2Ink team are close friends and talented tattoo artists Naeem and Phoenix, who each have well-known reputations and families to support. But when a shocking shooting occurs at the shop, Puma struggles to hold onto his family as well as his new talent.
Be the first to receive breaking news alerts and more stories like this by subscribing to our mailing list.