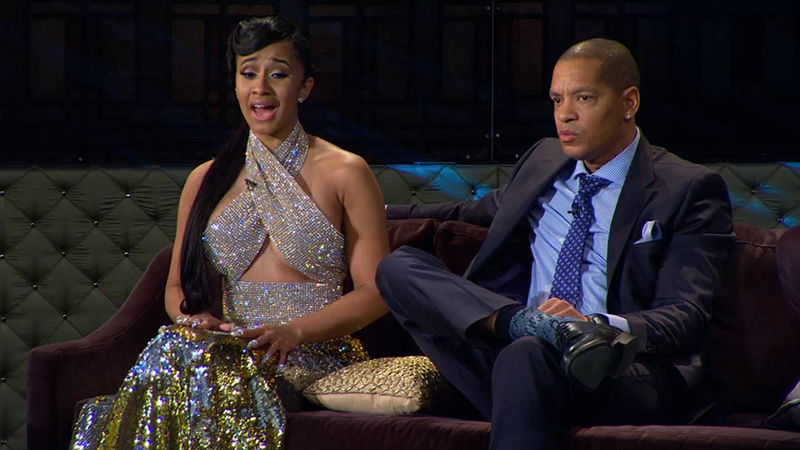 Cardi B went all the way in on Peter Gunz during the "Love & Hip Hop New York" reunion, calling out the former rapper for being the low down dirty dog that he is.
During part one of the season six reunion special, which aired Monday night (Mar 21), Amina Buddafly revealed that she was pregnant again with Peter Gunz's baby.
The news came not too long after we watched Amina have abortion on TV and it was met with shock and awe.
Not to mention this makes Gunz's TENTH child, and his ninth was just born not too long ago from Tara, who was pregnant as hell and damn near ready to pop at the reunion.
Peter Is Just Sick!! This Should Be Illegal!! #PeterGunz https://t.co/n0TdpVWPhn

— iamcardib (@iamcardib) March 22, 2016
So you'll have to understand where Cardi B was coming from when she went awf on Peter Gunz for having two pregnant women on the stage at the same damn time — one being his wife and the other whom he has kids with already. LIKE, WTF, PETAH?!?
In a preview clip for the second part of the season six reunion special, which is set to air in full Monday night (Mar 28), Cardi B is talking about the things she gets out of men (like being able to live rent free, for example) without even having to have sex with them, and Peter Gunz pipes in basically calling her a hoe.
Cardi's point is that if you like it, and you're not putting a ring on it (because maybe you're in a position where you can't) then the least you can do is pay up, and that shouldn't make her a hoe.
"Look what you gave Amina and Tara. Babies, and that's it!" Cardi said strongly. Then Peter hit her with the, "First of all, do you know me?" line because he couldn't tell her what she was saying was wrong.
Cardi responded, "I see what I see on TV, and men like you are the type of men I be talking about. You need to get from what these guys what you want."
Referring to Tara and Amina, she said, "You get p***y out of both of them, and what are they getting in return? And what are they getting in return?! They look stupid on TV."
In response, Peter said her butt shots were leaking into her bloodstream and told her she was being "disrespectful," to which Cardi clapped back:
"Well thank God none of your n*t is in my bloodstream 'cause I'll be damned! Get the f**k outta here!"
She then went on to call 49-year-old Gunz an "old, washed-up n***a that be f**kin bitches lives up, and their reputation."
Cardi continued, "[Amina]'s a talented ass woman, and Tara is a smart ass woman and you got them looking dumb on TV! Men like you need to get used!"
Damn, Cardi B! Peter Gunz needed to hear every bit of that, and honestly, she was the best person to serve him that realness.
We posted the video clip to our Facebook page and received thousands of comments praising Cardi B for being so real with Peter.
See some of the responses below, and click here to read them all:
Liberty Leon: "Welllll we were all thinkin it and screaming it to the TV every week right? Sooooooooo, somebody had to come out with it! Cardi was the perfect one because she owns everything about herself and its nothing they can say about her that she wont say first."
Natasha Green: "the truth cuts like a knife and Peter got upset because he was bleeding"
Nikia Thomas: "Lol cardi b went on his ass and tara and amina was looking crazy cuz she just called they ass stupid in there face with no sugar…"
Zelda West: "She went in on Peter, everything she said was the truth. Thats why he was getting upset because the truth hurt."
Jasmin David: "LAWDDDD I swear Cardi was the voice of every Love and Hip Hop viewer all over the world. Someone finally said it and it was the perfect person to say it all. Peter Road Runner head ass knew he couldn't challenge Cardi, she don't give AF and kept it real since the beginning…"
What do you think? Do you agree with Cardi B and these Facebook comments?
Be the first to receive breaking news alerts and more stories like this by subscribing to our mailing list.