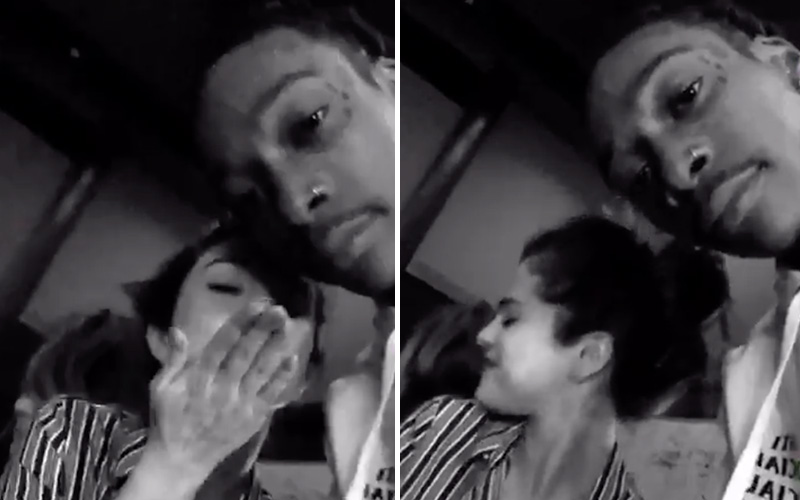 Selena Gomez may or may not be giving up the goodies to Wiz Khalifa.
The pair have been working in the studio together lately and, if rumors are to be believed, they've been doing more than just laying down tracks.
https://twitter.com/PopCrave/status/703945437095460864
OK! magazine is reporting that Selena and Wiz have been "fooling around" in between recording sessions and Amber Rose is pissed.
"Selena is playing with fire, not just with Amber but also because Wiz is a terrible influence," source told the tabloid.
Friends close to Selena are also worried about her being around Wiz, who is known to be a heavy smoker and partier.
"Selena's health is still in no condition to deal with partying —she needs rest and as little exposure to booze and drugs as possible— there's no chance of that if she's hanging out with Wiz," the insider added.
Late last year after taking a break from the spotlight, Selena revealed that she had been diagnosed with lupus and had already undergone chemotherapy.
If these two are hooking up, hopefully Selena won't let Wiz and all that pot smoke get in the way of her health.
Meanwhile, Gossip Cop is already on the case:
While it's true Khalifa was in the studio not too long ago with Gomez, there is nothing romantic going on between the two singers, and they most assuredly were not "hooking up" during the music session. Gossip Cop investigated, and we're told talk of Khalifa and Gomez "fooling around" is absolutely untrue and "total BS."