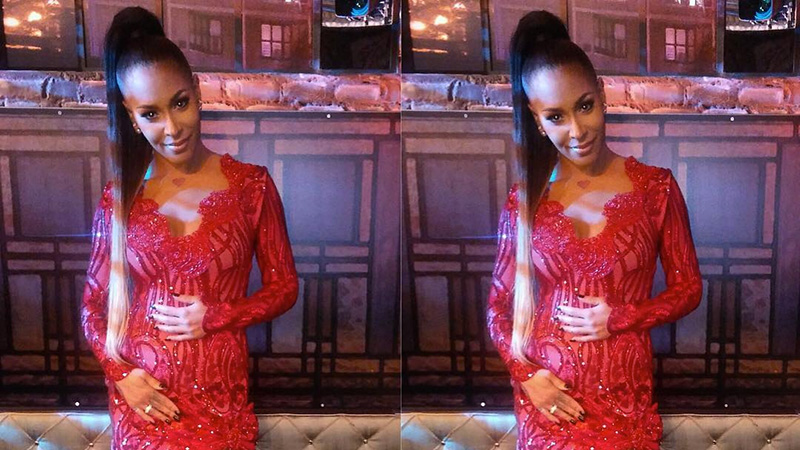 Amina Buddafly shared some big news at the end of Part 1 of the "Love & Hip Hop: New York" Season 6 reunion. She's pregnant with Peter Gunz's tenth (yes, you read that right, his TENTH) child!
As if this crazy love triangle between Amina, Peter and Tara Wallace couldn't get ANY more crazier, right?
Amina's response to reunion host Nina Parker's question about how she felt about Tara being the woman to have Peter's last baby went like this:
"You know, at the time, I was upset, but I definitely overreacted, especially because she's not the last person to have his baby … I'm pregnant."
The whole cast was like "WHAT?!? OMG!" when Amina dropped the bombshell news that she was pregnant AGAIN not too long after getting an abortion, because, in her words, she "didn't want to have another baby with Peter."
So what changed? Well, the fact that she found out that Tara was pregnant after she had the abortion could be a major reason, but she'll never admit to that outright because that would be just plain crazy.
Having a baby is not like buying a new iPhone. You don't terminate a pregnancy and then get pregnant all over again because your husband's baby mama is pregnant by him. You terminate the marriage, duh.
Of course, Amina has her own explanation as to why she got pregnant again by Peter so soon after aborting a baby, and it's about as simple as she is. This is what she posted to Instagram:
There is one reason and one reason only why I got pregnant again. Actually there is no "I" in this, its "WE"! But since i am the one carrying: "I Got pregnant again because I made love to the man I love." Now y'all can debate on why we did it until ya hair turns grey.. I feel good knowing that WE know and you just 'think' you know… A baby does not keep a man and being spiteful does not make you a winner! This is not a game. This is my life. But No matter what the circumstances were and are, I now feel happy to be expecting again and even happier to know I have the best baby daddy I could ask for. @petergunz174 I love you 4ever and I will never be scared to show or say it because of people. #babyBX ?
Meanwhile, Tara, who recently gave birth to Peter's ninth child — a boy named Gunner, is team #Unbothered when it comes to Amina and Baby Gunz number ten:
This is such a true song and I am no different… #UPSandDOWNS! The situation entered my life with complexities. I did not go looking for it nor have I been anything but nicer than I should have been. Music speaks to the soul! Thanks @robinandre #TrueArtist #Support #Love #NYC #RobinAndre #UpsAndDowns
#Gunner watching the reunion like?
The second and final part of the "Love & Hip Hop New York" season 6 reunion airs next Monday (Mar 28) and though she doesn't have much to say about Amina's pregnancy now, she sure did have a lot to say about it then:
"You just aborted a baby and then you go and get pregnant again! Who does that?!?"
Be the first to receive breaking news alerts and more stories like this by subscribing to our mailing list.