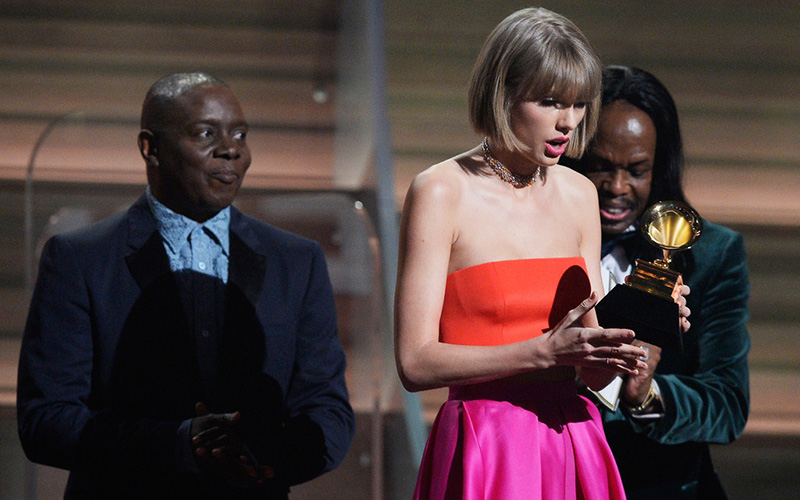 Taylor Swift and Kanye West are back on bad terms again.
Last year at the Grammys, Taylor and Kanye posed for this photo: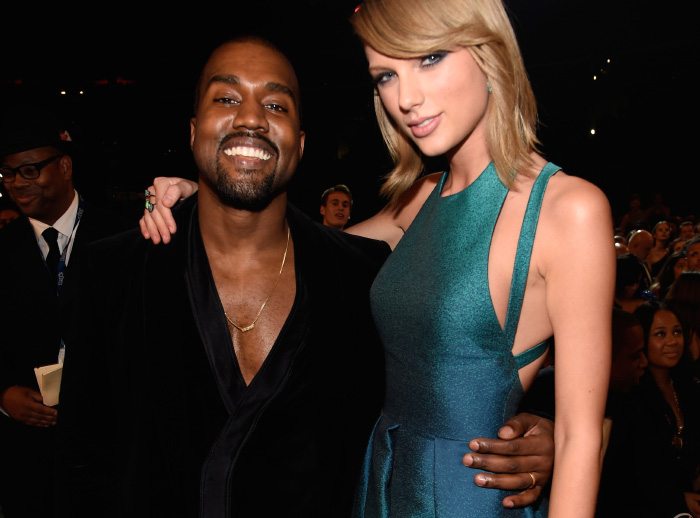 It took us so long to get to that photo. Six years, to be exact. The following week they had dinner together. Taylor danced to Kanye's "All Day" at the 2015 Brit Awards.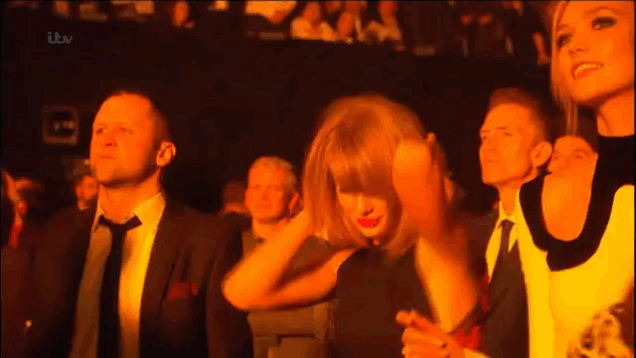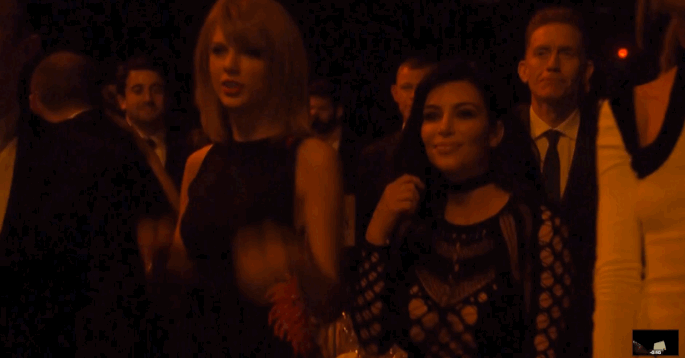 Right after becoming friends with Kanye, Taylor became friends with Kanye's wife, Kim Kardashian West.
In her September 2015 Vanity Fair cover story, Taylor said that Jay Z deserved the credit for sparking her friendship with Kanye though.
"I feel like I wasn't ready to be friends with (Kanye) until I felt like he had some sort of respect for me, and he wasn't ready to be friends with me until he had some sort of respect for me — so it was the same issue, and we both reached the same place at the same time," she said."

"I became friends with Jay Z, and I think it was important, for Jay Z, for Kanye and I to get along … And then Kanye and I both reached a place where he would say really nice things about my music and what I've accomplished, and I could ask him how his kid's doing."
That same month, Taylor presented Kanye with the Video Vanguard award at the 2015 MTV Video Music Awards:
THEY HUGGED: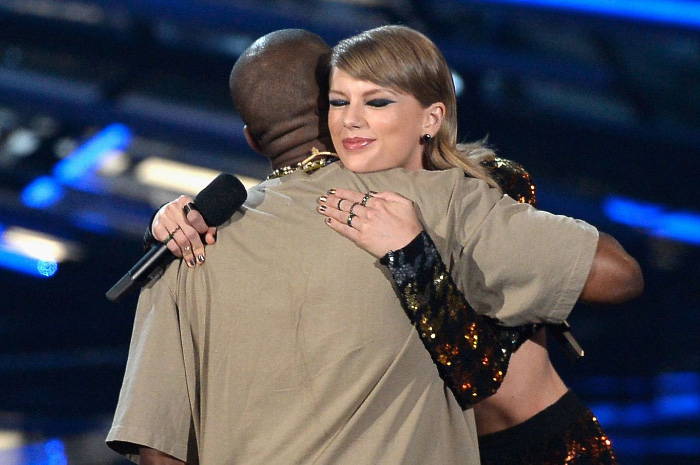 Taylor and Kanye were in a great place, you guys. Then Kanye went and ruined it with that mouthpiece of his.
In the very first verse of a song from his new album The Life of Pablo called "Famous," Kanye raps this line:
I feel like me and Taylor might still have sex
Why? I made that bitch famous (got damn)
I made that bitch famous
According to TMZ, Taylor Swift knew about the lyrics beforehand and actually thought they were pretty funny. In fact, Kanye himself said he personally called her and "an hour long convo with her about the line."
But Swift's reps say that's far from the case:
Tayor's rep says, "Kanye did not call for approval, but to ask Taylor to release his single 'Famous' on her Twitter account. She declined and cautioned him about releasing a song with such a strong misogynistic message. Taylor was never made aware of the actual lyric, 'I made that bitch famous.'"
Kanye, however, tells a totally different story:
https://twitter.com/kanyewest/status/698145869720371200
https://twitter.com/kanyewest/status/698146073190252545
https://twitter.com/kanyewest/status/698146205688320000
https://twitter.com/kanyewest/status/698146344242958336
https://twitter.com/kanyewest/status/698146450581164032
https://twitter.com/kanyewest/status/698146619703824384
https://twitter.com/kanyewest/status/698146866098278400
https://twitter.com/kanyewest/status/698146943927787522
Monday night (Feb 15) at the 2016 Grammy Awards, Taylor Swift let it be known that she was not down with Kanye bragging about how he "made that bitch famous" in reference to her.
While accepting her tenth Grammy (for Album of the Year, 1989) Taylor, using that surprised "OMG I CAN'T BELIEVE I WON MY VERY FIRST AWARD" face she always uses, started off by thanking her fans and producers and everyone else who worked with her on the project.
And then she ended her speech by sprinkling a little shade on a particular artist who she refused to name:
"As the first woman to win album of the year at the Grammys twice, I want to say to all the young women out there: there are going to be people along the way who will try to undercut your success or take credit for your accomplishments or your fame.

"But if you just focus on the work and you don't let those people sidetrack you, someday when you get where you're going, you'll look around and you'll know it was you and the people who love you who put you there and that will be the greatest feeling in the world."
And THAT is how you respond to someone like Kanye. You don't mention his name. You don't talk about what he did. YOU JUST DO YOU.
I'm not sure Taylor deserved that Grammy, but I can't deny Kanye deserved that clapback.

— jay smooth (@jsmooth995) February 16, 2016
We all know Kanye is furiously typing his 87 tweet Taylor Swift manifesto as we speak pic.twitter.com/m4tB89N5fW

— Matthew A. Cherry (@MatthewACherry) February 16, 2016
Kanye prepping his next Twitter rant right now like pic.twitter.com/Q2gksh9S7v

— seventwelveco (@seventwelveco) February 16, 2016
When Taylor Swift shaded Kanye pic.twitter.com/5iCmnyPOUW

— Matthew A. Cherry (@MatthewACherry) February 16, 2016
Taylor swift pretty much told Kanye "no weapon form against me shall prosper" ????

— lil duval (@lilduval) February 16, 2016
TAYLOR SWIFT JUST THREW UP BOTH MIDDLE FINGERS IN THE DIRECTION OF ONE KANYE WEST. pic.twitter.com/lZeAvPgAwL

— DJBooth (@DJBooth) February 16, 2016
https://twitter.com/IamAkademiks/status/699448927423242240
Also, Taylor Swift opened up this year's Grammy Awards with a performance of a song I do not know the name of, nor do I care. I generally enjoy a good Taylor Swift performance, but this one did nothing for me.
If you would like to watch it for yourself to form your own opinion (you might like it, you never know…) you're free to below:
Be the first to receive breaking news alerts and more stories like this by subscribing to our mailing list.