Beyoncé is back, bitches!!!
The day before her highly anticipated return to the Super Bowl stage, Beyoncé has "pulled a Beyoncé" with the release of a new single and accompanying video called "Formation."
Produced by Mike WiLL Made It and co-written by Rae Sremmurd's Swae Lee, "Formation," released just in time for Black History Month, is an unapologetic anthem for Black Power and all things related to it.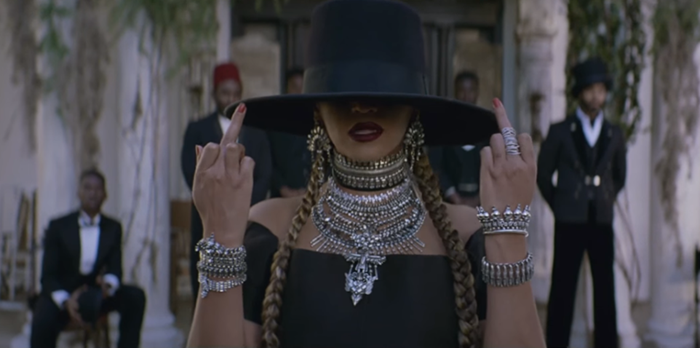 The song sees Beyoncé paying homage to her own personal roots and African American heritage in general:
"My daddy Alabama, Mama Louisiana, You mix that negro with that Creole make a Texas bama."

"I like my baby hair, with baby hair and afros, I like my negro nose with Jackson Five nostrils."

"Earned all his money but they never take the country out me. I got hot sauce in my bag, swag."
Oh, and about that whole illuminati thing? Y'ALL CAN SCRATCH THAT.
Bey literally comes out of the gate swinging. At the beginning of the song, she says:
"Y'all haters corny with that illuminati mess. Paparazzi, catch my fly, and my cocky fresh."
As for the video, it was shot in New Orleans, and it displays a bunch of imagery and symbolism that matches the song's lyrics perfectly.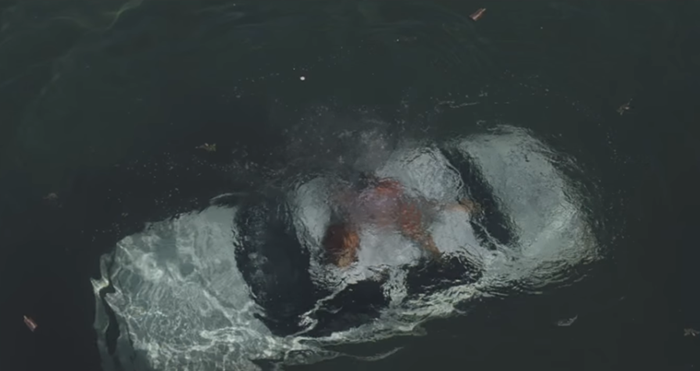 From the drowning New Orleans police car and the young black kid in a black hoodie dancing in front of the cops, to a scene showing a wall painted with the words "Stop Shooting Us" and the police raising their hands to that same young black kid, the message Beyoncé is sending is crystal clear.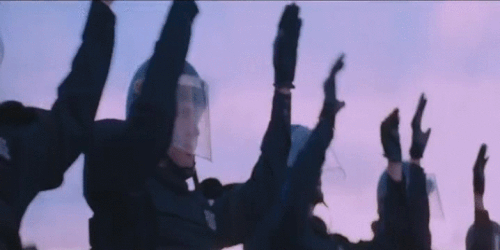 This is like our generation's version of James Brown's "Say It Loud — I'm Black And I'm Proud," and who better to send that message than Queen B?
Also, get into these Blue Ivy cameos: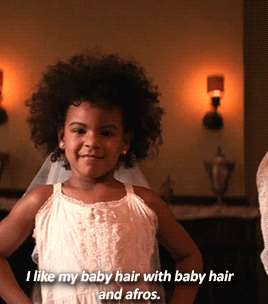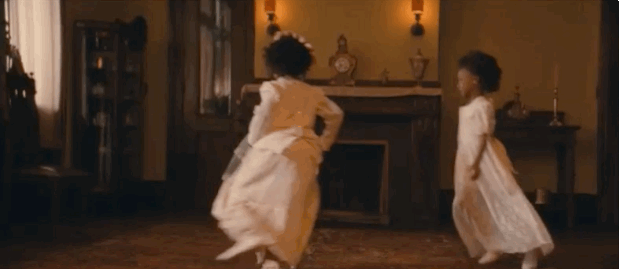 "Formation" quickly drew praise from Black Twitter, including Beyoncé's own younger sister Solange, who has always been outspoken on issues of race.
https://twitter.com/solangeknowles/status/696092871447851009
One Twitter user wrote, "I feel so incredibly inspired and Black right now." He added, "Beyoncé literally had a video that covered: Katrina, police brutality, Afros, baby hairs, Red Lobster, braids, hot sauce. #Formation"
Beyoncé literally had a video that covered: Katrina, police brutality, Afros, baby hairs, Red Lobster, braids, hot sauce. #Formation

— Preston Mitchum (@PrestonMitchum) February 6, 2016
The general feeling for Black Twitter Saturday night after Beyoncé dropped "Formation" was empowerment.
Radical #blackactivism from the Queen @Beyonce & EPIC #BlackLivesMatter imagery from #Beyonce. #BeyIsBack & #BLACK pic.twitter.com/3YxZMZcidk

— Wade Davis II (@Wade_Davis28) February 6, 2016
The look you give when your mother randomly drops a pro-Black anthem on a Saturday & breaks the internet again. pic.twitter.com/XiwuUDyM0q

— Kanye invented music. (@yoyotrav) February 6, 2016
https://twitter.com/Luvvie/status/696089316091629568
https://twitter.com/RealAJae/status/696113917949378560
https://twitter.com/MichelleHux/status/696085156482822144
Man, what a time… !!!!
"Formation" marks Beyoncé's first solo release since 2014 when she released "7/11." It isn't known whether this is the first single from her highly anticipated sixth studio album or one of her "viral/street" singles or what, but it's new Beyoncé and we are all the way here for it.
Watch Beyoncé's "Formation" video above!
Be the first to receive breaking news alerts and more stories like this by subscribing to our mailing list.