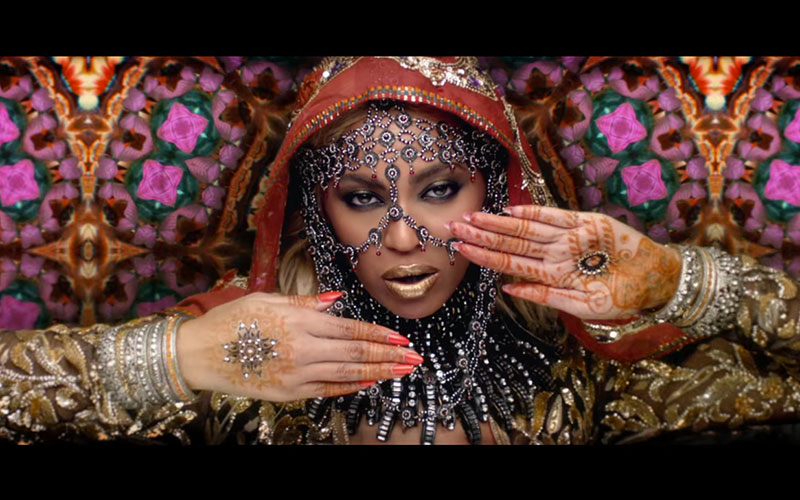 The official music video for Beyoncé and Coldplay's new single "Hymn for the Weekend" was released last Friday (Jan 29), and it didn't take long for people to find something wrong with it.
The video shows Coldplay frontman Chris Martin singing as he rides through the bustling streets of Mumbai. In some scenes, Martin is doused with colorful powder as he partakes in the Hindu festival known as Holi.
As for Beyoncé, she is the obvious star of the video, with her solo scenes showing her garbed in what appears to be traditional Indian attire, complete with Henna tattoos and Indian jewelry.
Shortly after the video debuted, some people expressed that they were insulted over Beyoncé and Coldplay's alleged appropriation of Indian culture.
Cultural appropriation, by definition, means an act or instance of a person or group of people "taking" another culture (usually in an illegal or unfair manner) for their own purposes, and many are convinced that Beyoncé is guilty of doing just that.
To be fair, the video does feature a real Bollywood actress, Sonam Kapoor, but she doesn't have a lot of screen time and essentially plays the background to Beyoncé.
"Beyoncé is supposed to be an Indian Bollywood star," East Indian writer Swati Avasthi noted in an e-mail to Salon.com. "She clumsily attempts traditional Indian dance without seeming to understand any of its significance. (The hand positions, which are important in traditional and are often a method of storytelling Indian dance, are not replicated faithfully here.)
Avasthi continued, "She is dressed up in too-sexualized-to-actually-be traditional Indian costumes, wearing traditional Indian jewelry, with Mendhi adorning her hands in one of her costuming changes. And her role? To be the object of the white man's gaze."
Ouch. And the reaction from some users on Twitter was quite similar:
https://twitter.com/kissmyazka/status/693183187246141440
https://twitter.com/commie_mami/status/693100537353519104
Is Beyonce gorgeous in the vid? Yes. Is it cultural appropriation? Yeah. It could've been done without the exotica and mysticism. #HFTW

— David (@Dreams_on_Paper) January 29, 2016
https://twitter.com/caramelputa/status/693109940345532416
So upset by @coldplay using my culture as a prop for their music video. India isn't just street kids and exotic women. #HymnForTheWeekend

— Atiya Hasan, MD (@AtiyaHasan05) January 29, 2016
Hey @coldplay collaborations with @Beyonce and @rihanna are great. Cultural Appropriation isn't. #HymnForTheWeekend pic.twitter.com/PjtE5B3prn

— Furquan Akhtar (@furquan) January 29, 2016
Disappointed by the shallow #appropriation and #tonedeaf release of @coldplay and @beyonce's new song. https://t.co/lU6g7u4mgw

— Dalit Diva (@dalitdiva) January 31, 2016
Alleged cultural appropriation aside, Beyoncé is reportedly scheduled to join Coldplay on stage to perform this song (and maybe more?) during the Super Bowl 50 Halftime Show next Sunday (Feb 7) at Levi's Stadium in Santa Clara, California.
Be the first to receive breaking news alerts and more stories like this by subscribing to our mailing list.