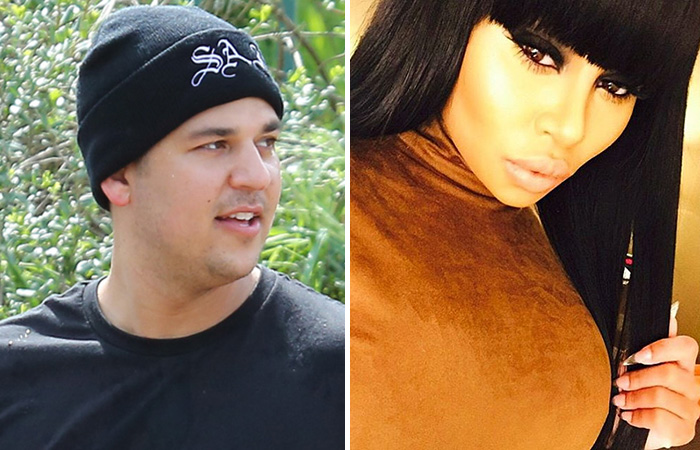 Rob Kardashian is proving that the phrase "blood is thicker than water" holds absolutely no weight when it comes to the Kardashians, at least as far as he's concerned.
Since news broke earlier this week that Rob was stabbing his baby sister Kylie in the back by hooking up with her biggest enemy of all time (her boyfriend Tyga's baby mama Blac Chyna), Rob has apparently been on a mission to show the world how much he really hates his family.
Despite Khloe tweeting that Rob "can do anything but never go against the family," Rob shared a close-up pic of Blac Chyna hours ago followed by a key emoji on his IG, just a day after posting a meme joking about Blac Chyna giving birth to the only baby to have the Kardashian last name.
You can do anything. But never go against the family

— KhIoe Kardashian (@KhIoeK) January 25, 2016
https://instagram.com/p/BBDbSbzJWWc/?taken-by=robkardashian
https://instagram.com/p/BBAurS3pWVX/?taken-by=robkardashian
Rob has also reportedly moved out of Khloe's Calabasas mansion (some reports state he was "kicked out") and for the time being is currently staying with Blac Chyna at her home in Thousand Oaks, California.
Sources close to Rob tell E! News that his family fears Blac Chyna is taking advantage of him after he recently received his diabetes diagnosis, and she's just using him to get back at Kylie over her relationship with Tyga (whom Blac Chyna shares a 3-year-old son with).
But according to TMZ, sources tell them that it was Rob who hit up Blac Chyna first though a DM message two weeks ago and things have been on and poppin' ever since. Sources also say Chyna has even been a positive influence on Rob by getting him to start working out again and take his health more seriously.
But regardless of Blac Chyna being any benefit to Rob getting his health back on track, sources say Kylie is super pissed about the whole situation.
"Kylie is livid," a source told PEOPLE. "She feels super betrayed and can't understand why someone in her own family would stab her in the back like that."
Rob is definitely making it clear he give zero fucks about his family's approval. Thug Life at its finest.
https://www.instagram.com/p/BA9v0LFxvip/
Be the first to receive breaking news alerts and more stories like this by subscribing to our mailing list.