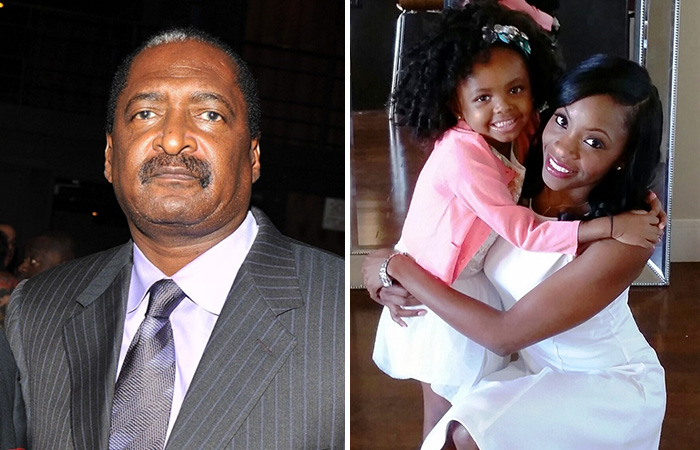 Today marks the 64th birthday of music executive, businessman, record producer, and manager Mathew Knowles, the father of Beyoncé and Solange Knowles (from his marriage with Tina Knowles, who is now re-married to actor Richard Lawson).
Mathew "D**k 'Em Down Raw" Knowles also fathered two other children with two different women while he was out there "doing him," as those kids these days say. You may have already heard of his son Nixon, but a lot of people don't know ol' "Papa Was A Rolling Stone" Mathew has another daughter named Koi.
Now, Bossip is reporting that Knowles has been ordered to pay a hefty sum in child support after the judge slammed Knowles for willfully acknowledging possible paternity with $225,000 in hush money that was given to his baby mama Taqoya Branscomb — Koi's mother.
"Mr. Knowles knew of his paternity in September 2009 and clearly sought to avoid the establishment of a support obligation based primarily on the tolling agreement and the payment of monies pursuant to said agreement, which the court can only reasonably conclude was hush money," Judge David D. Farr wrote as part of his ruling in Harris County District Court.

Koi was born in 2010, while Knowles was still married to Beyonce's mother, Tina. Branscomb sued Knowles in 2014 over the paternity of the little girl, and the pair had been duking it out in court ever since.

In a ruling last month, the judge sided with Branscomb, ordering Knowles' wages garnished to pay her $70,822 in back child support plus interest, along with $1,496 a month in regular child support. Knowles is also now responsible for the child's health insurance as well as $50,000 in Branscomb's attorney fees.

Judge Farr awarded Branscomb sole custody of their daughter, and blasted Knowles for turning his back on his own flesh and blood.

"The court notes that Mr. Knowles has zero interest, and in this court's consideration on the evidence, zero capability of being a positive role model in the child's life," Judge Farr wrote.

In his defense, Knowles claimed he was too broke to pay back child support but shouldn't have to because he already paid Branscomb the $225,000. Knowles also said he's not responsible for back child support from when Koi was a baby because he paid for Branscomb to have an abortion – and believed she did – until they met up shortly after the baby was born.

But the judge wasn't buying it.

"By way of findings to the issue of retroactive child support," Judge Farr wrote, "the court notes that it has considerable doubts concerning the veracity and credibility of Mr. Knowles' testimony based on numerous observations at trial."
Well, damn. Happy Birthday, Daddy Knowles. We hope you GoT that child support money put up somewhere before you end up in jail.
Be the first to receive breaking news alerts and more stories like this by subscribing to our mailing list.